The Tingling is How You Know This Newsletter is Working
Infused mildly with plants we hope aren't toxic.

A newsletter about branding, startups, and mission-driven companies aiming to make the world a better place.
👋 Welcome to issue #9 of For The Love, I'm so happy to have you all here! 
Today we'll be discussing:
Part 1 in a 2-part series on wellness brands that deliver on, well they deliver on branding at least.

A roundup of things that launched this week, including a new line of products for women (that aren't Gen Z or Millennial, for a change)

This grape is getting political.
If you have any smart friends that love learning about new brands and DTC trends, please share For The Love.
---
⚡ For The Love of Branding
Wellness additives are everywhere you look—from CBD infused coffee to detoxifying elixirs, you can buy a cure for anything that ails you. It's only a matter of time before vim and vigor come back into modern vocabulary. 
And people are buying them. 
Lemons, But Make Them Dirty.
Dirty Lemon launched in 2015 with a single product—the "Dirty Lemon Raw Detox." It contained water, raw, cold-pressed lemon juice, dandelion root extract, ginger root extract, and its signature ingredient, activated charcoal. 
It claimed to "help to calm the stomach, flush out the kidneys, and trap impurities before they can be absorbed by the body."
Nevermind that flushing is literally what the kidneys do on their own.
There's a lot to unpack here.
"There are no toxins in your body in the first place," Sophie Medlin, registered dietitian, and spokesperson for evidence-based nutrition, told me. 
"I am always trying to find out what people mean by toxins. Nobody really has the answer to that. Your liver and your kidneys detox your body perfectly. If they aren't working, you need to go to the hospital. No one needs to detox from food."
But what about charcoal?
"There are no benefits to taking charcoal. What it does do is it binds to nutrients, like iron. It also binds with medications like antidepressants and the contraceptive pill. It binds with them and stops you from absorbing the full dose...Things like epilepsy medication—if you drop the dose even slightly it puts you at risk."
At best, it's not providing any benefits. At worst, it binds with the medication you've just taken, meaning those birth control pills may not be as effective as you'd like. 
So why do people buy-in? What makes these claims so believable? 
Branding.
What they lack in legitimate science, Dirty Lemon makes up for in branding and enough FDA loopholes to send a self-driving car through. 
Take the name—a tongue in cheek reference to the muddy color of their original drink that had activated charcoal particles suspended in it.
In a play on "clean" eating, they claim this dirty looking drink will cleanse you of all your impurities. Pair that with an Instagram feed full of attractive Millennials eating pizza and drinking wine, along with attractive Millennial influencers holding Dirty Lemon bottles, they're advertising an easy solution to wellness. They're saying yes to indulgence, as long as you follow it up with a Dirty Lemon cleanse to wipe away all those impurities. 
At a price tag of over $10 a bottle, it must do something for you, right?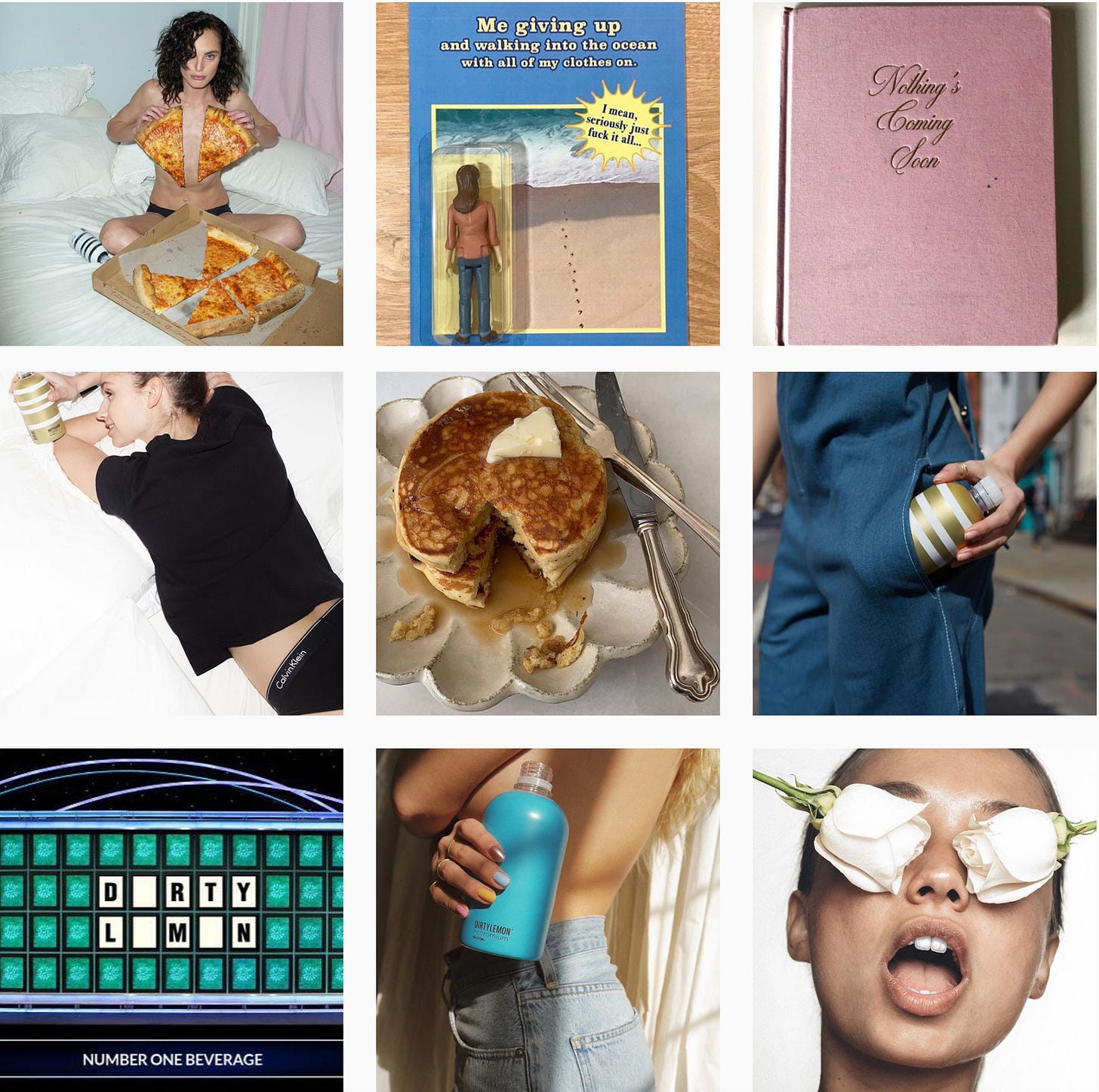 Today, you don't need to be worried about the potentially harmful effects of charcoal in Dirty Lemon.
While it's still called Charcoal, Dirty Lemon has quietly removed the ingredient from its drinks. Charcoal is now only "used as a processing aid during production." 
Seeing as it's the only ingredient listed on the front of the package, I would guess this information would come as a surprise to most of its drinkers.
This hasn't stopped them from doubling down on their efforts to look like a medicinal brand. Their fonts are clean, their website is sparse, and it's devoid of color—aside from the bottles. Each bottle is cloaked in a signature shade, a nod to the hero ingredient inside. 
This ingredient is accompanied by a plus sign. It's no coincidence that the plus sign is also a long-standing medical symbol.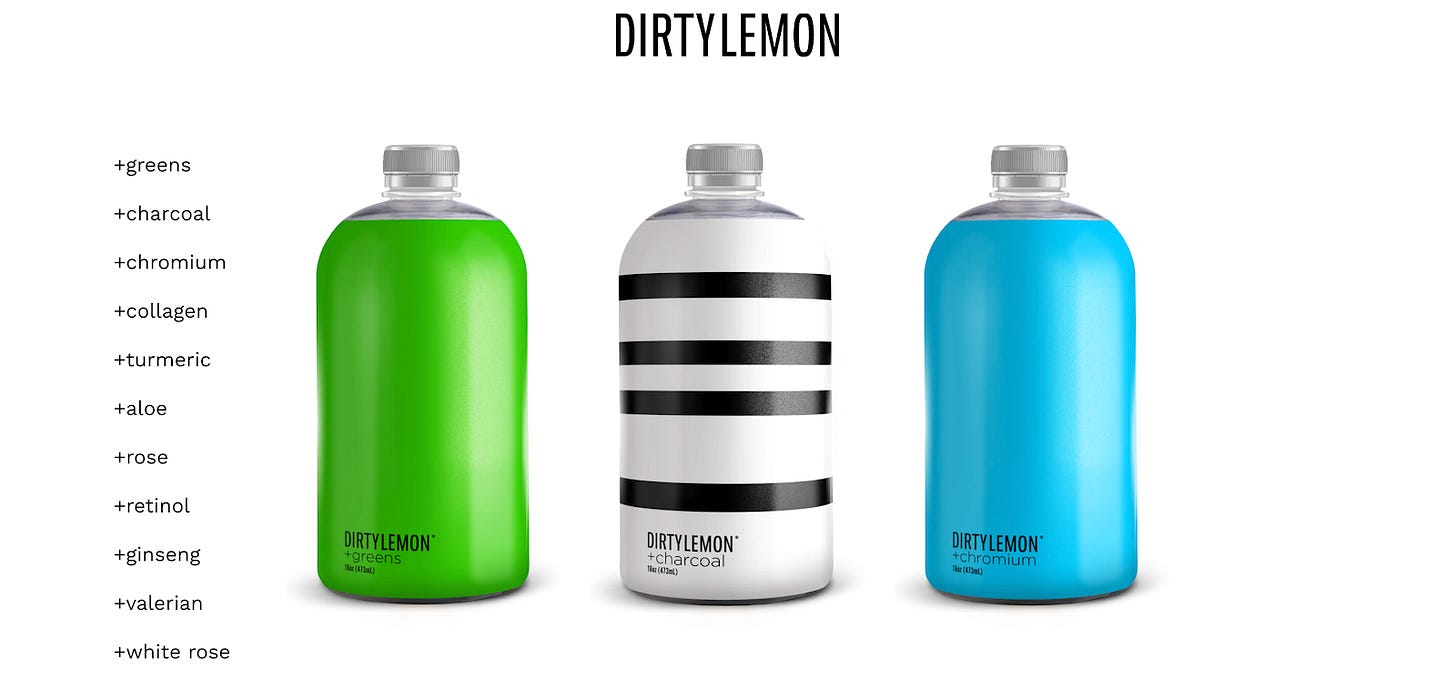 If it wasn't obvious enough they are trying to bill Dirty Lemon as medicine, they opened "The Drug Store" in Manhattan, selling exclusively Dirty Lemon drinks.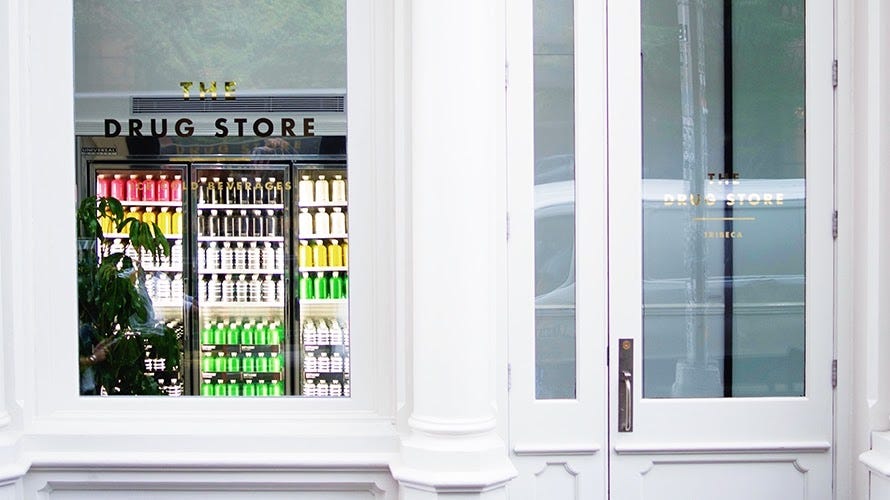 And their quick-fix health solutions don't stop at your kidneys, they also have drinks to de-wrinkle your skin. 
Does drinking your wrinkles away sound too good be true? 
Yes? 
Well, that's because it is. 
Retinoids work by "prompting surface skin cells to turn over and die rapidly, making way for new cell growth underneath. They hamper the breakdown of collagen and thicken the deeper layer of skin where wrinkles get their start."
Yet, the claims around Dirty Lemon's "first-ever drinkable retinol" are highly suspect. Not only are the active ingredients Retinyl Palmitate and Retinyl Acetate, "not really effective at all" according to Dr. Sheila Krishna, dermatologist, but, "with drinks in general, our stomachs have evolved to process and break things down, so there will be a significant breakdown process that goes on. I would seriously doubt it would have any appreciable effect on the body."
Dirty Lemon also has drinkable skincare in the form of collagen "designed to hydrate skin, increase elasticity, reduce wrinkles, and support new collagen production." 
Didn't we learn from the President that drinking chemicals doesn't safely provide their intended laboratory effect?
There's a Dust For That.
Moon Juice is on the opposite end of the spectrum. Where Dirty Lemon is your slick, tech-enabled pharmacy, Moon Juice is your apothecary. 
Everything about their branding points to an otherworldly power that their products possess. From their celestial-inspired name to their website, featuring luscious closeups of fresh ingredients, and artfully placed water droplets and beams of light. The Moon Juice site is bathed in earthy beige tones, and their bottles swathed in craft paper—it says home-grown cure, with a large dose of mysticism. Even their store is staffed with "a team of highly trained alchemists who are passionate, educated, and ready to help guide your journey."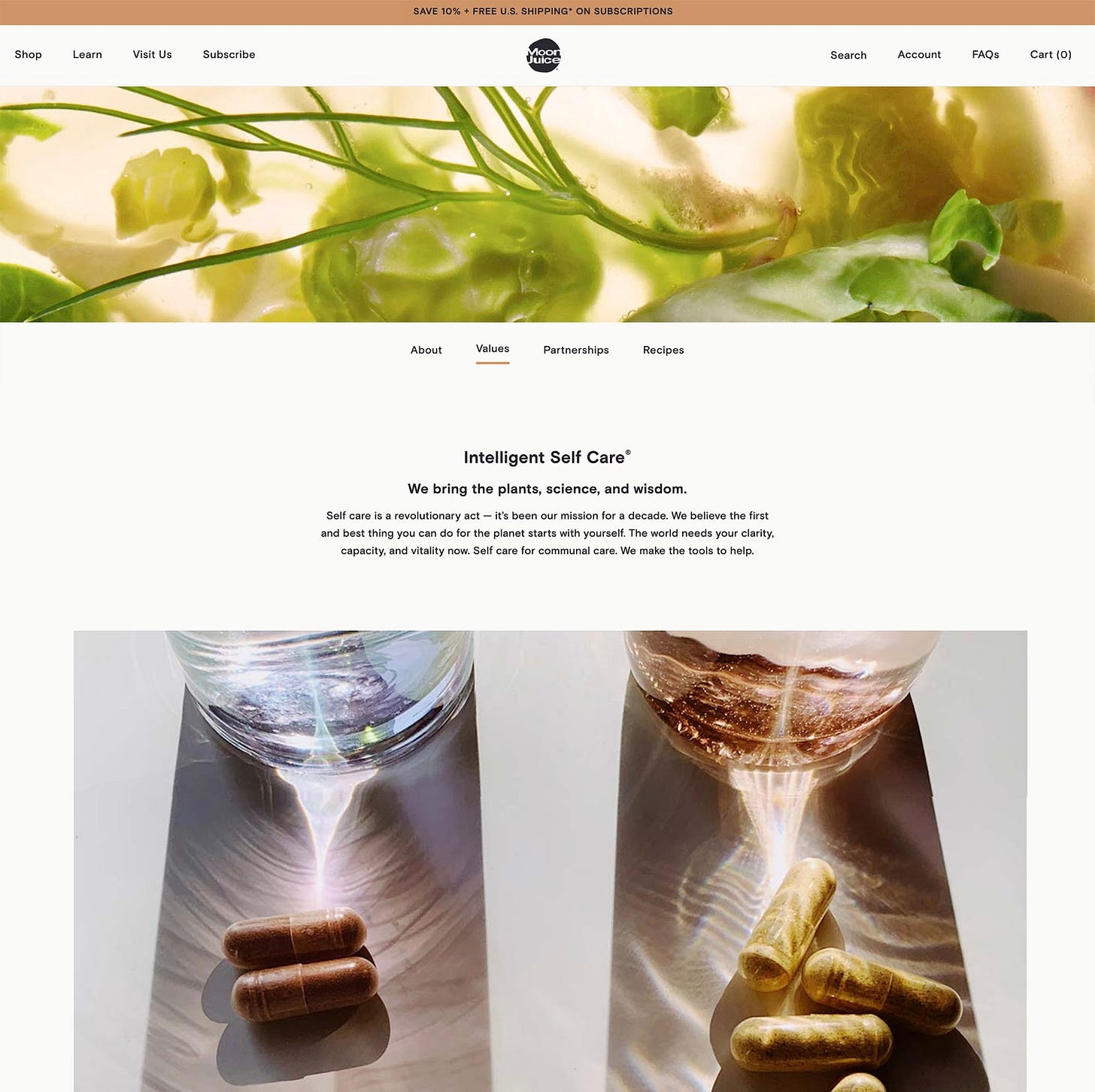 It is all, if anything, photogenic. Look no further than their Instagram account (with 311k followers) for a synthesis of their dreamy, mystical aesthetic, featuring intensely close imagery of their frothy drinks—almost as if under a microscope.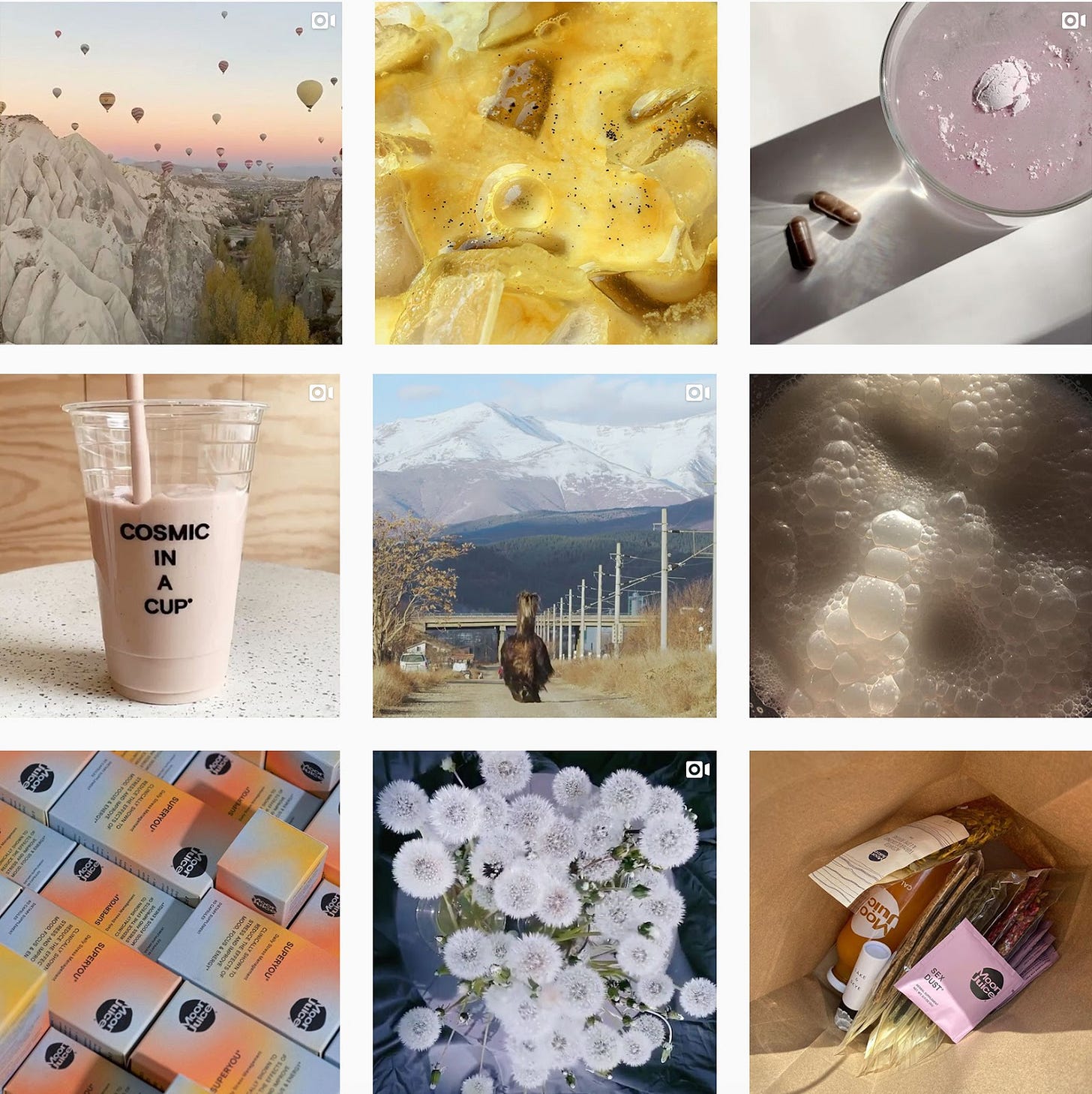 And take a look at the Moon Juice cookbook—a "cosmic alchemy for a thriving body, beauty, and consciousness." Straight from the cosmos to your kitchen. Full of healthcare secrets that have been so well-kept that neither you nor your medical professionals have likely heard of them.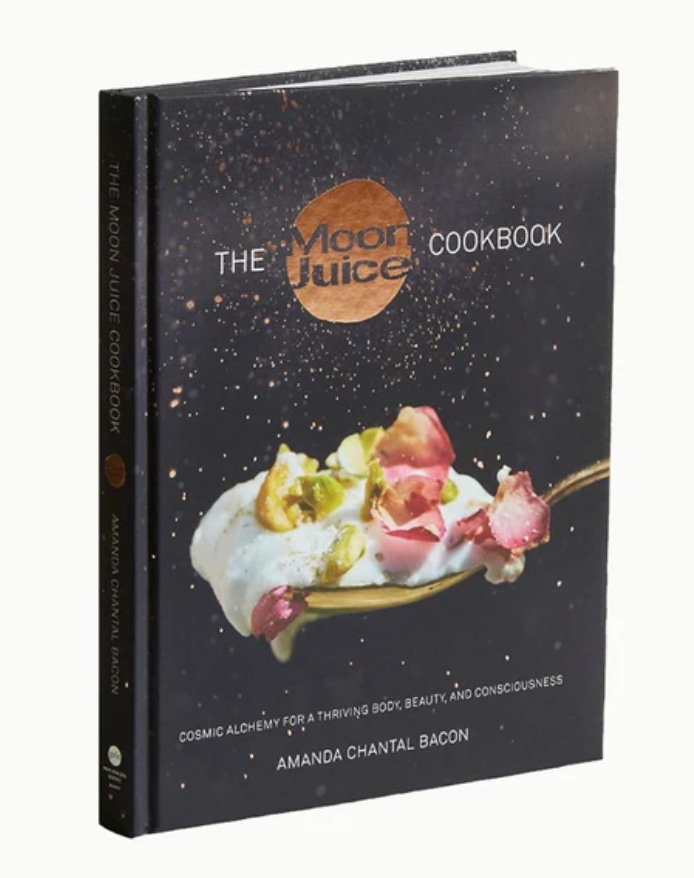 Their website uses language like "thrive cosmic," "potent," and "life-changing" alongside "microbiome," and "clinical,"—it all sounds just scientific enough to convince you these are powerful ingredients, without saying much at all. 
In an explainer of one ingredient's origins, they write: "Bio-fermented with a high molecular weight of 10,000-20,000 Daltons".
One Dalton is 1.66053906660(50)×10−27 kg, just so you know. Science!
Anyway, back to the drinkable collagen. 
Alongside an array of powders including Dream Dust, Spirit Dust, and Power Dust, is Moon Juice's answer to fine lines. Their Collagen Protect is "skincare you can drink" that is a "vegan creamer and skin supplement formulated to help minimize fine lines and hydrate skin from the inside out."
Like with retinol, the missing information here is that it's highly unlikely that this collagen makes it to your fine lines.
According to Sophie Medlin:
"With collagen, your body will just break it down like any other protein and may assemble it into collagen if you need it, but your body doesn't care about where you want to repair collagen, it will be reprioritized to other parts of your body where you need it."
All of this is not to say that natural ingredients are ineffective. Take a few of the key ingredients in Moon Juice's Brain Dust— Ashwagandha has been proven in clinical studies to reduce the effects of stress on the body, and Rhodiola can increase the capacity for mental work.
But what is missing from Moon Juice's descriptions, and Dirty Lemon's for that matter, is any context. Where ingredients' effectiveness is listed, pertinent information is left out, such as, in what form is it best administered, and at what dosage. Nor is there any indication of where these health claims are coming from. Moon Juice alludes to a team of "scientists, herbalists, and chemists to ensure efficacy, safety, and purity," but there's no visibility as to who they are or what their credentials are. And as for Dirty Lemon? They don't even have an about page. 
I understand the desire to look to natural products to support health, and a number of them do yield results. But given how many variables there are, and the potential risks, claims of efficacy should not be taken at face value. 
Effective branding does not equal effective products.
Next week we'll be looking at a few DTC startups that are delivering on the branding *and* the science.
---
"The most important thing is to never stop questioning." — Albert Einstein
---
🔥 For The Love of Newness
There's a new snack bar in town, Get Golden—it's "saltysweet, chewy & nutty," and made from 100% wholefoods. 
Arfa brands launched State Of—a vegan, sustainable range of menopause- related products. 
Starface (who you can read more about here) released Lift Off Pore Strips, and they're already sold out. 
Haircare brand Act + Acre released plant-based dry shampoo, and it's also already sold out.
Whenever you're ready to travel, Away is making sure your pet can come along too. 
Real, a company taking a new approach to mental wellness, launched a digital membership featuring therapy events, and ongoing mental health tracking—all through their member portal. 
---
🔍 For The Love of the Details
These days, we are all inundated by politics everywhere we look. But I was not expecting it from a grape.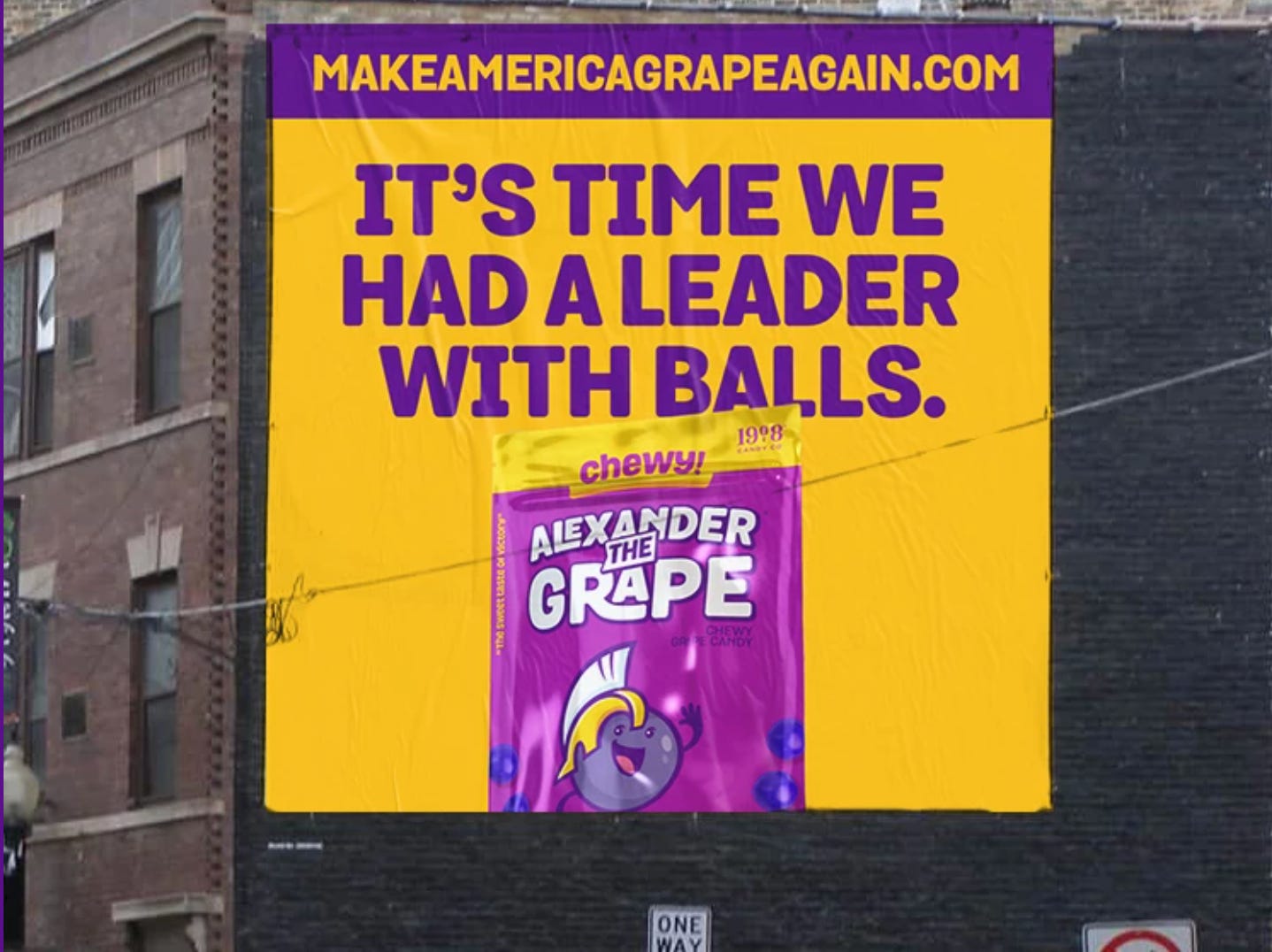 Who I guess is running for President? Get it? He's ball-shaped, get it? Cringe.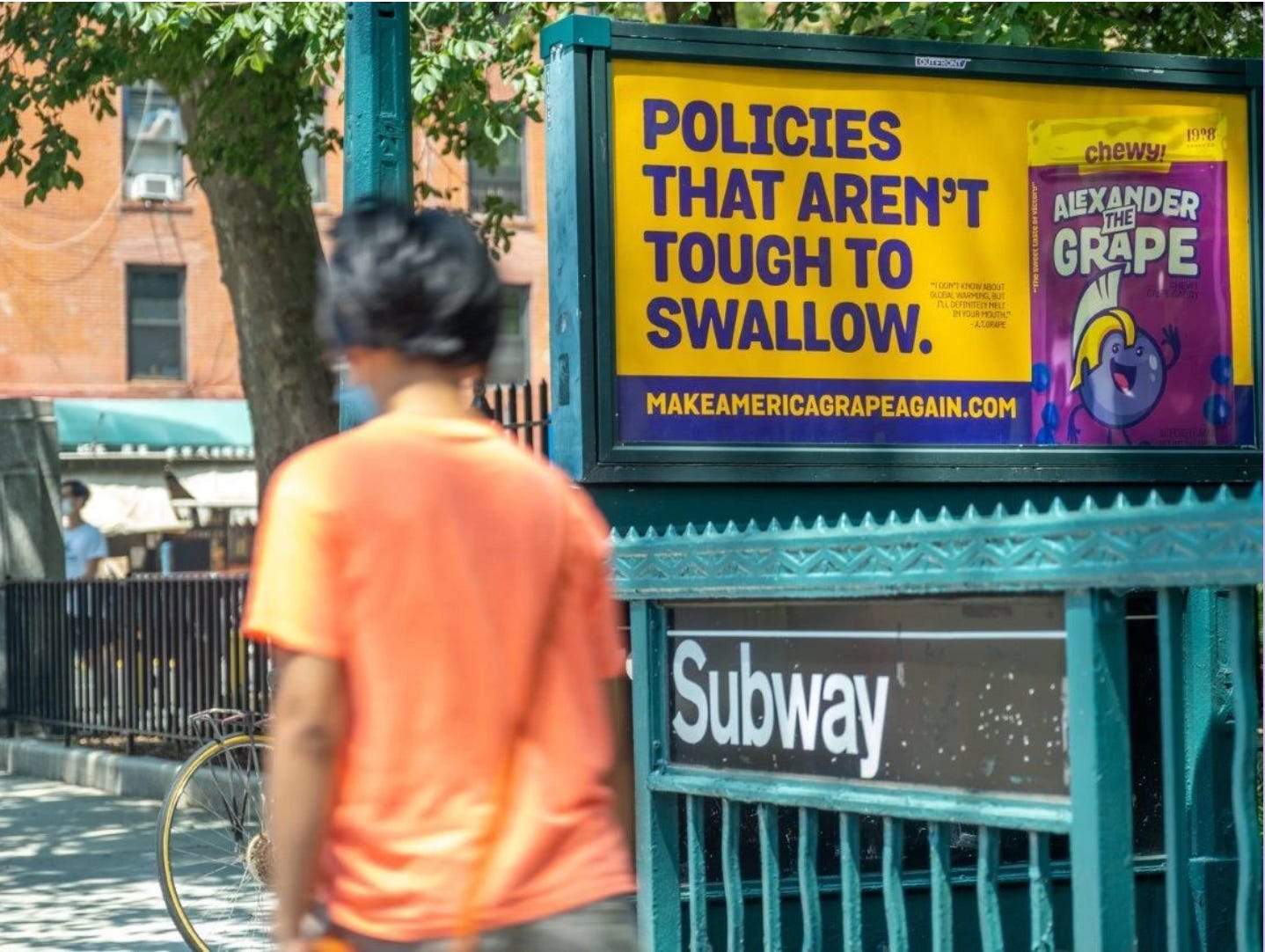 In case you're not familiar with Alexander the Grape (I was not), it's a grape-flavored candy, whose political aspirations (and policies, as referenced in the ad) can be viewed at Makeamericagrapeagain.com. 
Double Cringe.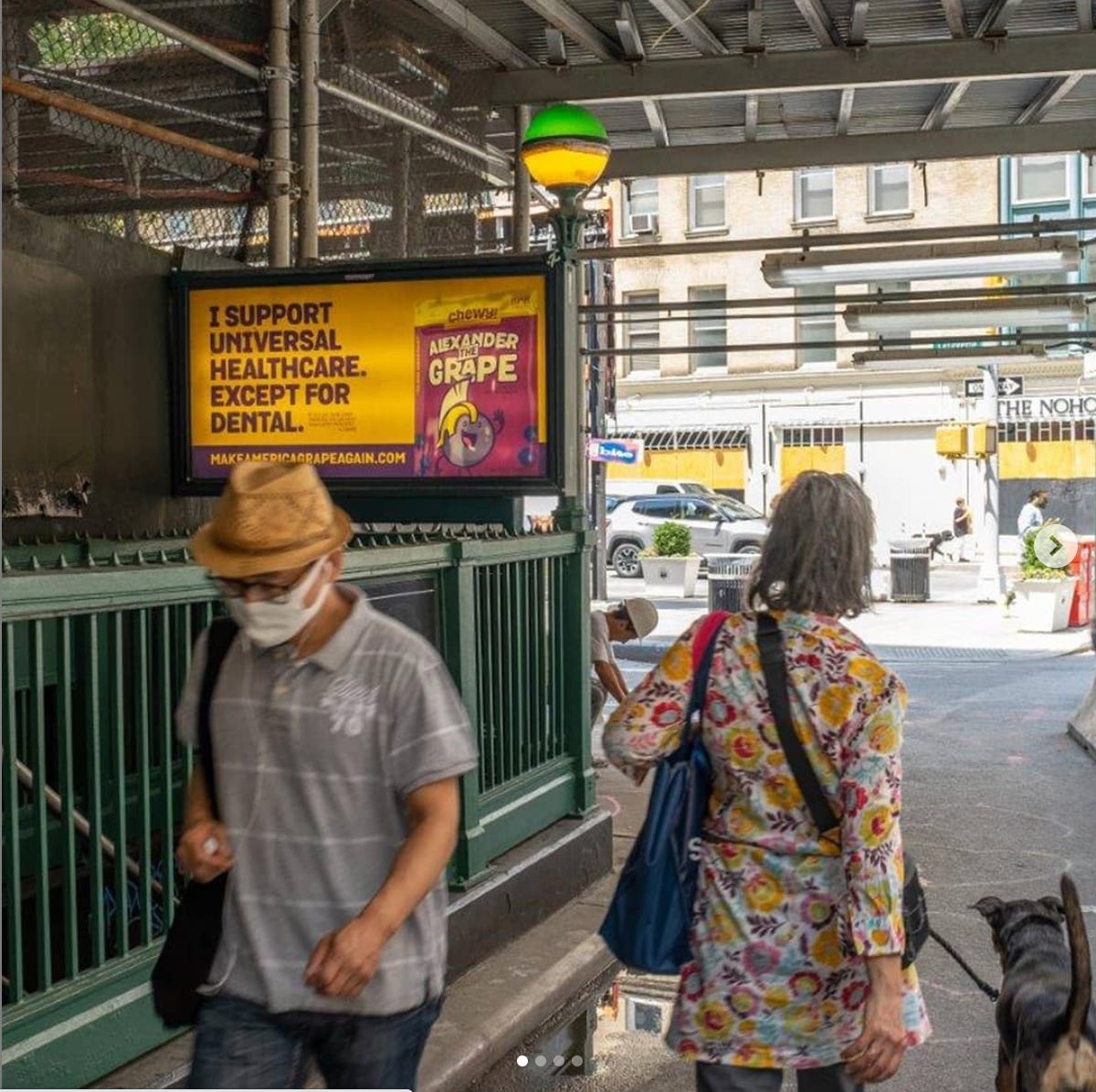 I find this one particularly mystifying. He does not support universal dental care because… he wants candy to rot everyone's teeth? 
On top of all this, he's named after Alexander the Great…an unelected king. 
#triggerwarning
Thank you for being part of For The Love! 
---
A few more things...
Is there a topic you think I should cover? Or a funny ad I can dissect? I'd love to hear from you! You can email me at info@ajasinger.com, respond to this email, or drop it in the comments ⬇
Know someone who'd enjoy this newsletter? 
Was this newsletter forwarded to you?
---
Written by Aja Singer, a brand and creative strategy consultant interested in all things startup, mission-driven, and community. Born in Canada. Based in Brooklyn. You can also find me on Instagram and Twitter.