Real brands for real humans.
Everyone eats, sleeps, gets pimples, and gets sad.

A newsletter about branding, startups, and mission-driven companies aiming to make the world a better place.
👋 Welcome to issue #6 of For The Love, and welcome to the 168 new subscribers! Thank you to Paul Munford (Leanluxe) and Sari Azout (Check Your Pulse) for sharing my newsletter. You should subscribe to theirs if you haven't already—I never miss an issue.
Do you have a newsletter I should be reading with a similar audience? Let's talk and compare notes.
Today we'll be discussing:
Starface & Madhappy—they're being honest and Gen Z is listening.

A roundup of things that launched this week, including a new line of science-backed skincare.

Mac & Cheese. It's what's for breakfast (apparently).
If you have been forwarded this newsletter, and you'd like to get For The Love in your inbox every Sunday morning, you can sign up here.
---
💣 For The Love of Startups
Celebrities used to seem perfect, but today's stars, such as Kendall Jenner and Justin Bieber, are posting photos of their acne.  Selena Gomez publicly discusses her experiences with bipolar disorder. You'd think these admissions of humanness would turn the perfect imperfections of human existence mainstream, but big brands seem slow to catch up.
Take a look at Clearasil's recent Instagram post.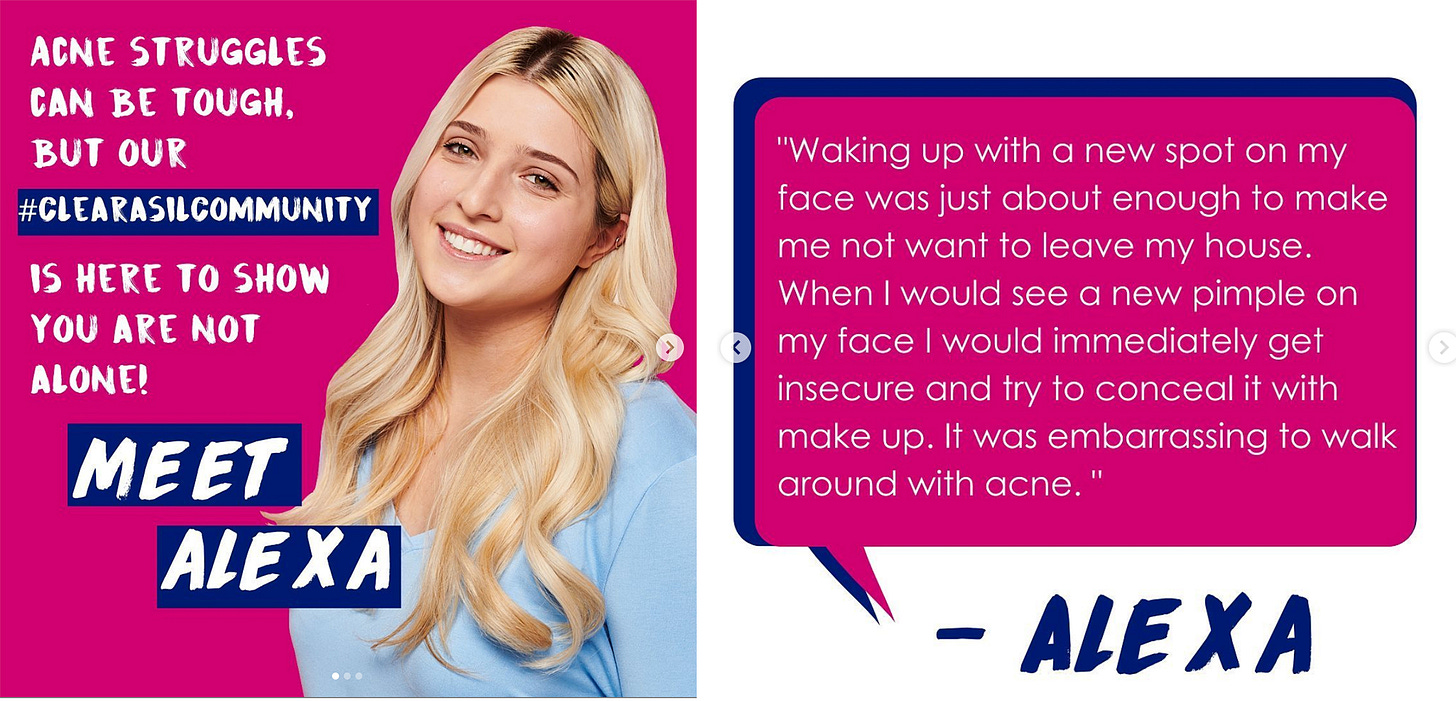 Not so different from these examples from the '70s.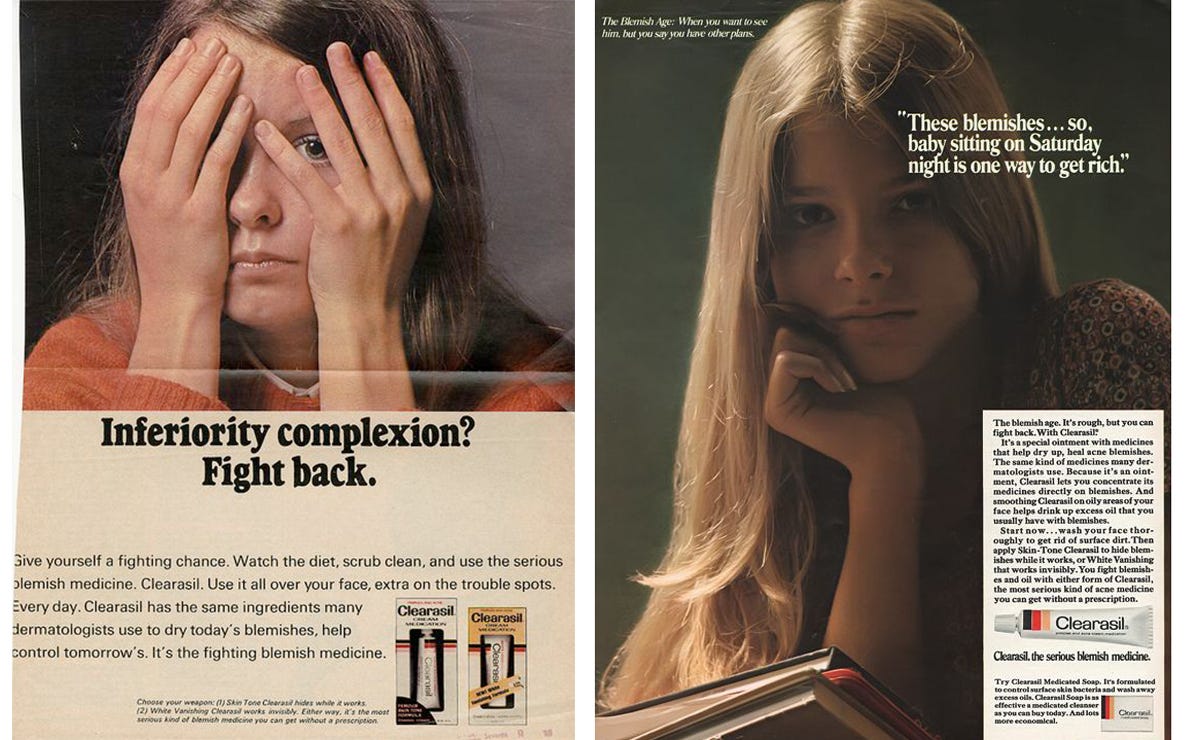 Or this one.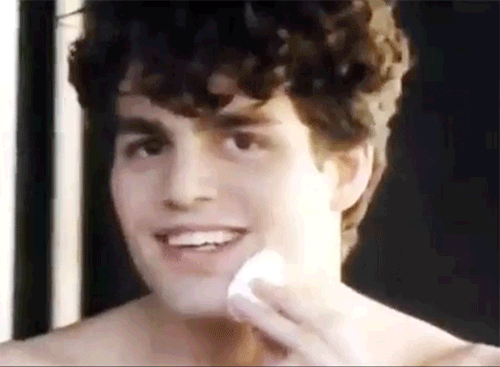 (Okay I just added that last one because it's a delight to watch a fresh-faced Mark Ruffalo pretend to wash his face.)
These ads are telling teenagers and young adults that acne is shameful—so much so you shouldn't leave the house. So shameful they won't even show a pimple in the ad. 
This has been going on for 50 years! They are literally shaming people into buying their products.
This is why I am so happy to see that Starface, a line of acne-focused skincare products, with a little help from Gen Z (more on that later), is changing the game. 
I spoke to Julie Schott, founder of Starface, about how she's approaching things differently:
"95% of people are affected by acne so it doesn't make sense to position it as an aberration. It is a great equalizer—you can see that high-profile public figures have acne. There is no expensive cure. Self acceptance is the #1 thing...You don't have to arrive at this finish line that is clear skin."

"Language is really important to us—if you look at the skincare aisle you will see words like blemish and imperfection used interchangeably with pimple and those words are so harmful. If you think about putting words like that in another category it wouldn't really make sense. It would be insulting. So starting with the language of 'these are spots, pimples, they are what they are'. And also presenting this world through a joyful lens and not through one of 'you're unwell' or 'you're not taking care of yourself and here's how to fix it'. This is not a  punishment for anything. This is a really fun experience."
In case you missed it, one of those Clearasil ads reads: "Give yourself a fighting chance. Watch the diet, scrub clean, and use the serious blemish medicine. Clearasil. Use it all over your face, extra on the trouble spots."
Yeah, not great. 
Starface's fun attitude radiates from their entire brand. Sunny yellow packaging and a color-filled website accompany the narrative of Big Yellow.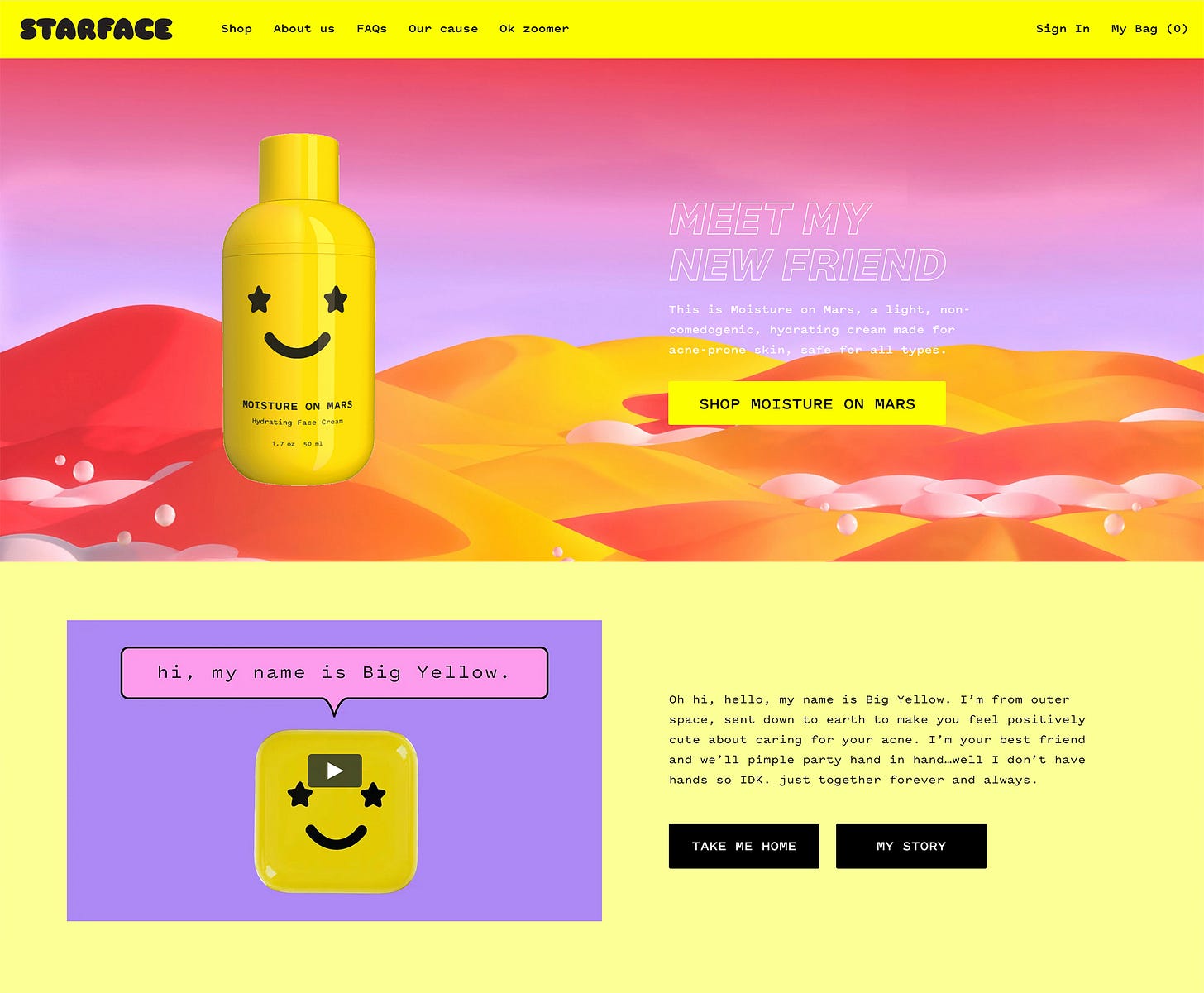 Who's Big Yellow? 
Well, he's an animated character that lives in a fictional universe and "he's viewing the world from the lens of an outsider with a really open mind." 
Julie Schott explains:
"You feel like you're from outer space when you're a teenager—that's what this character is all about...social media is complicated and wrought with things that can have a negative impact on your mental health. We want to offer a little bit of escapism while still being aware of the world."
Based on their 376K Tiktok followers, I'd say this approach is resonating with customers—especially Gen Z.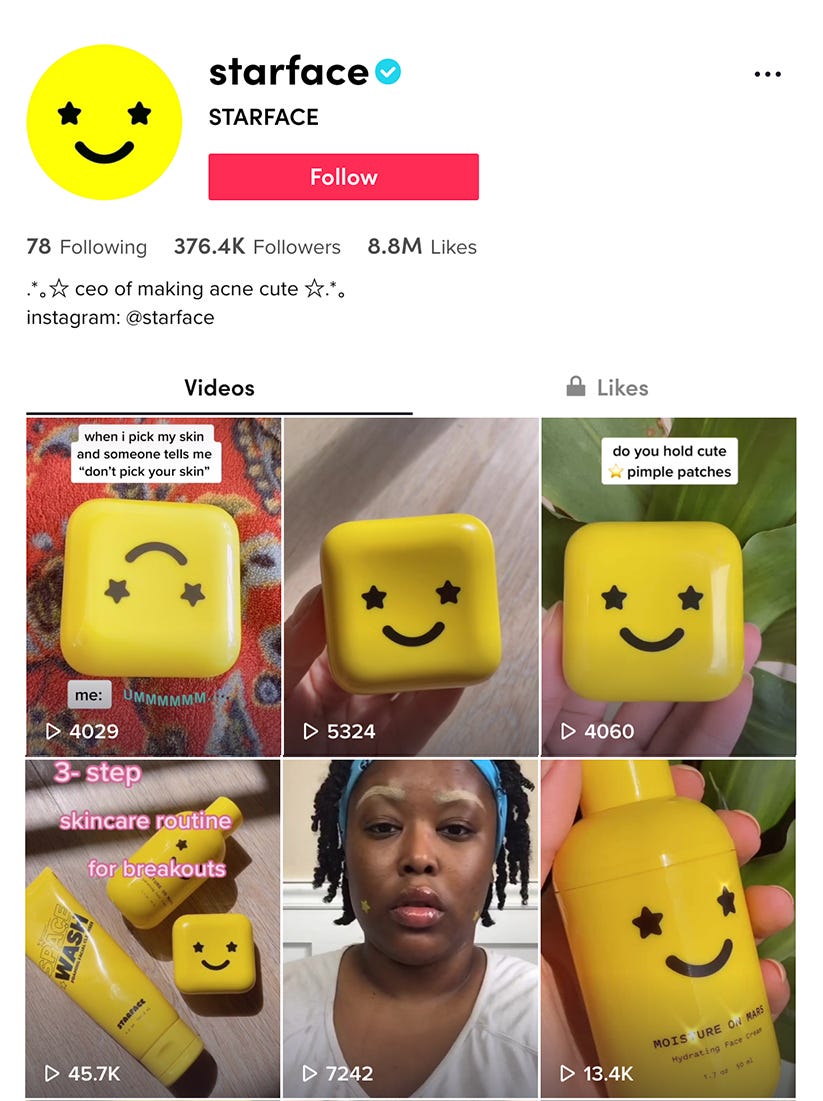 In June Klaviyo and Future Commerce released a joint report on Gen Z shoppers, or CARLY (Can't Afford Real Life Yet), who want to bring their own ideals to shopping. "CARLY wants brands that show a form of flawed beauty—a form of undoneness." And Starface specifically speaks "to the need for CARLY to draw attention to her flaws and to celebrate, or adorn them, rather than hide them."
I disagree with one aspect of this analysis. I don't believe this shopper, or Starface for that matter, approaches acne as a "flaw," but as a part of life— where some days you have acne, and others you don't, and neither should be labeled as better nor worse.
Another brand with this outlook (and an avid Gen Z following), is Madhappy, an "optimistic lifestyle label." It was born out of a desire to create a brand infused with positivity and inclusivity—in stark contrast to the exclusive, aloof attitude of most streetwear brands.
And, in case you couldn't tell from the name, It's also focused on mental health.
"It became clear we could be the first brand to create a conversation around mental health, so the average kid can talk about it," and provide them with the tools to have that discussion, Peiman Raf, one of the founders, told me.
This positive attitude and judgment-free perspective are expressed through a mix of calming pastels and joyful pop-y graphics. Even their in-person spaces are meant to be relaxing. Peiman stressed they don't want anyone to feel pressure to shop—it's a space for their customers to relax. They are airy spaces (mimicking their online shopping experience), with ample room to sit, and most feature a Self-Reflection Chamber—a mirrored room built to "quiet the mind and reflect on all the different versions of ourselves that we experience throughout life, as well as the literal infinite versions of ourselves that we are seeing in the room."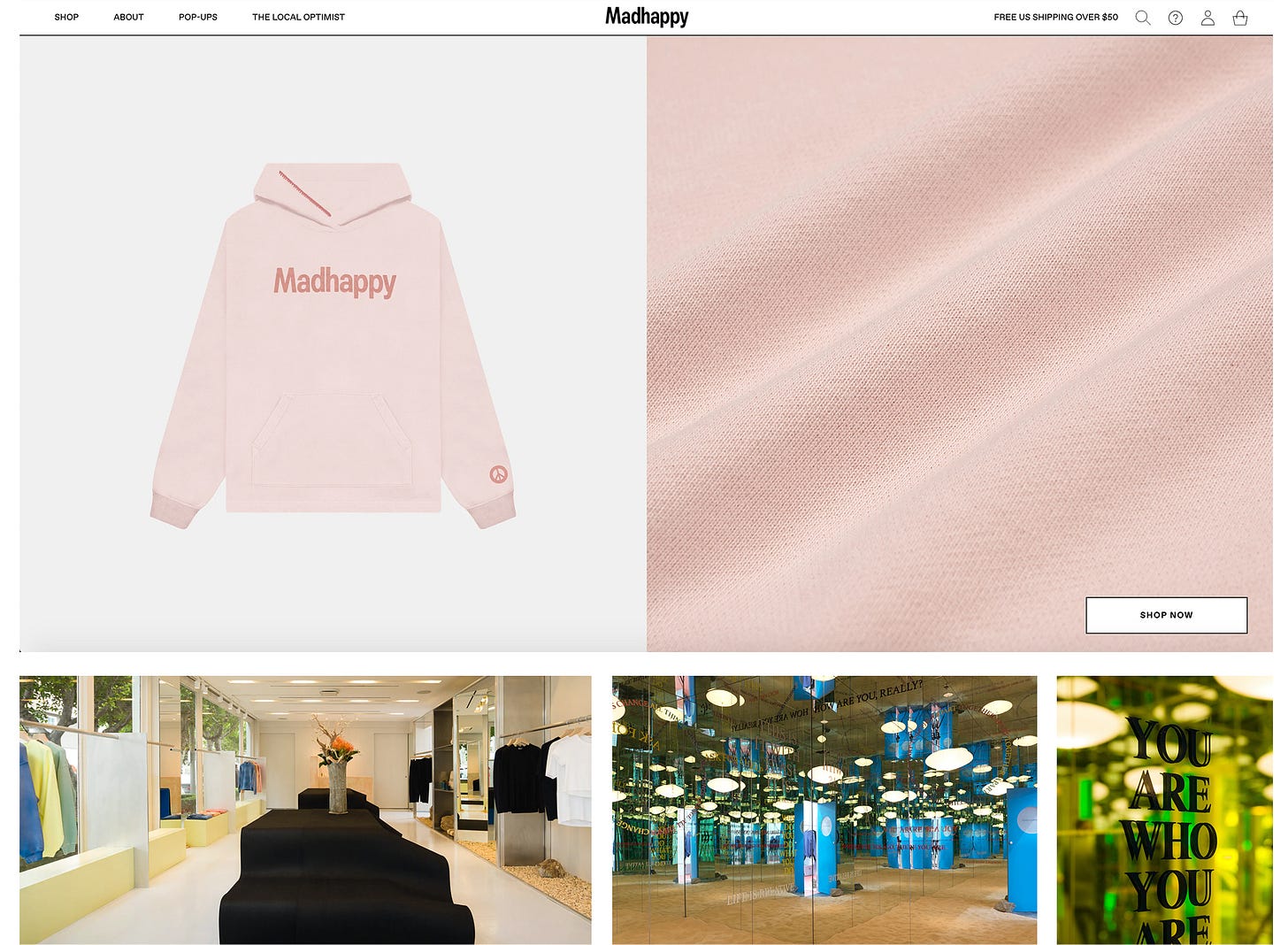 The editorial arm of their brand, The Local Optimist, features uplifting playlists, resources on mental health, and information on where to get help if you need it.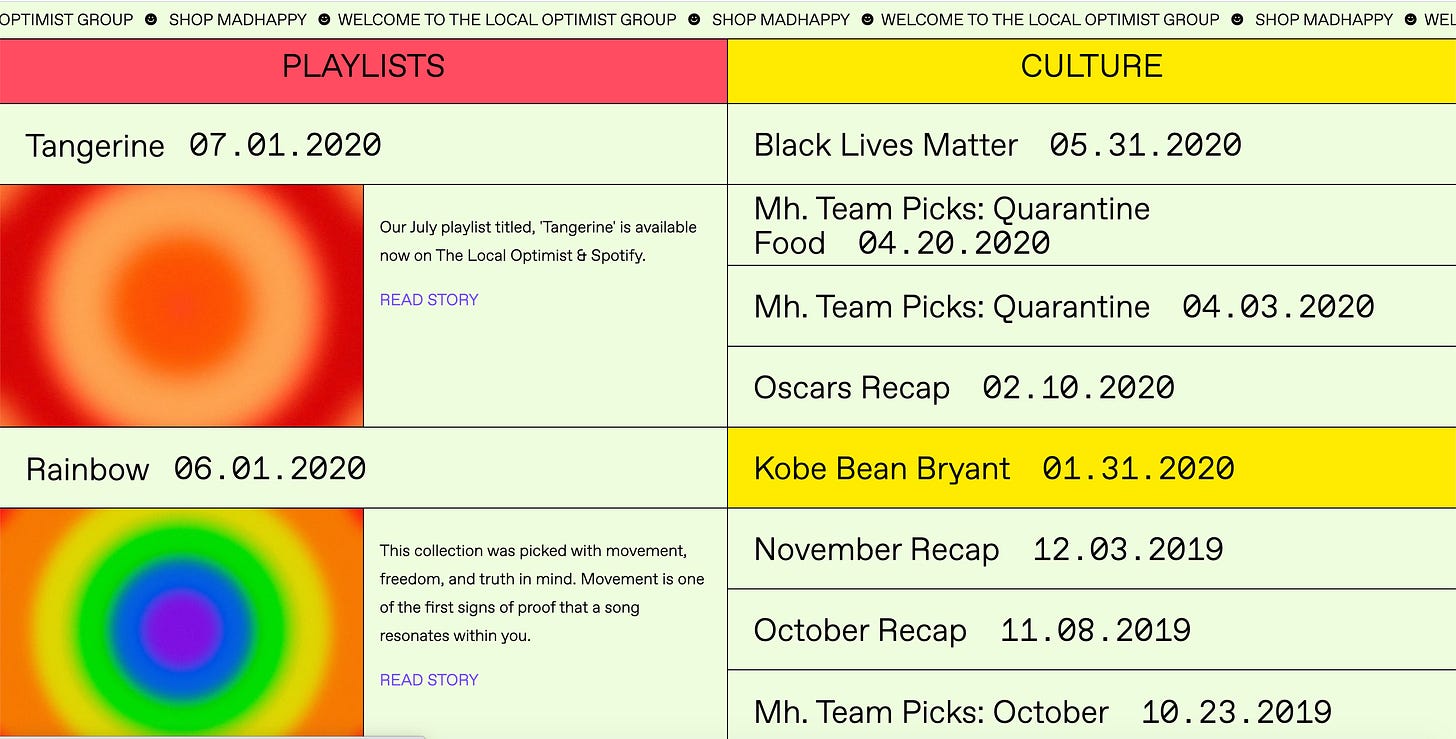 "Gen Z wants to talk about mental health," explains Peiman. 
"In the same way you can talk about going to the gym, you should be able to talk about going to therapy...You have some good days and some bad and a lot in between, just like physical health—it's a spectrum." 
Discussions around mental health and acne have, in the past, been through a lense of shame, but Starface and Madhappy are taking an honest, transparent, and judgment-free approach. This not only resonates deeply with their Gen Z customers but with everyone. Everyone benefits from feeling like who they are, how they feel, and what they look like is something to be accepted and even celebrated. Their approach is one of optimism— something we could all use a little more of. 
As Julie Schott told me: 
"We lead with optimism and hope and joy...Even now it is possible, in our minds, to remain hopeful and that's what we hope to put forward."
---
🔥 For The Love of Newness
Topicals, a new line of science-backed dermatologist-approved skincare is here to transform the way you feel about your skin.
Speaking of skincare, Credo, one of the OG natural-beauty retailers, just launched Exa—a private label clean makeup brand with 43 shades of foundation.
Exo, a line of all-natural eco-friendly bug sprays, launched.
Acid League is a new line of raw, unfiltered, living vinegar.
Brandless has now officially launched with everything from saucepans to face wash. Oh, and, *check's notes* supplements for cats.
Italic added jewelry to the mix, so you can now get luxury gems at fast-fashion prices. 
---
🔍 For The Love of the Details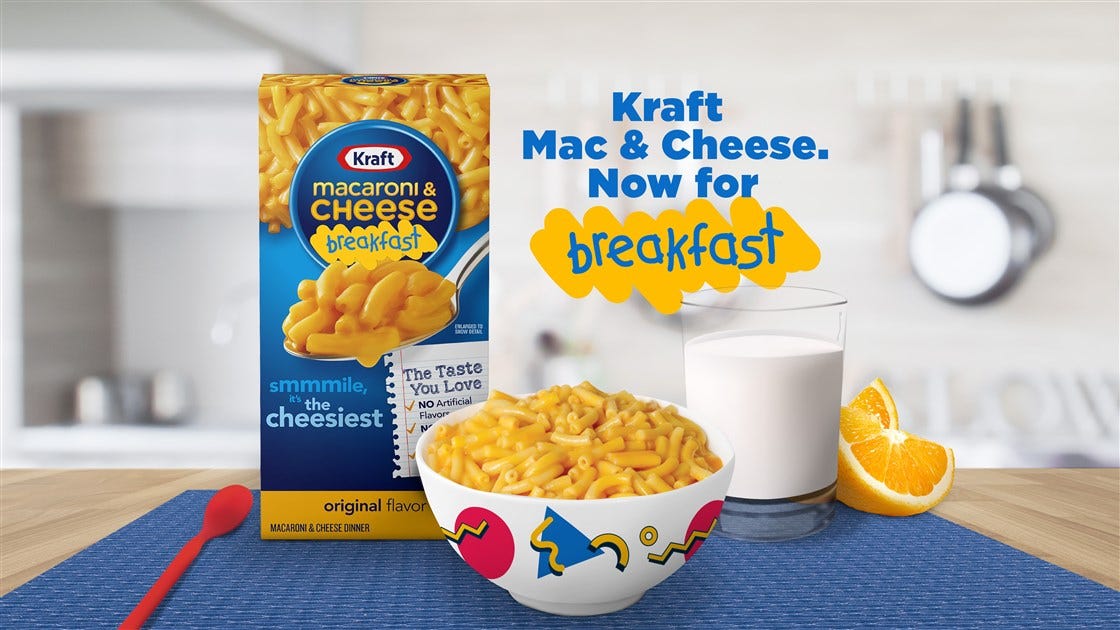 Let me preface this by saying I have no opinion on what parents should feed their children and when. I am not a parent, and honestly, if it weren't for my husband, I'd be subsisting entirely on avocado toast, cheese, and chocolate, so I am in no place to judge. But Kraft on the other hand, well, I have no problem judging them. 
This week Kraft announced they will be adding the word "breakfast" to Macaroni & Cheese boxes. Apparently this new label is meant to take away the stigma of feeding your kids Mac & Cheese for breakfast. 
Now I am 100% supportive of parents not feeling shame around feeding their kids something that's convenient, but is slapping the word "breakfast" on a box of Macaroni & Cheese really the answer? 
Aside from the fact that there are healthier choices for breakfast, there are also FAR easier choices for breakfast. I don't know, say pouring milk over cereal, or spreading peanut butter on toast. I mean, are we scaling back from a continental breakfast?
My favorite part of this release has to be the accompanying magnet with topping suggestions which are…
Wait for it.
Breakfast foods!!!!! 
Specifically, "crumbled sausage, bacon, and scrambled eggs."
They are suggesting you make breakfast. In addition to Mac & Cheese. And sprinkle it on top.
I highly doubt making Mac & Cheese AND bacon is making anyone's morning easier. But as I said, I'm not a parent.
Thank you for being part of For The Love!
---
A few more things...
Is there a topic you think I should cover? Or a funny ad I can dissect? I'd love to hear from you! You can email me at info@ajasinger.com, respond to this email, or drop it in the comments ⬇
Know someone who'd enjoy this newsletter? 
Was this newsletter forwarded to you?
Written by Aja Singer, a brand and creative strategy consultant interested in all things startup, mission-driven, and community. Born in Canada. Based in Brooklyn. You can also find me on Instagram and Twitter.