Fear and Respect That Escalator!
Goodbye premium mediocre, hello playful masspirational.

A newsletter about branding, startups, and mission-driven companies aiming to make the world a better place.
👋 Welcome to For The Love, I'm so happy to have you all here!
Today we'll be discussing:
"Mall brands" for the internet age

A roundup of new things that launched this week, including a new furniture brand for people with a fear of commitment *and* good taste

An Illuminati puzzle even Nicholas Cage can't crack
If you were forwarded this by a friend, join 1,200+ other brand enthusiasts by subscribing here!
---
📖 For The Love of Reading with Friends
I loved this deep-dive into how Stitch Fix built their business into a flywheel by Jake Singer (no relation, lol) in his aptly named newsletter, The Flywheel.
---
⚡ For The Love of Branding
I'd like to take you back to a simpler time — a time when mobile devices only beeped and flashed your friend's number, music came on discs, and we made plans to meet…
[Cue scary Halloween organ]
…*in person* at the mall.
[Vincent Price laughter]
It was the '90s, and hanging out at malls was so ingrained in our culture, they even made a movie about it — the aptly named Mallrats.
From Ben Affleck, as Shannon Hamilton:
"I've got two things to tell you. One: I don't like you. I see you every week in this mall. I don't like you shiftless layabouts. You're one of those loser fucking mallrat kids. You don't come down here to do work or shop. You hang out all day. You act like you fucking live here. Well, I have no respect for people with no shopping agenda."
We would later find out Ben Affleck's shopping agenda included a phoenix tattoo.
The mall provided hours of non-cell phone entertainment, but that wasn't really the point. It was a gathering place — the third place before Starbucks became the third place.
Online shopping? Well, you might get better products, but it's never been as fun as the mall.
The mall had over-the-top window displays and flashy signage (hello, neon).
Now, we've got this: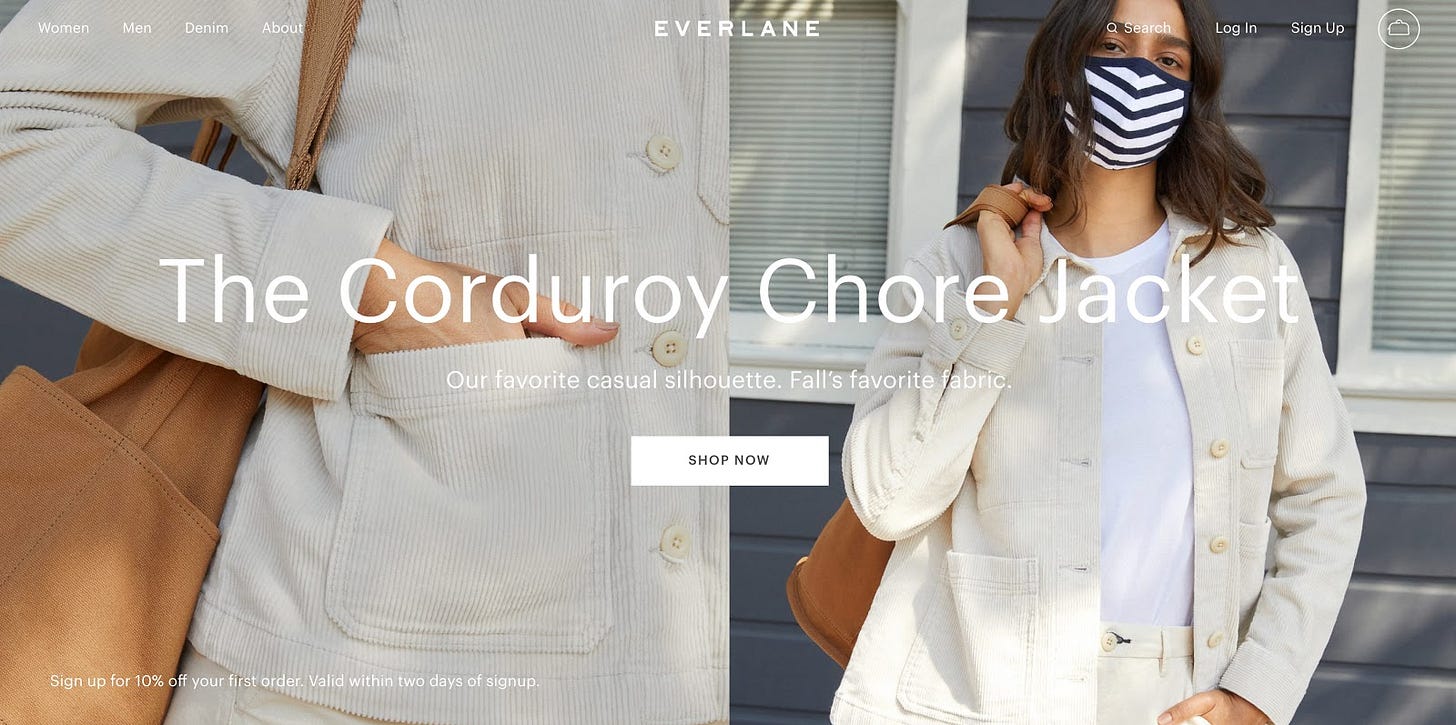 I mean, it's literally…a chore to buy.
So it makes perfect sense that a new guard of brands would emerge that would bring back the feeling that shopping was…recreational.
(And yes, you can buy Mrs. Field's Cookies online, but it might be a little more fun to peruse independent bakers on Etsy this holiday season.)
These new brands are brightly-colored, light-hearted, and approachable — Playful Masspirational (note: I admittedly stole "masspirational" from Lisa Bubbers, the founder of Studs).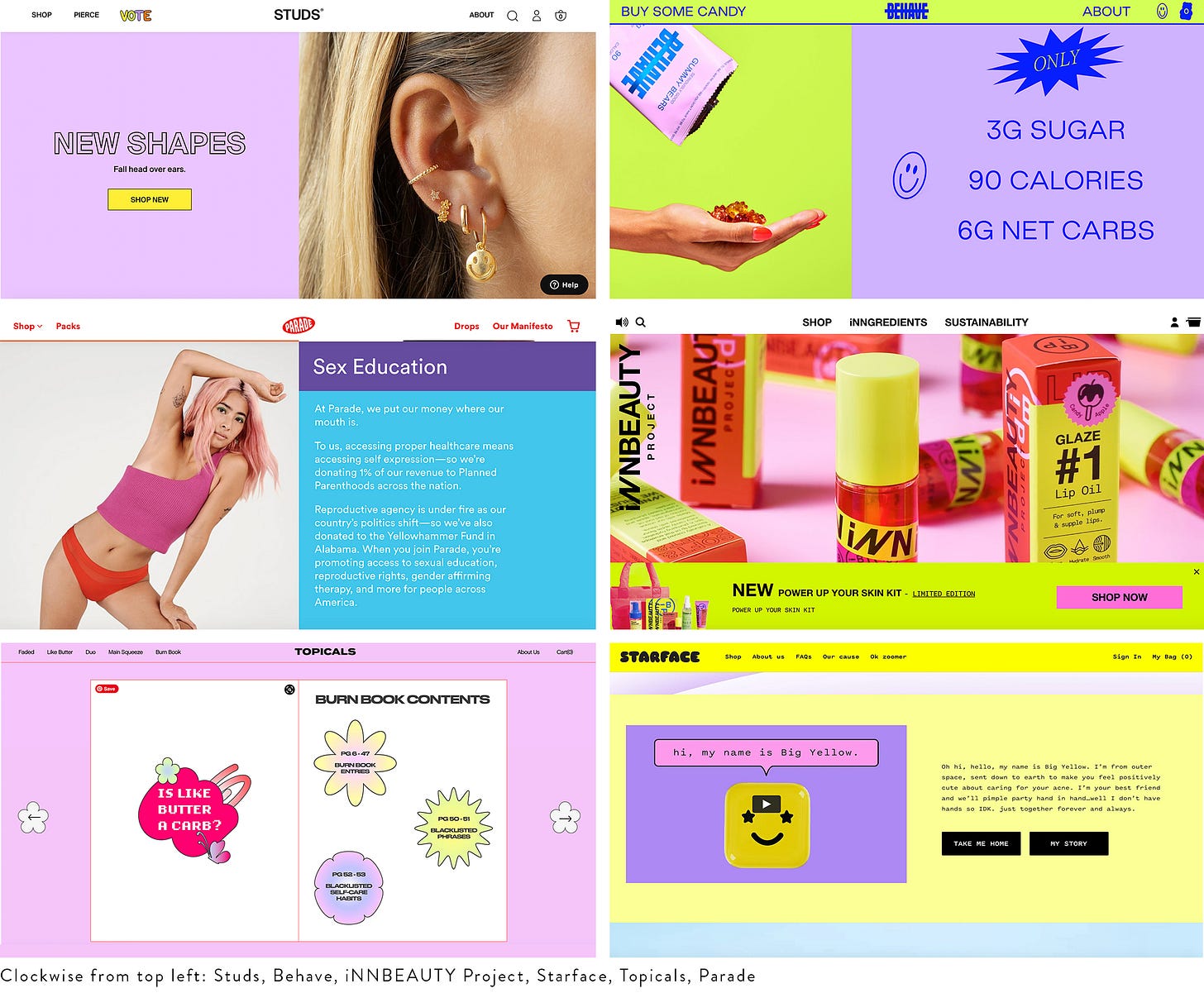 Playful Masspirational brands have:
✅ Big blocks of color
✅ A color scheme of bright high-contrast colors (especially acid green, lilac, and cherry red)
✅ Large, bold sans serif fonts
✅ Emoji style icons and bubble letters
And, of course, like any good Gen Z brand, they all have a mission.
So, without further ado, let's begin our tour of the virtual mall. Here's a map to get your bearings:
If you grew up in the '90s and have your ears pierced, there's a 99.9% chance you have been inside a Claire's — if not to get your ears pierced, then to hunt through jumbled stacks of sparkling accessories.
Enter: Studs, Gen Zs answer to Claire's. They offer a range of hoops, huggies, and, well, studs.
They have two NY locations (more to come) where you can get your ears pierced. Their website is full of the aforementioned bright pop-y colors, and cheeky details including animated nail decals, emoji mad libs, and a healthy peppering of ear-related puns.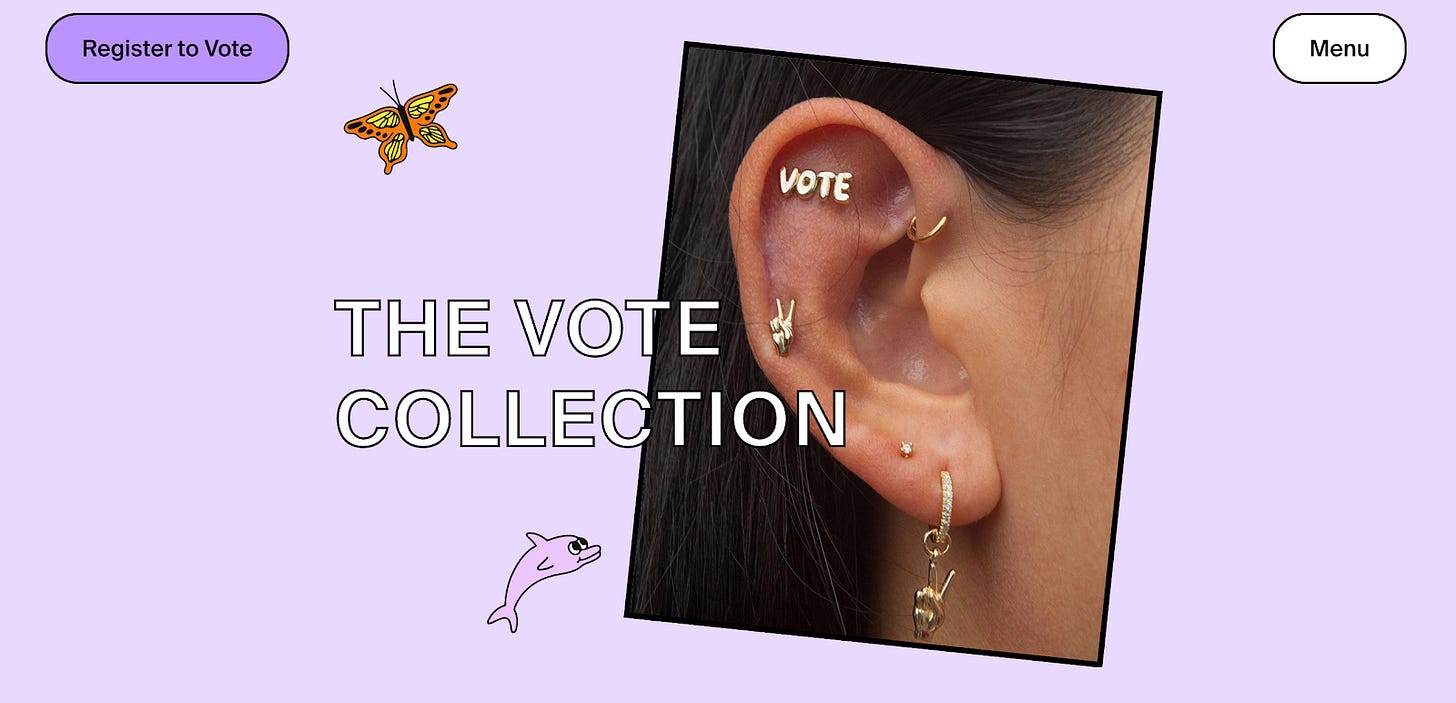 They even have nods to '90s culture. Anyone else remember stick-on earrings? They're scattered throughout the site and sometimes come as a gift with purchase.
Lisa Bubbers, Studs' Co-Founder & CMO, told me:
"Anna and I grew up in the '90s and we loved our iconic '90s brands like Delia's, Hard Candy, Wet Seal, and Stussy. We wanted to build an iconic 'masspirational' fashion brand and piercing experience that inspires the same brand love."
As for Studs' mission, self-expression is core to their brand, and right now that means voting. With every purchase of their "When We All Vote x Studs" collection, 20% of the purchase price will be donated to When We All Vote to increase participation in every election.
"We partnered with When We All Vote based on how their mission aligns with ours...We know our donation dollars help them get the word out that voting this election is crucial. We also wanted to integrate this initiative into our brand because Studs stands for bold self-expression. We always encourage our customers to stand up for what they believe in and make their voices heard — and this year, there's no better way to do this than with voting."
Now that your ears are cared for, let's move on to your self-care regimen.
Yes, it's Bath & Body Works — purveyor of, by my own estimation, roughly 100 million scented products, including Cucumber Melon, Moonlight Path, and Dark Kiss.
I made one of those up, or did I? [Spooky werewolf howls...]
Needless to say, many people are now looking for something a little less...synthetic.
iNNBEAUTY Project products are non-toxic, vegan, sustainable, and cruelty-free. On top of all that they're also plastic negative. For every product they sell, they fund the removal of 3 units of plastic from landfills, waterways & marine environments to be recycled & repurposed.
Their brand is flashy and playful, including a palette of acid green, hot pink, cherry red, and electric blue, paired with oversized, chunky fonts, splashed throughout the site, and packaging. If you're looking for that tastefully subtle DTC aesthetic, turn right around and head straight to Goop, but if you're looking to infuse a little fun into your beauty routine, you're in the right place.
Their website is full of entertaining videos, and fun interactive surprises, complete with a cursor that transforms into lightning bolts and lips. They have cheeky product names like "Slushy" and "Face Time". If you're really looking for some '90s nostalgia, their glazed-donut flavored glitter lip gloss has you covered.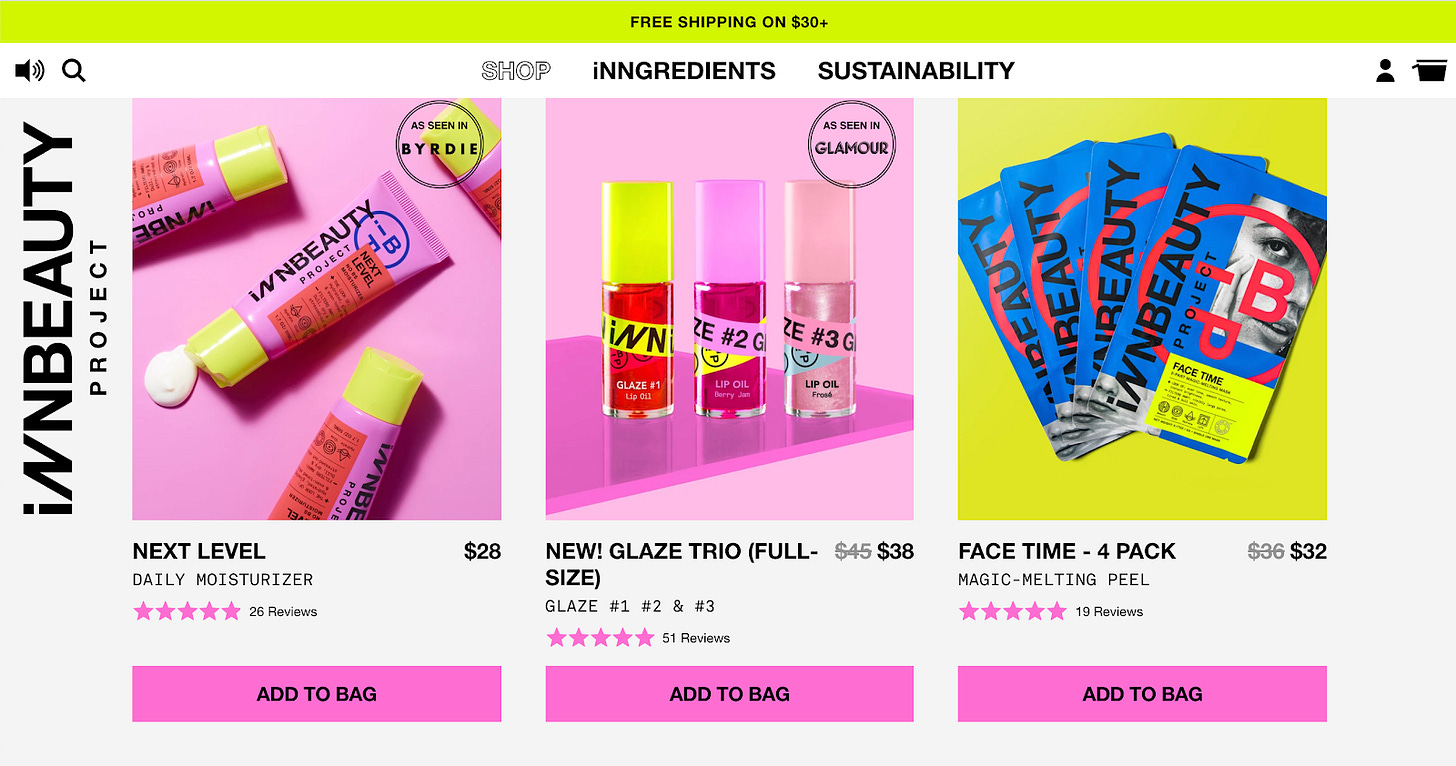 At this point, Victoria's Secret has seen better days, (not to mention its very surprising starring role in the Jeffrey Epstein scandal) but in the '90s? A must stop-shop.
For a less-controversial alternative, may I direct you to Parade? I promise, no angel wings in sight.
Cami Tellez, co-founder of Parade, said it best herself:
"I grew up going to the mall, seeing supermodels blown up on storefronts and thinking: this is what it means to be sexy. For too long, underwear has been about restricting us to a flat pink surface, but now we know that's just one glint in the sea of self-expression. Sexiness isn't one-dimensional—it's a voice, it's a feeling, it's a technicolor mirror that reflects whoever is holding it. With you, we're rewriting the American underwear story—in full-spectrum color."
Parade delivers on the promise of full-spectrum color — their website is blocked in every color of the rainbow (with underwear to match). Like a shop-window, they aren't too precious with their logo, reimagining it with every new limited-edition drop. Most recently, in honor of their 1-year birthday.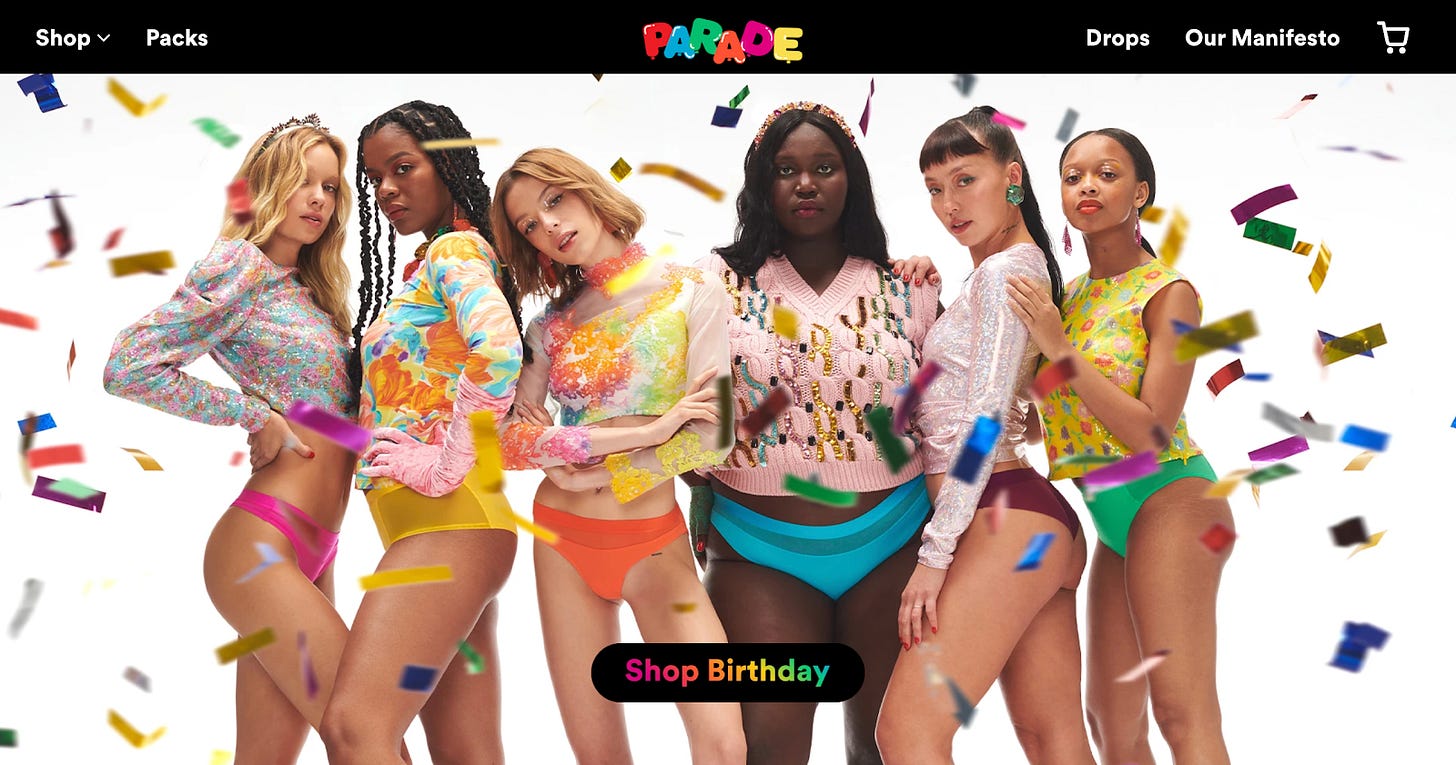 Of course, all this fun is anchored in a strong set of values, namely sustainability (their underwear is made from 85% recycled material and their packaging is fully compostable), and sex education (1% of their revenue goes to Planned Parenthood).
It wouldn't be a trip to the mall without making a stop for some new clothes. In the '90s there was Hot Topic, PacSun, and Limited Too, now there's Depop (where ironically you can probably purchase original '90s styles from all those brands).
Depop is a resale site (i.e. a sustainable way to shop) with 21 million users, 90% of which are Gen Z. Along with a bold, pop-y aesthetic (their logo is cherry red), and chunky sans serif fonts, their platform is akin to wandering around a mall — countless sellers each with their own distinct look, personality, and style.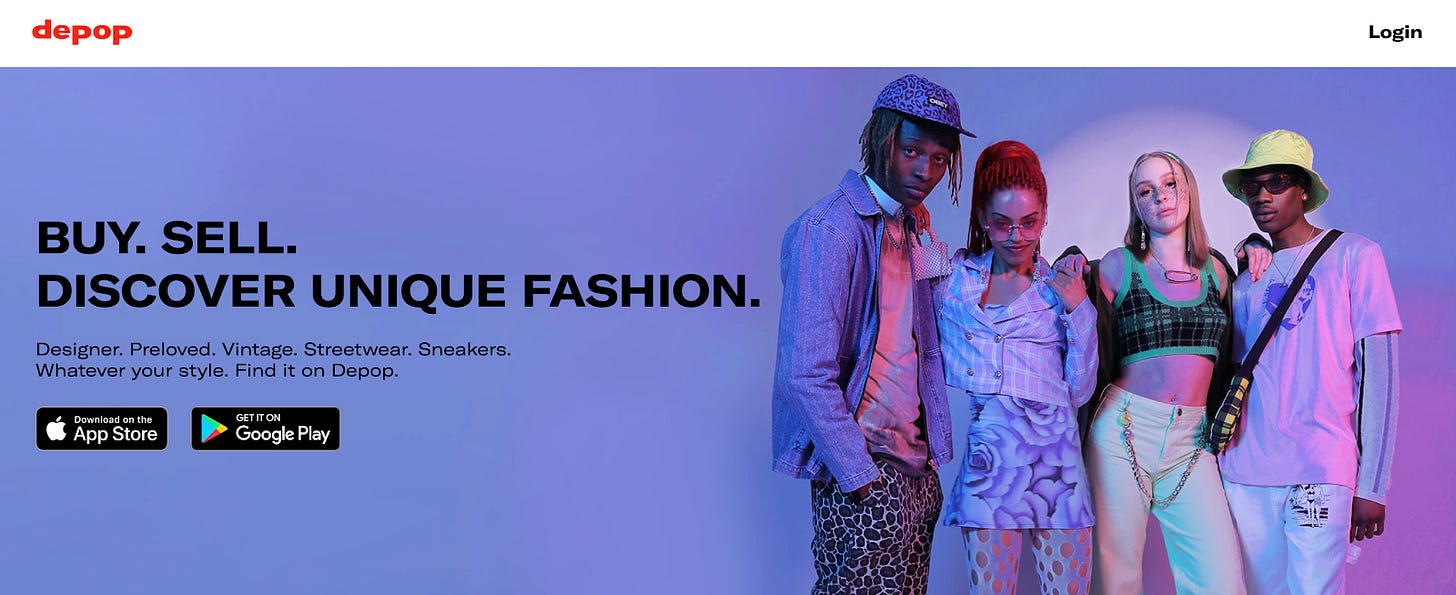 There's even a community aspect. Messaging functions allow for easy, casual interactions between sellers and shoppers, some sellers acting as personal stylists, and even forging friendships.
All these brands have nailed two key factors of the mall experience — fun and accessibility. But to recapture that true mall experience, there's still one key piece missing — friends. All these brands are setting the stage for a playful, interactive experience, but for it to really feel like the mall we grew up with, they're going to need to create space for interaction to experience it with our friends.
Well, that and the food court. There really should be a food court.
In the meantime, who else feels the sudden need for a set of stick-on earrings?
---
🔥 For The Love of Newness
While I may be a Canadian transplant, my husband Charlie is a lifelong New Yorker. We stayed put in our Brooklyn apartment during quarantine and aren't going anywhere, so (here comes a shameless plug but I am legit impressed with his graphic design skills) this week he launched the Not Leaving NYC swag shop.

Newly launched app GoodHuman is "the largest curated collection of sustainable products from ethical brands."
Ceremonia is a new "clean haircare brand rooted in Latinx heritage."
Not ready to commit to that WFH setup? You can now lease home office furniture (and more) from Conjure.
Comeeter is a new way to get your morning coffee — in frozen form.
Bobbi Brown launched a new makeup brand called, well, not Bobbi Brown, because she no longer owns the rights to her name.
---
🔍 For The Love of the Details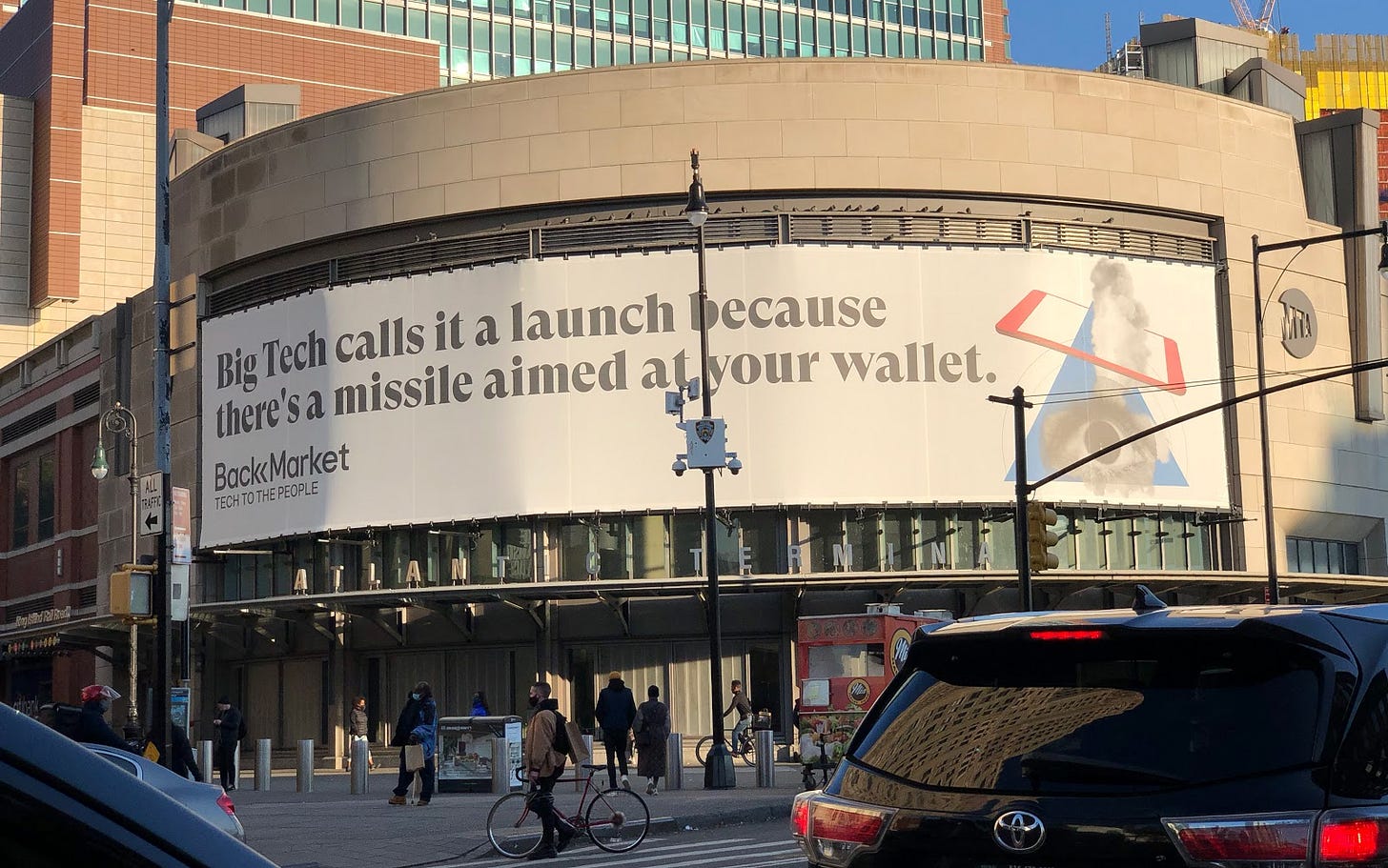 If anyone can tell me what this ad is for I'll give you all my Halloween candy…even the Reese's.
I mean what the National Treasure: Book of Secrets is with that graphic?
Did the graphic designer's cat run over their keyboard while they were on Shutterstock?
Receipt: "You purchased an Etch-a-Sketch, smoke and one eyeball."
Designer: "Just give me a big blue triangle and I can totally make this work."
Thank you for being part of For The Love!
---
A few more things...
Is there a topic you think I should cover? Or a funny ad I can dissect? I'd love to hear from you! You can email me at info@ajasinger.com, respond to this email, or drop it in the comments ⬇
Know someone who'd enjoy this newsletter?
Was this newsletter forwarded to you?
---
Written by Aja Singer, a brand and creative strategy consultant interested in all things startup, mission-driven, and community. Born in Canada. Based in Brooklyn. You can also find me on Instagram and Twitter.