Our Big Brand Vision? Going welI, I think!
We're positive you'll like what's inside.

A newsletter about branding, startups, and mission-driven companies aiming to make the world a better place.
👋 Welcome to For The Love, I'm so happy to have you all here! 
Today we'll be discussing:
These brands have great products, but their visions are much bigger (featuring Recess, Pattern Brands, and Faculty)

A roundup of new things that launched this week, including a political...makeup sponge

Potatoes are getting physical
If you were forwarded this newsletter by a friend, join 1,012 other brand enthusiasts by subscribing here!
---
⚡ For The Love of Branding
There are many things Disney is known for—the mouse, the World, the entire Marvel Universe. All of which show up everywhere from your grocery store freezer aisle to fashion week runways.
Why does this brand work in so many different places? Because it's not about a mouse, or Iron Man, or Baby Yoda (well sometimes it's about Baby Yoda)—it's about magic.
It's whimsy, curiosity, and imagination that make Disney so successful. What Disney stands for is not a mouse, but a state of mind.
And it just so happens that building a brand around a state of a mind can be very lucrative. Even with recent struggles (brought on by park and cruise line closures), the Disney Corporation is worth billions of dollars. Pretty good for a cartoon mouse. 
But as I said, it's so much more than the mouse. Here's an illustration of their corporate strategy in 1957:
Their focus on magical, imaginative experiences is what allowed for expansion, not the cartoons themselves. Without a larger context, they're building a theme park around a mouse, but with it, they're building a theme park around magic—which do you think is more compelling?
Recess, a line of CBD and adaptogen infused sparkling water, "canned a feeling." Their website explains front and center that they're "an antidote to modern times." This is not a drink, it's a state of mind.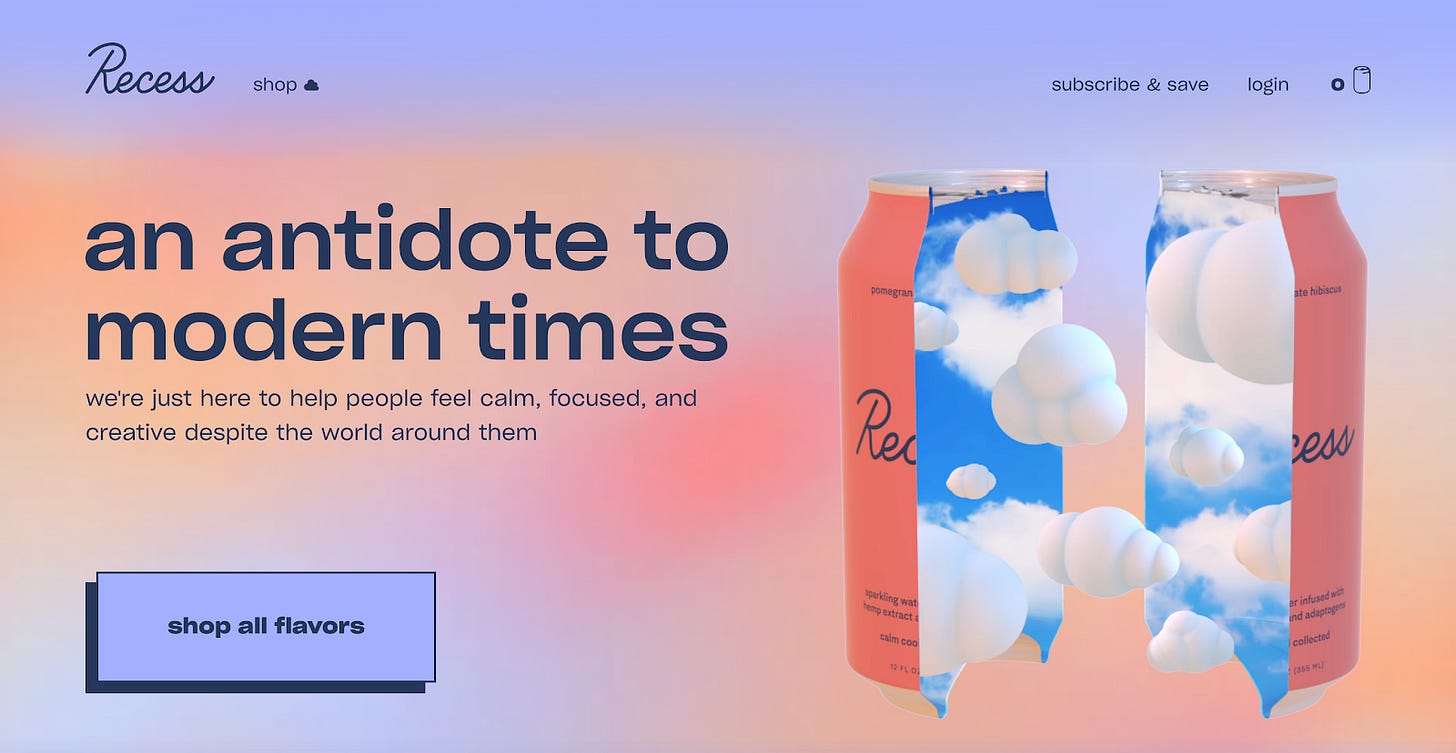 Founder Ben Witte told me he set out to "establish the use case and define the feeling...It's not about CBD, it's about relaxation." Their customers "want to understand how this makes them feel." And in our current connected, technology-focused society, most people are feeling increasingly stressed and anxious, and are looking for a way to rebalance, and relax, which is exactly what Recess offers. 
Case in point, some of their taglines are: "Calm, cool, collected." and "Not tired, not wired."
By focusing on the feeling, it enables Recess to be more than just a drink. 
Ben explained:
"We create products and experiences—I look at our Instagram as a product. It is a form of taking a Recess just like drinking a can is. It's just as important...Our strategy long-term is to develop a whole platform of products. There are many versions of Recess we can create for specific use cases in the day where you're looking to reset or rebalance." 
Another brand extension is their endlessly soothing collaboration with Poolside.fm (complete with merch). It's a cloud popping game set to a calming soundtrack (that I'm now listening to as I write this).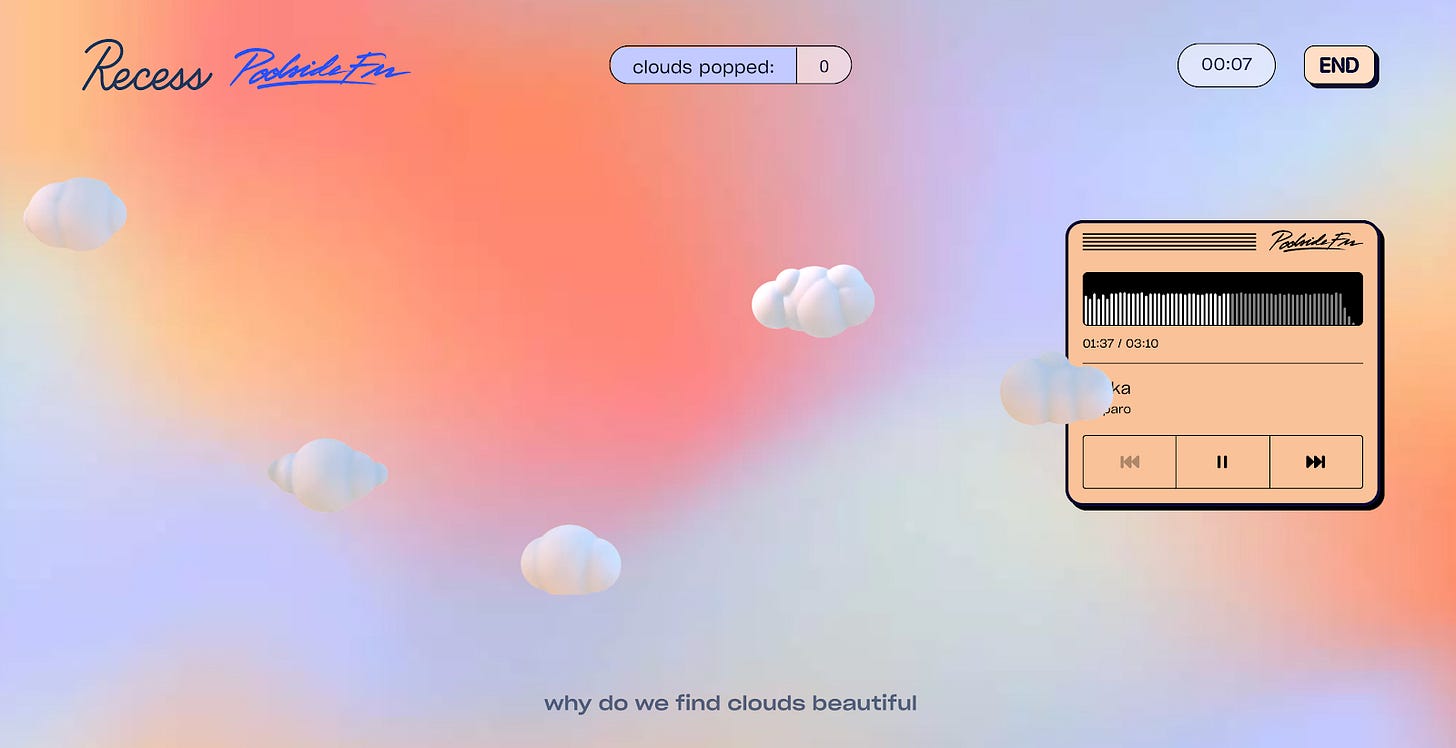 Ben explained the concept behind the collaboration:
"Press play to pause your thoughts—it's a digital form of taking a Recess. It's like augmented reality. We are trying to create these experiences that help you deal with the world around you, whether that's a drink or a digital experience—they are all equally important. It's an example of the type of things we are going to do moving forward—digital and physical experiences and having merchandise at the center of it."
And their branding reflects this. It's an ethereal, surreal world that's "meant to transport you." Through the use of dreamy, saturated pastels, and clouds both real and digital (there's that augmented reality that Ben mentioned), clean fonts, and a matte can, everything about the brand screams (or whispers might be more accurate) "calm, cool, and collected." 
In contrast with CPG brands of the past, it is digital-centric. They launched a DTC brand to tell the story of Recess (a can on a bodega shelf doesn't exactly get their message across). Their unique message is also clear on Instagram, where the cans have their own quirky, offbeat personalities. Ben explained that it's "a social commentary on the Millennial existence. We are speaking to the issues we're going through in a  tongue in cheek way—it's kind of poking fun at Millennial culture."
the cans really want to be friends with the kool-aid man, but frankly they're getting a little tired of repairing the wall every time he comes over
This irreverent, fun messaging adds depth to their brand. It further builds out their brand identity and illustrates the feeling you get when taking a Recess—whether it's a drink, a pair of socks, or a cloud popping game. 
Like Recess, Pattern is taking a holistic approach to brand building. Not focused on a product, but on a way of life—they're "a family of brands designed to help you enjoy daily life."
The family includes Open Spaces, a line of organizational essentials, and Equal Parts, a cookware line. Both are centered around the home and creating a comfortable, inviting environment for you and the people around you.
This sentiment of simple pleasures, as well as the idea that their brand is larger than any one product, is reflected throughout their branding, 
"My mom painted the tree—it's a mixture of an oak tree, representing American strength and longevity, and a peach tree" Emmett Shine, Co-founder of Pattern Brands, explained to me. Every time they add a new brand they'll add a peach so you "you can date what year the logo is from." And the tree's five roots represent their five brand values: Responsibility, equity, acceptance, curiosity, and hospitality.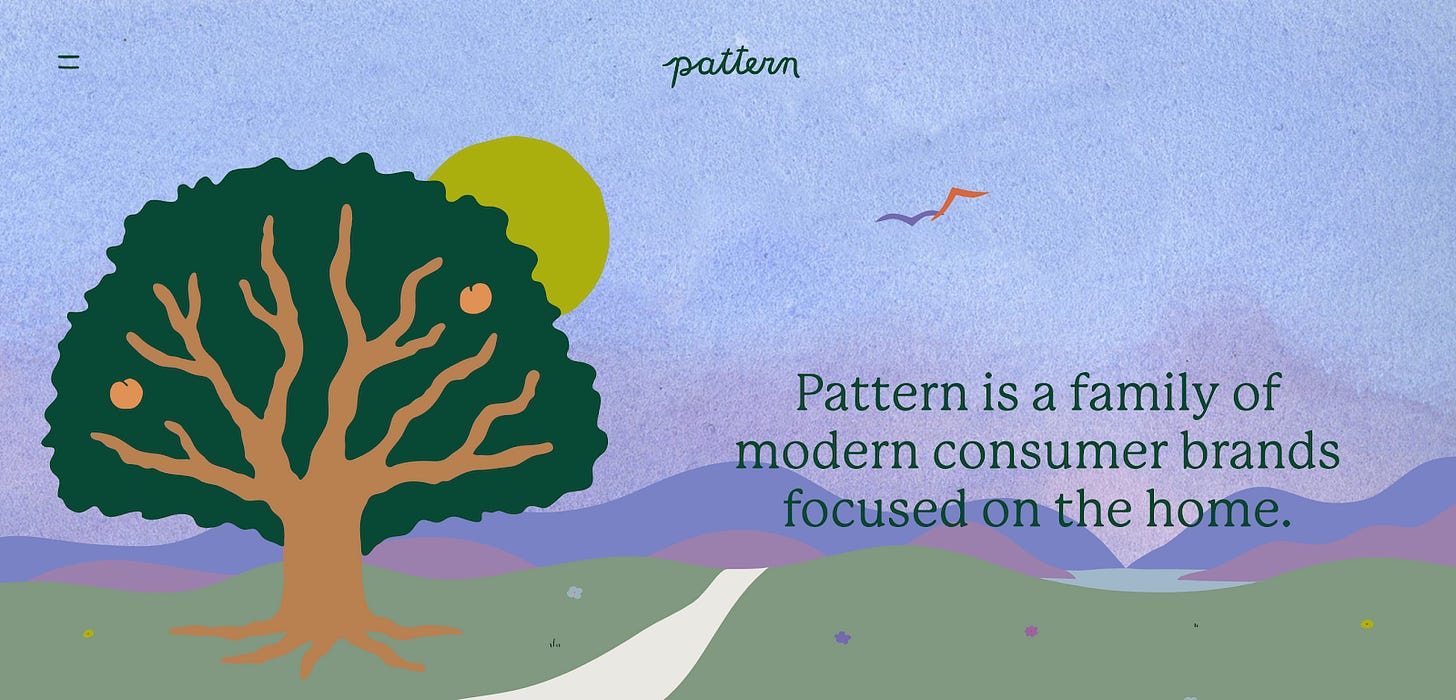 Their brand was clearly designed with a larger vision in mind from the outset, and that vision is to create a cozy, inviting home.
Aesthetically, it's equally polished and personal, from their fonts (a cursive-style logo and distinctive serif) to the mix of watercolor gradients and blocks of color. While they are digital-focused (they're a DTC brand, after all) there's a natural element throughout.
Emmett elaborated: 
"Equal Parts and Opens Spaces each have elements that are touched by hand—there are elements we've added that are playful and more personal."
These visual elements, alongside their "guide to daily enjoyment" with tips like "let your mind wander," and "embrace mediocrity" all support their larger mission of a meaningful, low-stress, enjoyable lifestyle centered around the home.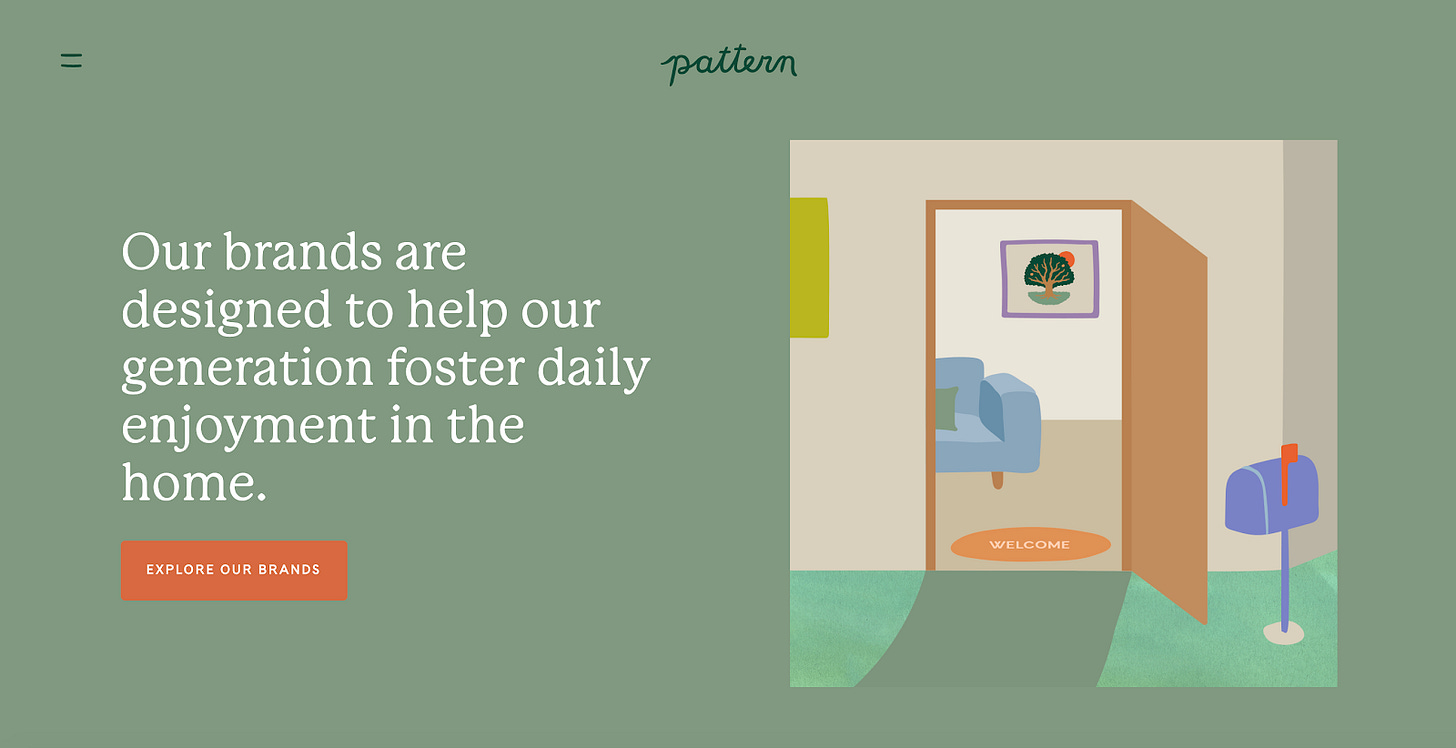 Emmett explained:
"We need to spend more time at home, we need to put our phones down, and we need to be not defined by our work."  
Faculty, a new line of grooming products for men, is taking this idea one step further—they're not only tapping into a mood but a movement.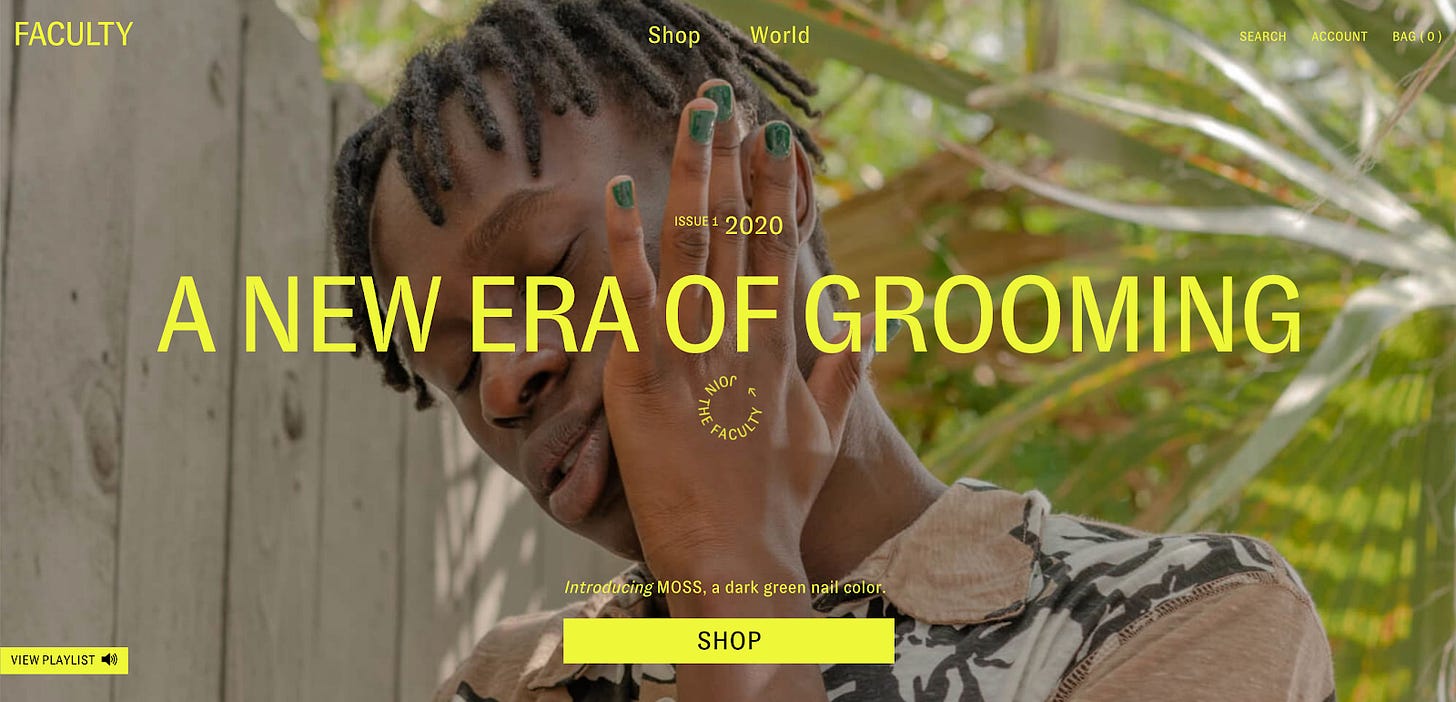 That movement is third-wave masculinity. Co-founder Fenton Jagdeo Jr. elaborated:
"The third wave of masculinity is based on the individual and personal self-expression. There's no one way to be masculine. And that's why for faculty we want to enable people to step outside of their comfort zone, and outside that narrow band of traditional masculinity." 
Yes, Faculty is a line of grooming products (starting with a nail lacquer) but at its core, it's a champion for self-expression. As Fenton said, "Faculty fits in a  box, you don't."
This idea of self-expression is represented throughout the brand. For example, where most brands have one, maaaaybe two logos max, they have 10(!!).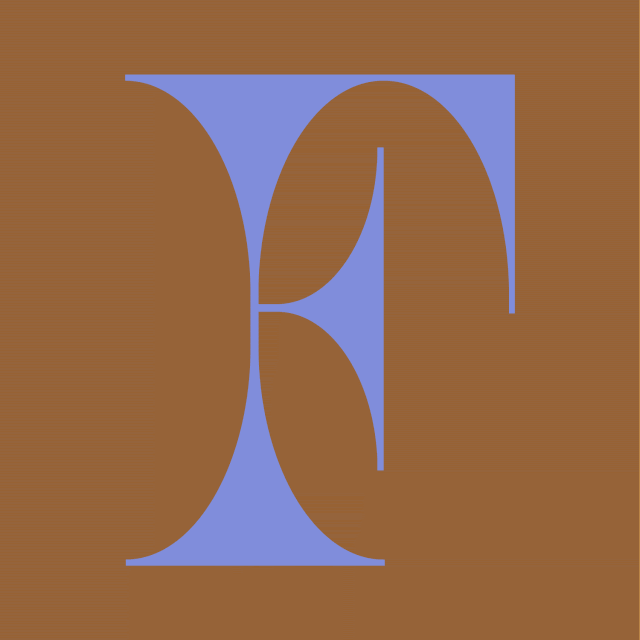 Fenton told me:
"Our brand system stems from this idea of tension and conflict. If you take a look at our color patterns we match a highlighter yellow with a soft purple and they have a visual tension. Masculinity as a concept is one that's very much driven by tension. We wanted a brand that was simple, clean, and easy to understand with a value system that was beyond product. We have 10 different logos—there is an 'F' for everybody. We have so many different color palettes because there's no one way to be."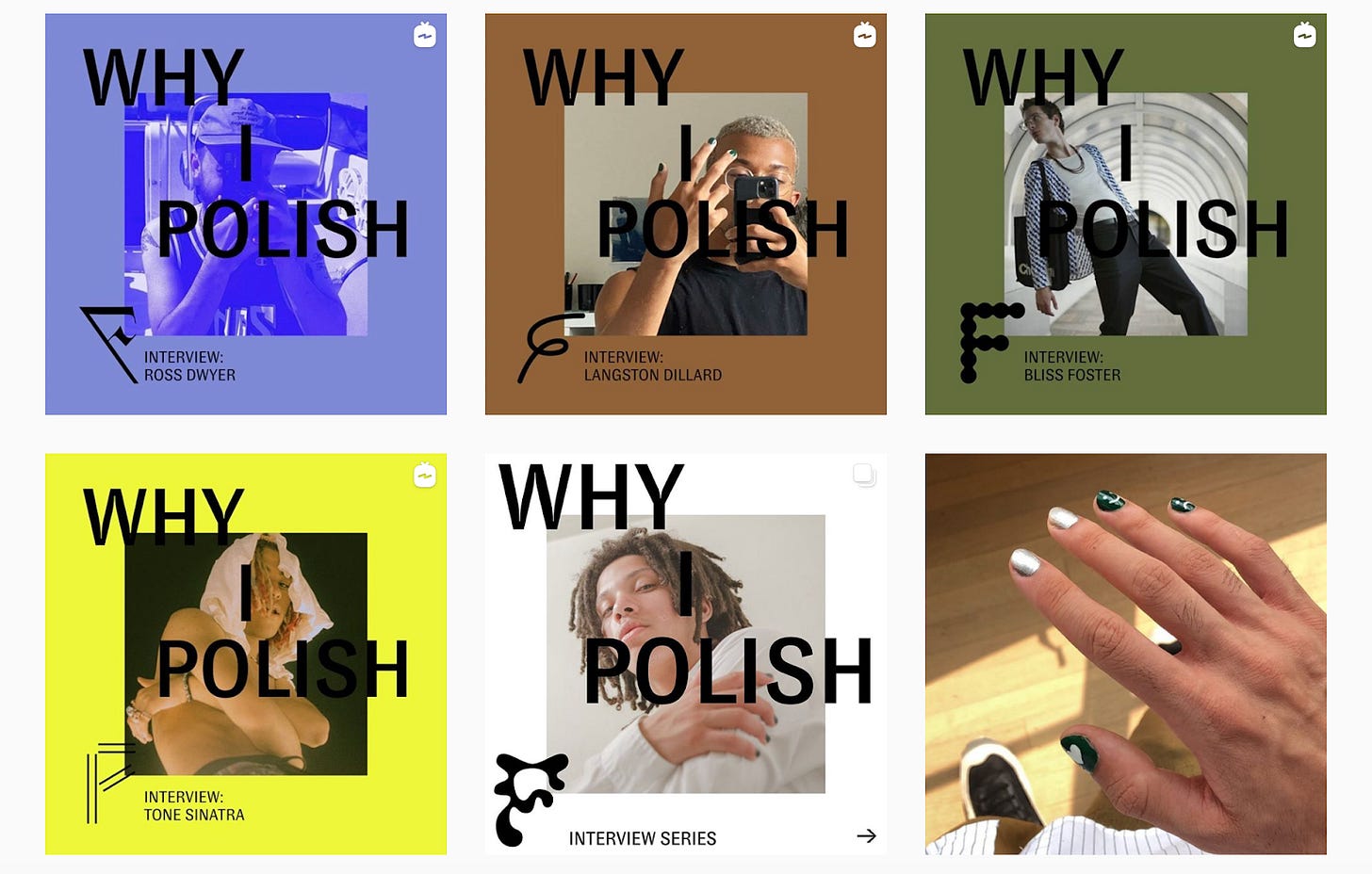 Their polish is just the first step in a much larger brand built around this movement. 
"Faculty as a champion of self-expression has the ability to commoditize and democratize this feeling in many ways. Especially through things that help you extend your personality and extend yourself."
Like Disney, these brands are more than their product—Recess stands for relaxation, Pattern for simple pleasures, and Faculty for self-expression. 
They aren't selling a product, they're selling a lifestyle—and because of that, the opportunities are endless.
---
"You can design and create, and build the most wonderful place in the world. But it takes people to make the dream a reality."—Walt Disney
---
🔥 For The Love of Newness
Biden Beauty (?!) launched with merch and a makeup sponge. 
Rihanna's now blessing men with her Fenty x Savage collection as well.
Equal Parts (yes, the one I just wrote about) released a brand new range of products and a shiny new website to match. 
---
🔍 For The Love of the Details
Did a potato write this?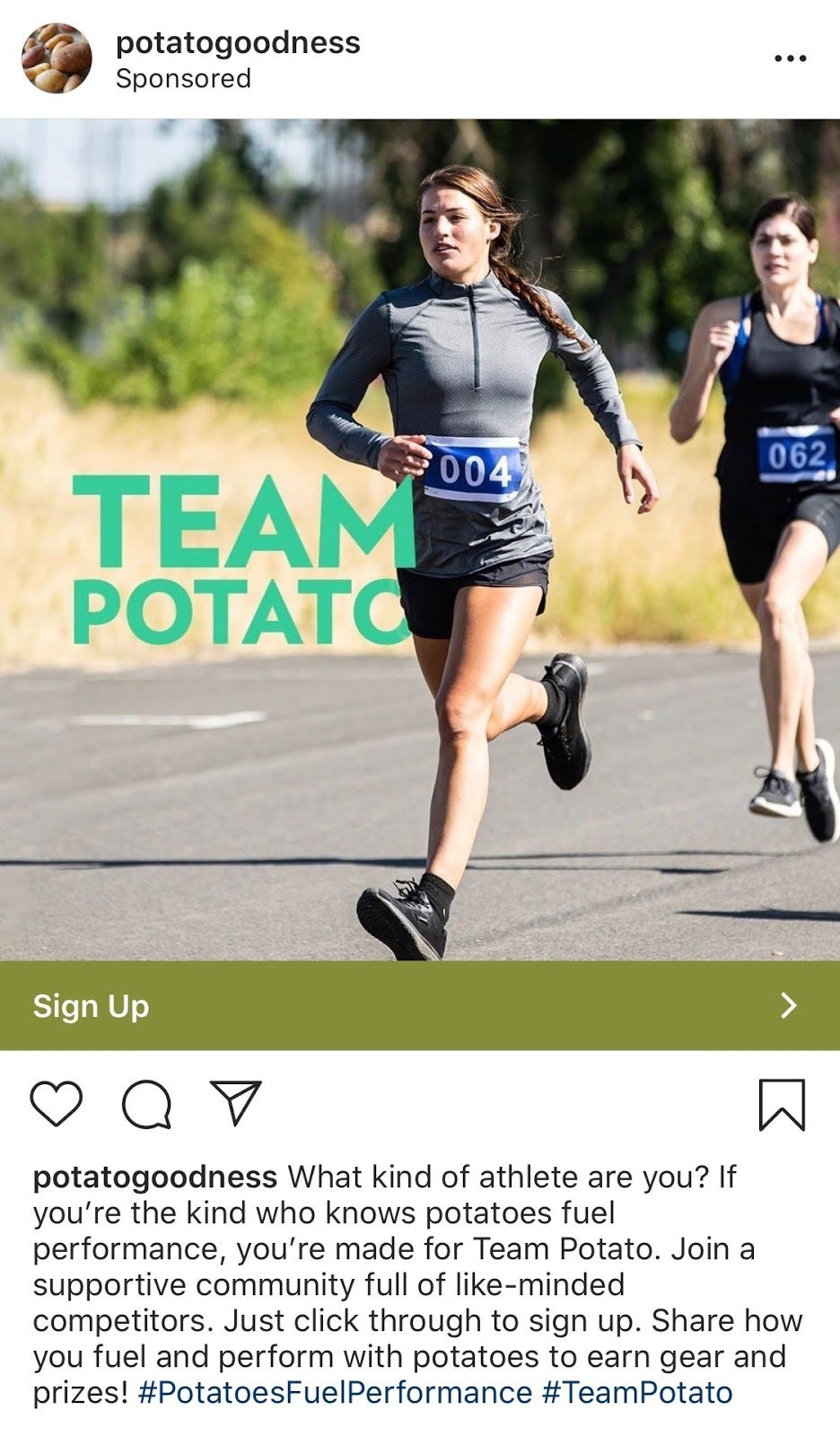 Eat a potato before a marathon?! Have they never heard the phrase couch potato? 
Is Team Potato for Netflix marathons? Because that would at least make sense to me. 
I'll paraphrase Pod Save America's Jon Lovett in his Food Pyramid rant:
"They put bread on the bottom of the pyramid! WHAT? THAT'S CRAZY! ... The entire medical community. The FDA, EVERYBODY! (This is the real Watergate ya'll) They got together and they said make sure you get 6 potatoes every day. AND NO ONE WAS HELD ACCOUNTABLE! …Oh, fruits and vegetables? 2 or 3 if you're lucky. 6 slices of bread. Potato! That's what you need to be healthy. SIX TO TEN! Oh, are you trying to be healthy? Did you have 10 potatoes??"
Thank you for being part of For The Love!
---
A few more things...
Is there a topic you think I should cover? Or a funny ad I can dissect? I'd love to hear from you! You can email me at info@ajasinger.com, respond to this email, or drop it in the comments ⬇
Know someone who'd enjoy this newsletter? 
Was this newsletter forwarded to you?
Written by Aja Singer, a brand and creative strategy consultant interested in all things startup, mission-driven, and community. Born in Canada. Based in Brooklyn. You can also find me on Instagram and Twitter.