It's all fun and games...
...until decongestant fashion makes you want to poke your eyes out.

A newsletter about branding, startups, and mission-driven companies aiming to make the world a better place.
👋 Welcome to For The Love, I'm so happy to have you all here! 
Today we'll be discussing:
Why gaming should be as important as social.

A roundup of new things that launched this week, including a mucus-themed fashion line. Yes, you heard that right.

This meat is in disguise. Or is it?
If you were forwarded this by a friend, join 1,000+ other brand enthusiasts by subscribing here!
---
💣 For The Love of Startups
Gaming. 
What started with a single quarter at an arcade will soon be a nearly $200 billion industry. 
A recent study shows that "three out of every four, or 244 million, people in the U.S. play video games, an increase of 32 million people since 2018." 
Multiply all of those people by all the eyeballs and you've got a lot of consumer attention, so it's no surprise that brands are… 
(•_•) ( •_•)>⌐■-■ (⌐■_■)
...getting in the game.
It's not a new concept for brands. Emily Singer (writer of the wonderful Chips + Dips newsletter) reminded me of the 1999 release of Nabiscoworld — a site stocked with countless games for endless hours of snack-themed fun. 
Take for instance, "Bull's Eye Saloon"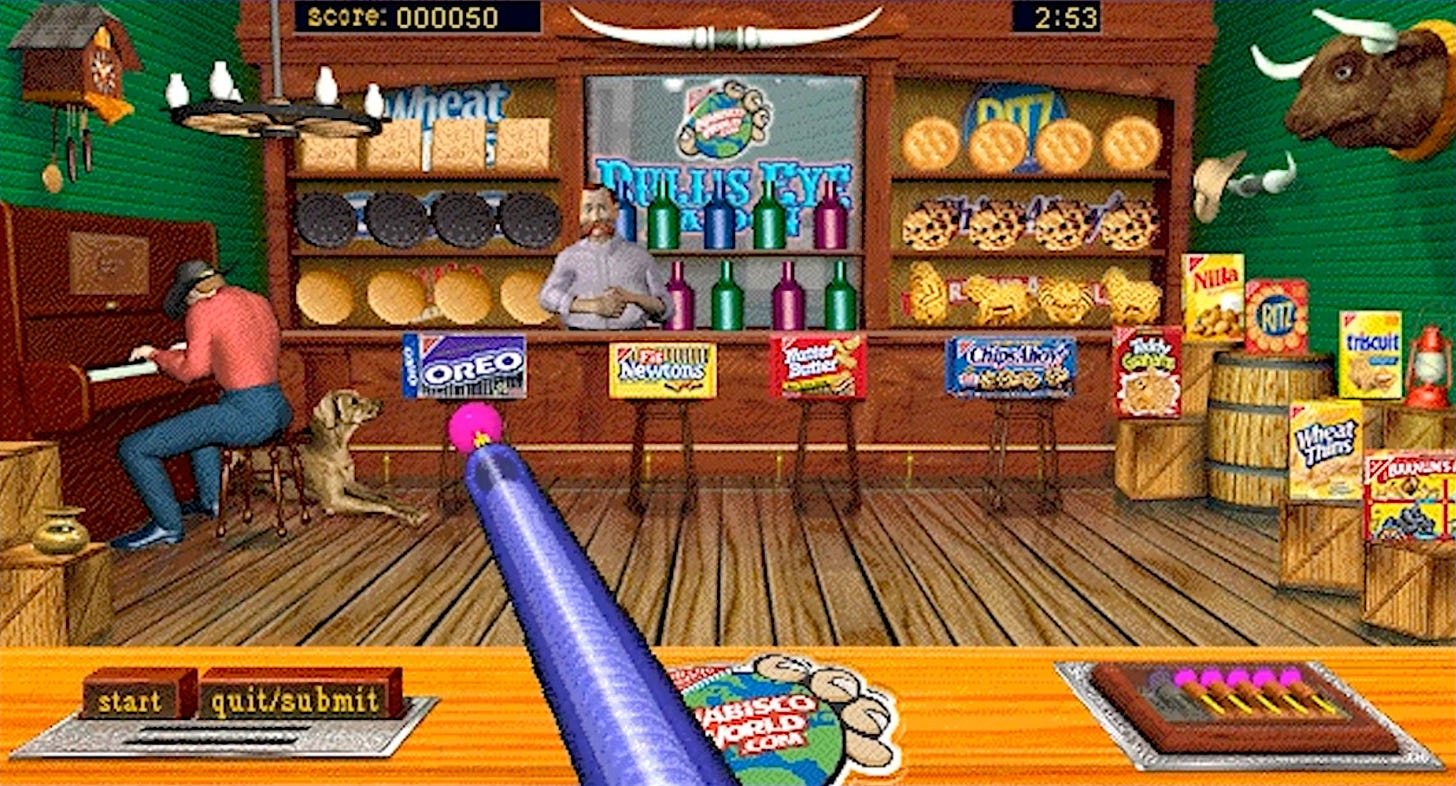 Or "Chips Ahoy Fun Room Designer"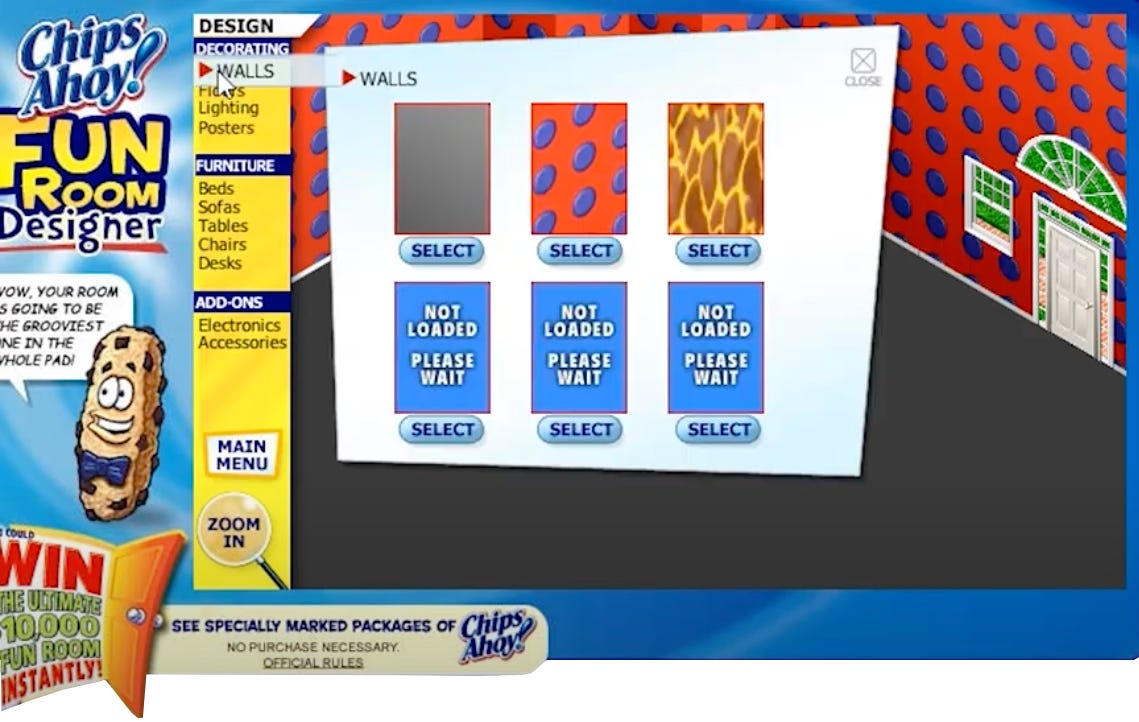 They're silly, yet engaging. You'll find yourself wanting to *chip* away at the leaderboard.
Even DTC brands have embraced gaming.
Warby Parker, in 2016, launched Worbs, a marble sorting game in conjunction with a limited-edition glasses release, and Burrow built Couch Potato, an app to track how long you've been sitting.
Yet, given Gen Z's obsession with gaming, you have to wonder why brands using this form of media isn't more mainstream.
A Pew Research poll found that 90% of teens play video games, a number which has undoubtedly gone up in the last seven months. 
If you grew up in the '90s your "third place" was IRL — malls, coffee shops, Tim Hortons…
Oh, right. You're not all Canadian.
For Gen Z, the hangouts are digital — Discord, Twitch, Fortnite. 
So it makes sense that a few new brands targeting Gen Z, and, probably not coincidentally, headed up by Gen Z founders, are using gaming to connect with an audience and grow a customer base before they even have anything to sell.
When Topicals, a skincare brand for "funner flareups", had to push back their launch due to coronavirus-related delays, they had to get creative. They wanted to engage their patiently waiting customers, so they came up with an idea — Skin, Sun & Stars. It's equal parts product-finder and horoscope and for every play and every referral, they donate $1 to Sad Girls Club, a non-profit working to diminish the stigma around mental health.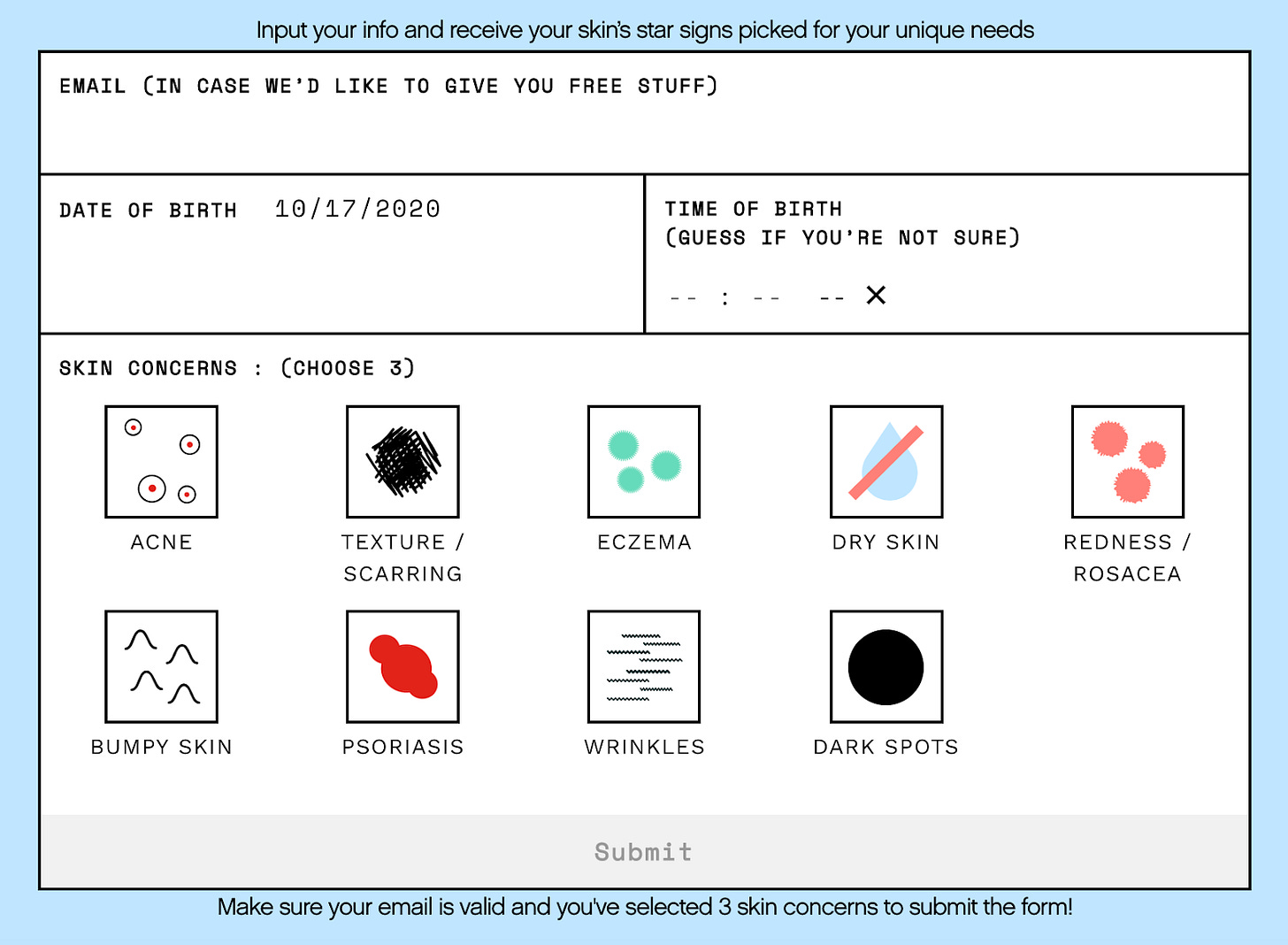 As co-founder Claudia Teng explained to me:
"For several months before our actual launch, we just really focused on building a dialogue and a really close connection with members of our community. For example, we launched a really fun digital game called Skin, Sun & Stars that was like a mashup of your horoscope and skincare advice, where we would give people a skincare based horoscope that got people talking."
Parade, a line of sustainable underwear, also created digital gaming experiences to get the word out before their launch. In an interview with Workparty, co-founder Cami Tellez said: 
"There's no guarantee when you launch a brand that anyone is going to show up. Nine months ago, we started building digital experiences—rooms on the internet where we could begin to tell the Parade story and she could bring her friends along."
One of which was Spin-2-Win, a slot-machine style game to win free underwear, and donate $1 to Planned Parenthood when you invite a friend (noticing a theme here? Did I mention Gen Z values activism?)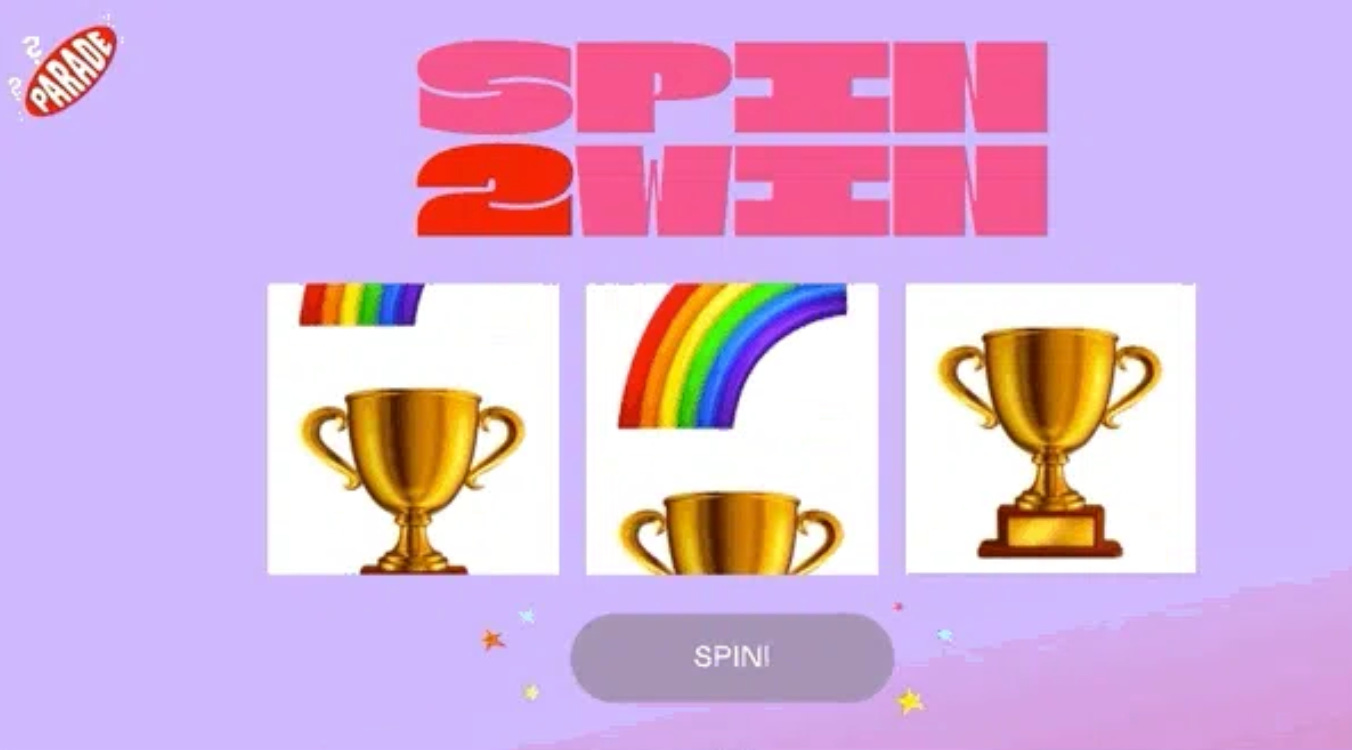 Another was "Press Here for Stickers," which is pretty much what it sounds like — a game where you get free stickers. They sent out over 15,000 stickers before they launched. 
This is just the beginning.
Social media is a crowded space. It's difficult to stand out or to get engagement for any kind of extended period of time.
Games also allow brands to break out of traditional formats, expanding their brand identity into a playful gaming experience for their current and future customers.
One of my favorite examples of this is a game that wasn't actually built by any of the brands found within it.
Aglet is a new location-based game, where each step you take earns you currency (Purple Aglet) to spend on shoes after those steps wear your current pair out, virtually, that is. Over 300 sneakers have been released in the app, many in limited-run drops, based on real styles from brands including Adidas, Nike, and, of course, Yeezy. 
Some players actually spend real money to level up their shoe game as well — and despite the fact that there aren't any brand dollars behind this effort, it's really taking off.
"Before Covid-19, we thought if we can just get 5,000 super excited players [daily] that's it: Mission accomplished," Aglet founder Ryan Mullins told Forbes. "But instead we got 20x that." 
Games also show us where the real potential is: engagement and community building. 
Natalie Dillon, an investor at Maveron, said:
"Gen Z continues to lead the way in blurring digital and physical identities. Gen Z popularizes and normalizes friendship formation that happens online anchored around shared live experiences, versus traditionally this would happen offline." 
Last week I spoke to Jason Wong, founder of Doe Lashes about how he engages with his community and he mentioned Discord.
"It's really just casual, we talk, we play games together, we hang out. We really try to interact with our community... We play Among Us which is a new game with the Gen Z crowd. I think a lot of our community wants to play with us because it's very rare that brands interact with their community at this level, and it's a good way to connect."
In case you aren't familiar with Among Us (as a Millennial, aka certified old person, I was not), it's "an online and local party game of teamwork and betrayal for 4-10 players."
It's getting so popular, the New York Times even wrote an article about it this past week. 
"Among Us is very different than other highly social video games like Fortnite, for instance. It's more similar to a board game like Monopoly, or a party game like Werewolf, where players need to read personalities and determine if they're being lied to in order to win. The large group size makes it easy to invite new friends into the group.

You can meet a lot of people from Among Us, I've made a few friends off of it," said Juan Alonso Flores, 17, a high school student in Florida. "Once you start playing with the same people you start getting to know each other. You get their phone numbers, Discord tags."
While "social" media found ways for you to co-opt your friends into also doing various actions — they were mostly solitary. I tag you as part of a brand contest. You tag five other friends. 
Games are the next level of communities that brands should be looking to as an important channel, especially given that Gen Z doesn't trust traditional advertising.
Find a way to authentically engage with me and my friends on my Animal Crossing island and if I'm a Gen Zer, it's much more likely you'll get my time and attention than through an ad in my Instagram feed.
How long before brands start hiring Gaming Strategists to sit next to their Social Media Strategists?
And just how much Purple Aglet levels me up to Newsletter Guru status?
---
🔥 For The Love of Newness
Mucinex is launching a fashion line. That's it. That's the joke. 
Mindalt, a new mood-enhancing deodorant, launched. (At this point in quarantine I'll try anything).
In other mood-enhancing news, Recess now has CBD treats for your dog by way of a collab with Maxbone.
Period launched "waste-free, leak-free, affordable, non-toxic, sustainable period underwear for all." 
Reformation and Blueland launched a cleaning supply starter kit including an exclusive hand soap that's "Pretty Earthy."
Speaking of cleaning, Dirty Labs is a new brand of "clean" laundry detergent.
Snif is a new line of fragrances that sends you every scent to sniff before you buy.
Glossier's Body Hero now comes in bar and mist form.
---
🔍 For The Love of the Details
I'd like to introduce you to….
Incogmeato. 
I could not make this up if I tried.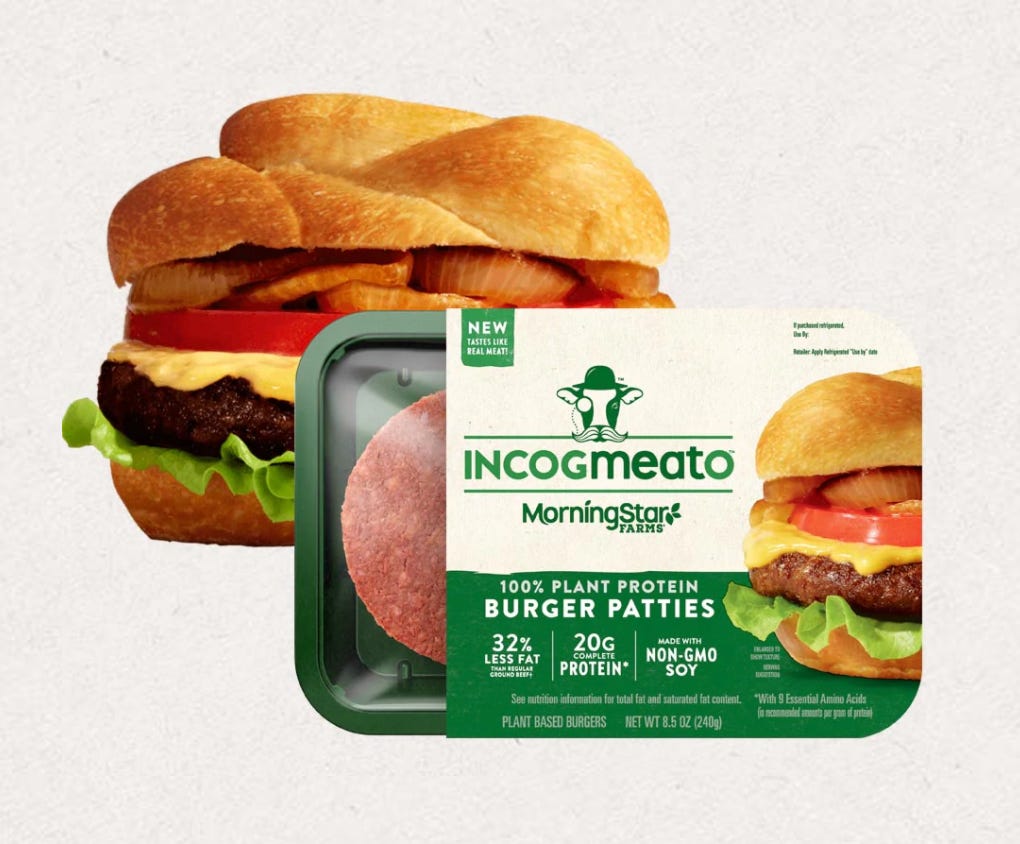 Why is their logo a cow in disguise you might ask? I am asking myself the same question. If what's inside that package is, in fact, cow disguised as plant protein they are probably going to have some angry vegans on their case. 
Speaking of vegans, presumably, some people are purchasing this product because they don't believe in harming animals. 
Well, may I bring your attention to this: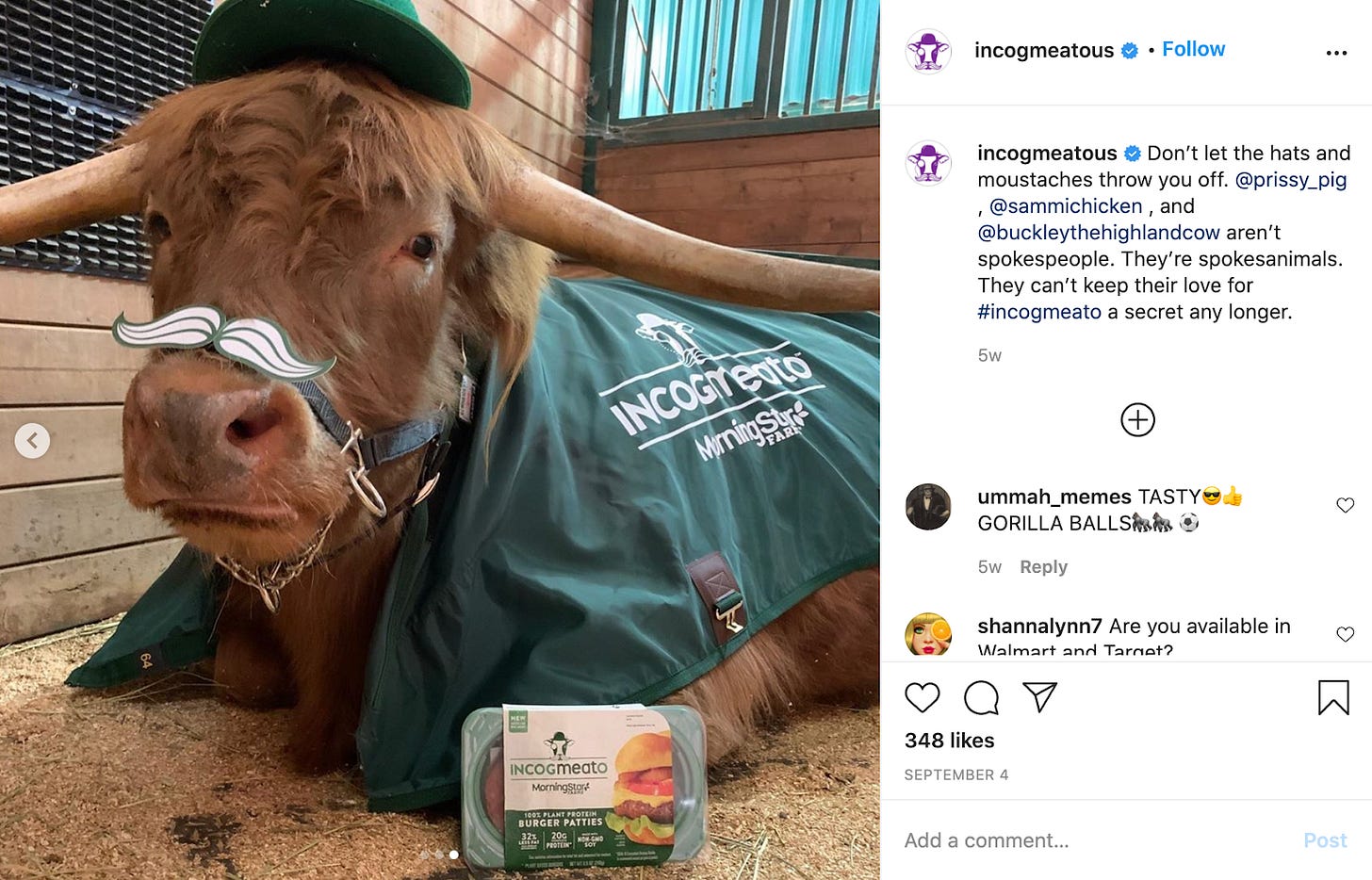 If that's not animal cruelty, I don't know what is.
Thank you for being part of For The Love!
---
A few more things...
Is there a topic you think I should cover? Or a funny ad I can dissect? I'd love to hear from you! You can email me at info@ajasinger.com, respond to this email, or drop it in the comments ⬇
Know someone who'd enjoy this newsletter? 
Was this newsletter forwarded to you?
Written by Aja Singer, a brand and creative strategy consultant interested in all things startup, mission-driven, and community. Born in Canada. Based in Brooklyn. You can also find me on Instagram and Twitter.