Holistic Approaches to Business
That have nothing to do with matcha.

A newsletter about branding, startups, and mission-driven companies aiming to make the world a better place.
👋 Welcome to issue #7 of For The Love, I'm so happy to have you all here! 
Today we'll be discussing:
How brands are supporting wellbeing—both their customers and their own.

A roundup of things that launched this week, including a lot of sneaker-related news.

Meet Peanut Jr. (previously Baby Peanut, who was reincarnated from Mr. Peanut at the Super Bowl). Keep up.
If you have any smart friends that like learning about new brands, DTC trends, and hot takes on ads, please share For The Love.
---
💣 For The Love of Startups
There has been a lot of talk about burnout recently. For most of us, since the quarantine started, it's been stressful, exhausting, and overwhelming.
Just this week the New York Times cited a CDC study that stated in June "the prevalence of anxiety symptoms was three times as high as those reported in the second quarter of 2019, and depression was four times as high."
The truth is anxiety was prevalent long before the pandemic. The difference is now we don't have the movie theatres, department stores, or vacations to serve as an escape (or at least a distraction). 
Even before the pandemic, in a survey performed by YouGov 30% of Millennials said they felt lonely "often" or "always" and according to Blue Cross Blue Shield there's been a 47% increase in depression diagnoses since 2013.
This can be attributed to many things but among the most cited contributors are long work hours and a lack of support systems. In an age of constant digital connection, it has never been more difficult to unplug or to form deep, meaningful connections. And, honestly, that's often seen as a sign of success. 
Take Gary Vaynerchuck, for example, the hustle-culture king, who's mottos include "I'm grinding when you're sleeping" and "Stop whining. Start hustling." He himself claims to work "15 to 16 hours a day, every day, working every minute, and there's no downtime. Every minute is accounted for." 
Not only does this create a tremendous amount of work-related pressure, but also leaves no time for recharging, or, importantly, connecting with others. 
So this week I explored three companies that are leading with wellness—not the adaptogen-laced matcha latte type of wellness—but by prioritizing connection and wellbeing both externally (through brand mission, values, and messaging) and internally (through company culture). 
As Emily Note Yeston, COO of Doré, explained to me: 
"One thing I've learned is this idea of 'what does success look like for you from a business perspective?' There's such a narrative around raising tons of money and having this explosive growth, and I don't know that makes sense for every company and every business."
Doré is a lifestyle brand, started by Garance Doré (one of the first social media influencers), that "values the quiet, embraces the slow, and delights in style and beauty. A space of consciousness that allows the room for self-reflection so one can pursue a life of intention."
"it is a moment of reflection and inspiration and recharge, and the art of living well. It allows our readers to observe the content and reflect on how they see themselves in relation to the story—give them a moment to reflect and take in what feels interesting and relevant to them and how they can apply it as they move forward."
This mission is evident throughout their branding—muted sophisticated tones, clean lettering, and diffuse natural light together serve as a respite from the overstimulation of constant content-consumption. 
There is an intimacy present throughout the site reflected in hand-drawn accents and writing focused on personal experience, intimacy, and authenticity.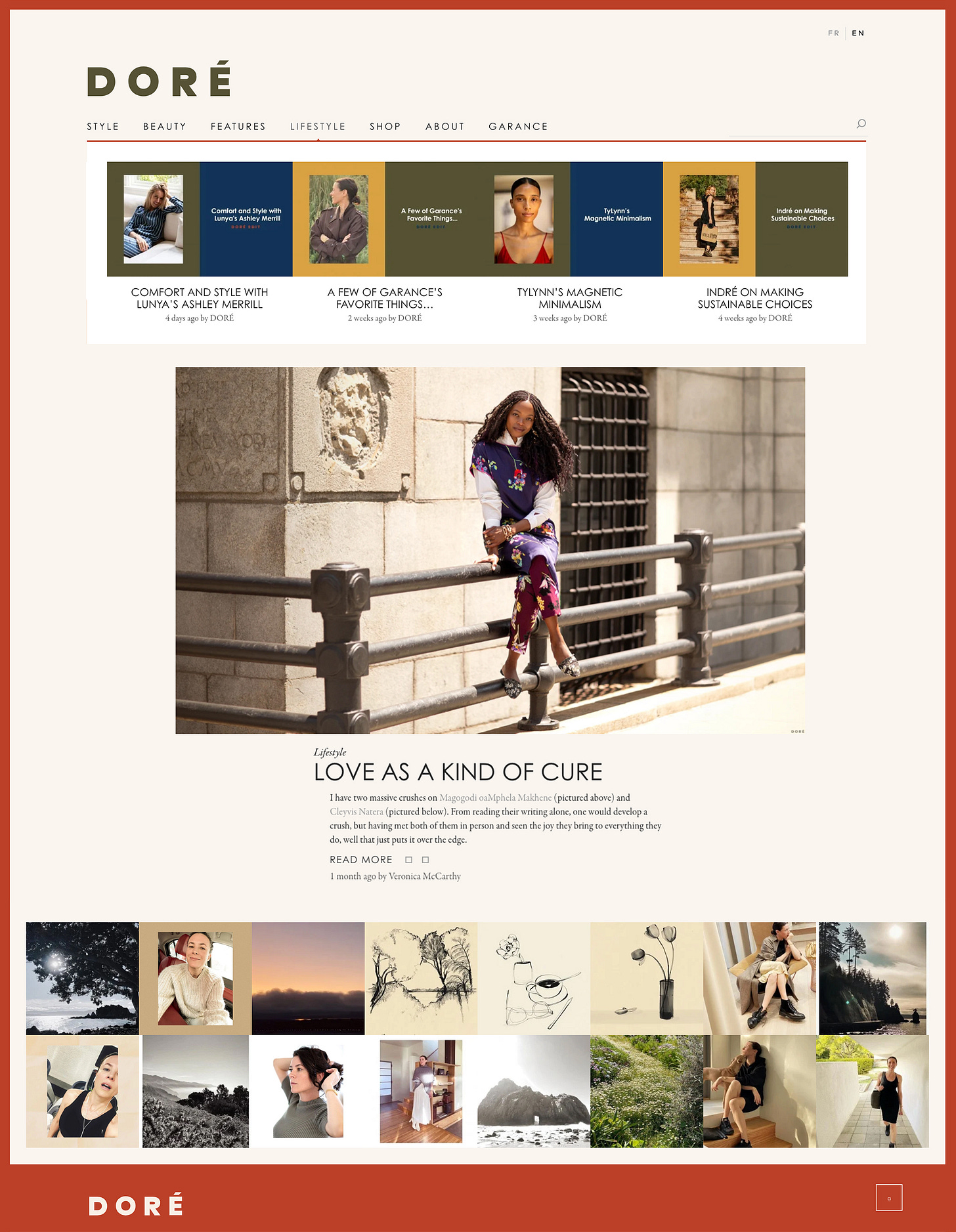 And this mission is not limited to the consumer-facing aspects of their brand—it is ingrained in how they run the business. 
"We've realized that for us, success was actually coming to work every day and enjoying what we were doing and who we were working with," Emily told me. This ethos extended to scaling back the business at one point (including giving up their office in favor of remote-work) when they felt it was no longer aligned with how they wanted to live their lives or the company's values. 
"We prefer when it's really small and nimble and you don't have this massive overhead that creates this pressure of having to do more. That can be success—something that's small but impactful and meaningful to people, and to yourself...there are a lot of different ways to be successful."
Needless to say, prioritizing flexibility over growth at all costs has been invaluable over the past months. This slow growth has allowed them the space and time to experiment with new offerings and evolve their brand as needs and circumstances have changed. After seeing chance encounters between readers, at Garance Doré's book launch, lead to drinks and friendships, Emily realized their readers needed a way to connect with one another, so they started hosting in-person events and retreats.  In the wake of the pandemic, they brought their community back online with an incredibly active private Slack group that discusses everything from "the most real and challenging to the most trivial"—conversations ranging from relationship advice to tea ceremonies.
This intentional approach to building their business, in a thoughtful, values- minded way is true to the larger mission of the brand. They lead with "honesty, vulnerability, and also a sense of humor," and as a result, they've cultivated an incredibly rich relationship with their readers, customers, and community members. Not only giving them a space to pause and reflect but to connect.
Girls' Night In was founded on a similar mission. As the founder Alisha Ramos explained to Forbes, she wanted "to help women relax, recharge, and cultivate a more meaningful sense of community in an increasingly lonely and stressful world." 
What began as a newsletter in 2017 to combat her own feelings of burnout (in addition to anxiety surrounding the election news cycle), has grown to over 100,000 subscribers. The recent addition of The Lounge, a members-only community platform, was meant to focus on in-person gatherings. With a launch scheduled for April, they quickly pivoted to all digital offerings—in staying nimble, she was able to evolve as needs changed. 
Their branding reflects these values with a sophisticated color palette and playful, personal accents like a calligraphic font and hand-drawn details, and softly-lit photography.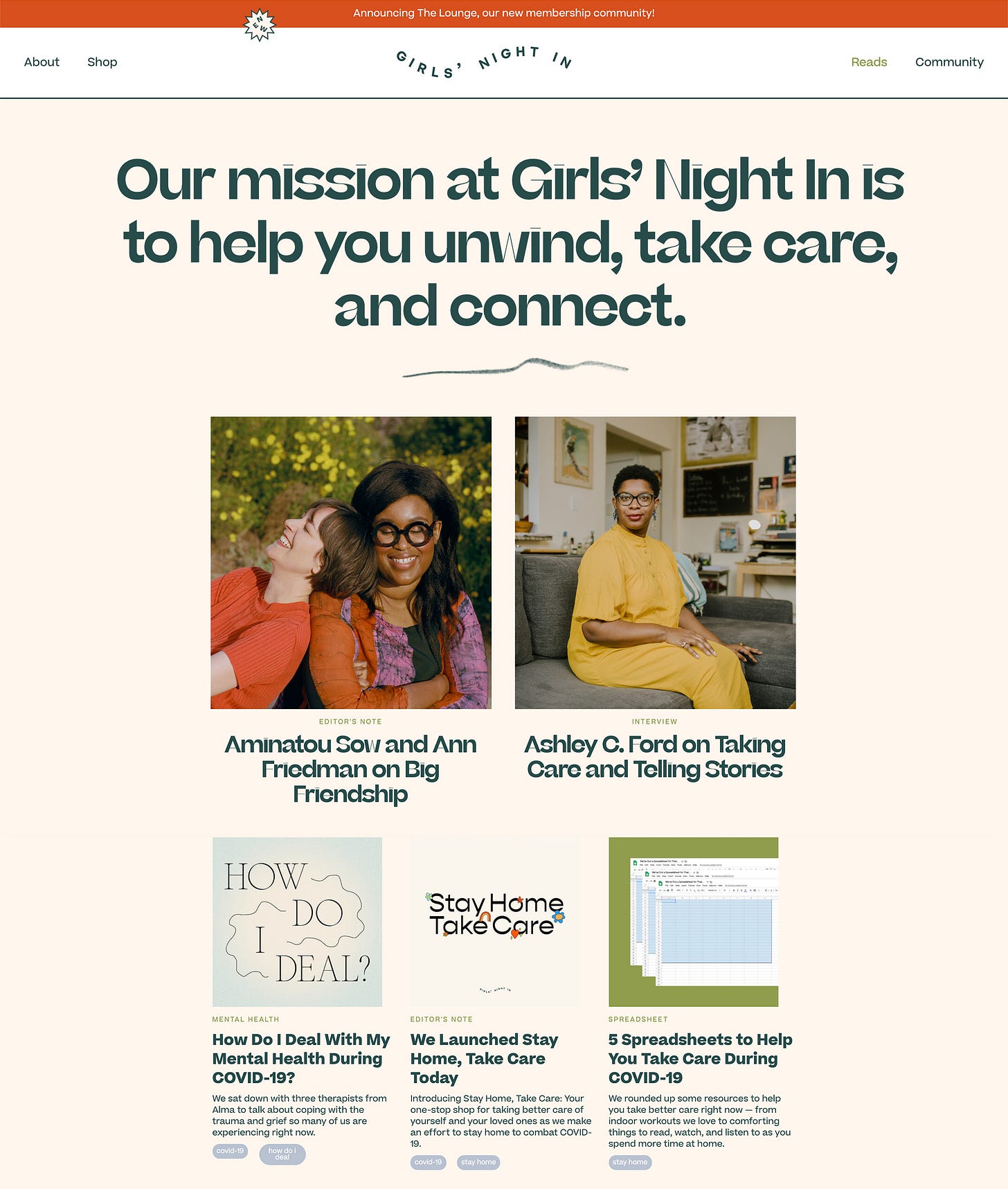 Girls' Night In was quickly labeled as a self-care brand, so why is the community-building aspect of the business so important? 
As Alisha Ramos told The Cut:
"Community care is also self care...Now, in the midst of the Black Lives Matter movement and the pandemic, community care is more important than ever before. A lot of it comes down to individuals asking themselves and each other, What can I do in my personal time to take care of people in my community who are not getting the care and resources that they deserve?"
Alisha Ramos has also been very vocal about maintaining a healthy lifestyle within her company:
"One of our values at Girls' Night In is taking care and self-care, so one way that works for us is that we are very flexible about our working hours, and working from home policy as well...We're all adults, and we all get work done, but we also remember to have that balance in our lives to take care of ourselves."
Interestingly, your own wellbeing is actually linked to connecting with and helping others. According to Marlynn Wei, M.D (a board-certified Harvard and Yale-trained psychiatrist, psychotherapist, and if that wasn't enough, yoga/meditation teacher):
"I believe that the most healing thing at the center of all of this psychological stress is to be connected to a sense of community and compassion—for each other and for ourselves...know that we are all in this together, and we must continue to do what we can to help each other when we can. At the roots of psychological wellness is the ability to care and be generous to others and ourselves."
Small Packages was founded on this principle—by way of personalized care packages. 
"We 're trying to take a giant bite out of the millennial loneliness epidemic," Julie Schechter told me. "Isolation is manifesting in really poor health outcomes so we are trying to find more frictionless ways for people to celebrate what's going on in the lives of people they love."
They've seen a huge uptick in orders since the pandemic began, friends consoling friends on postponed weddings, or celebrating new babies, or just because sometimes a Zoom conversation isn't enough. Julie believes this level of care should be applied to her team as well. After a career including corporate law and a prior startup, Julie was all too aware of the possibilities of burnout and as she told me—along with building a company, "you are trying to build a life that you're interested in."
Now more than ever we need to care for ourselves, and each other, and these companies are working to facilitate that—through their focus on connection and wellbeing. 
It's no accident that all of these companies prioritize a thoughtful approach to business because they also prioritize a thoughtful approach to living.
---
"We've been given this opportunity to think about how we can build a more thoughtful, sustainable, fulfilling future."—Emily Note Yeston
---
🔥 For The Love of Newness
Forvr mood launched—a "Black-woman owned, self-care brand for the regular-degular girl. Boujie, but make it approachable."
Hylo Athletics is making the self-proclaimed "world's most sustainable running shoe." 
But Everlane may have something to say about that considering they just launched The Forever Sneaker—their first fully recyclable sneaker.
Speaking of shoes, Allbirds and Chinatown Market kicked off their collab with upcycled pieces by Nicole McLaughlin.
And last but not least, meal-sized-cookie makers Levain announced they're expanding to grocery store freezer aisles… but I'm sorry to say "in a smaller, more everyday-indulgence 2-ounce size."
---
🔍 For The Love of the Details
In case you haven't been following along (which, fair), Mr. Peanut was killed off at the Super Bowl and reincarnated as Baby Nut. Why, you ask? I have no idea. He's been living his life as a baby peanut, as recently as August 7th. Until on August 11th, he turned… 21?! And he was ready to drink.
I guess they decided the original Mr. Peanut was too stuffy (and 1%-y) and instead of giving him a makeover decided to kill him. Which, I guess, is okay if we get a cute baby out of it. But now we've got a college bro who's fixated on alcohol? 
The jaunty baseball cap is, I think, a nod to the classic top hat with a "young" and "hip" twist. Likely also to make him more accessible (seeing as top hats have become pretty rare, aside from the odd Jane Austen remake). 
I was initially judgemental of his rapid aging and need for a drink, but considering the last five months, it's actually...kind of relatable?
Thank you for being part of For The Love!
---
A few more things...
Is there a topic you think I should cover? Or a funny ad I can dissect? I'd love to hear from you! You can email me at info@ajasinger.com, respond to this email, or drop it in the comments ⬇
Know someone who'd enjoy this newsletter? 
Was this newsletter forwarded to you?
---
Written by Aja Singer, a brand and creative strategy consultant interested in all things startup, mission-driven, and community. Born in Canada. Based in Brooklyn. You can also find me on Instagram and Twitter.