Groove is in the heart
And would you do yoga in Outlook branded leggings?

A newsletter about branding, startups, and mission-driven companies aiming to make the world a better place.
👋 Welcome to For The Love, I'm so happy to have you all here! 
Today we'll be discussing:
Sweatpants were just the beginning.
A roundup of new things that launched this week, including a whiskey that's "aged" a whopping three days. My husband has been wearing the same t-shirt during quarantine for longer than this.
The collab that no one asked for.
If you were forwarded this by a friend, join 1,000+ other brand enthusiasts by subscribing here!
---
💣 For The Love of Startups
In August the New York Times released a fantastic article entitled "Sweatpants Forever" that was forwarded to me by no less than seven people. 
It cataloged Scott Sternberg's fall and rise — a microcosm of everything that's been happening to fashion in the last ten years. His brand, Band of Outsiders, fell apart. It was based on the traditional fashion system and he was done with it:
"...No more fashion shows, no more seasonal collections, no more wholesale accounts that had become unreliable (R.I.P. Barneys) or the markups required to pay for it all."
Financially this model just doesn't make sense. It prioritizes optics over substance.
His new brand, Entireworld, spoke from the heart:
"Am I sick already? Can I leave my house? What do I tell my employees? Will my mom be OK on her flight home today? Can Zod" — Sternberg's dog — "get coronavirus? Did I buy enough T.P.? How long will this last? Who's in charge? What's next?"
This was an e-mail he sent to his 30,000 customers — not telling you to buy a sweatsuit, but telling you he felt like it was time for a sweatsuit. 
Despite that sweatsuit never appearing on a runway, the company sold more in the two months after that e-mail than their entire previous year.
As Marc Jacobs said:
"We've done everything to such excess that there is no consumer for all of it…Everyone is exhausted by it. The designers are exhausted by it. The journalists are exhausted from following it." 
Well, that's just, like, your opinion, man...
"You think that you've made a choice that exempts you from the fashion industry when, in fact, you're wearing the sweater that was selected for you by the people in this room from a pile of stuff." — Miranda Priestly, The Devil Wears Prada 
The fashion industry is built on the premise that it's an authority. A group of tastemakers making decisions for the rest of us — the colors, hemlines, and silhouettes we wore were decided by a small group of people — Anna Wintour could make or break a designer and an exclusive launch with Barneys meant rocketship growth. Why did they get to decide? Well, they had good taste, importantly, but also, customers didn't have any other option. New collections were viewed behind closed doors for a select group of buyers and editors and they decided what we got to see. They were the gatekeepers, so designers created for them. 
"The implicit message, on all counts, being: Barneys knows best. But it was also unabashedly elitist, proudly exclusionary — you got it or you didn't, and if you didn't, that was your problem, not theirs — and imbued with an arrogance that, at a certain point, began to chafe." — Vanessa Friedman for The New York Times
You know how this ends. Enter: Social media. 
Social media democratized fashion —  consumers can see everything fresh off the runway, and spot trends just as quickly, if not faster than the "tastemakers." Not only can customers decide for themselves what's interesting, but also produce their own content, influencing others. And people now have more visibility of the brands themselves, and what they stand for. 
From the brand side, they no longer need a retailer (or the more costly brick and mortar storefront) to connect with consumers. A well-executed Instagram post gets them in front of thousands of new people. 
For fashion brands, there's obviously value in visionary thinking and creativity, but when making things that you intend to sell, it's important to consider, well, the person you're ultimately selling to. And contrary to how traditional fashion functions, that is not, in fact, a department store buyer. 
Not to mention the fact that when you have no direct contact with your end-user, it's very unlikely you're going to get actionable feedback on why your product is or is not performing well.
Here's (at minimum) the feedback loop in traditional fashion:
Customer -> Sales Associate -> Buyer -> Showroom Rep -> Designer 
How much valuable information do you think you're getting from that game of telephone? 
That in combination with a constant need for newness means a never-ending cycle of producing things without actually knowing if customers want them or not. And there's no time to ask because before you've sold anything from last season, you're on to the next one. 
That is, of course, until the rise of DTC — anchored in transparency and affordable pricing (another benefit to cutting down on the many middle-men in traditional fashion). If you're subscribed to this newsletter, I probably don't need to tell you why DTC is working. As for the traditional fashion players, well it sounds like they could use a lesson — when asked how the CFDA (Council of Fashion Designers of America) can include and support DTC brands, the Executive Officer said, "I think that's a big question. That's not an answer I have."
But things have evolved even since the rise of DTC fashion brands when affordable pricing and a savvy marketing angle could get you market-share. Now differentiators like sustainability are table-stakes and consumer behavior has changed — there's now an expectation of inclusivity, both in terms of their interactions with the brand, and in representation. 
Everlane learned this the hard way recently when they were accused of anti-Black behavior and are adjusting accordingly. 
Their Instagram feed now vs. a year ago: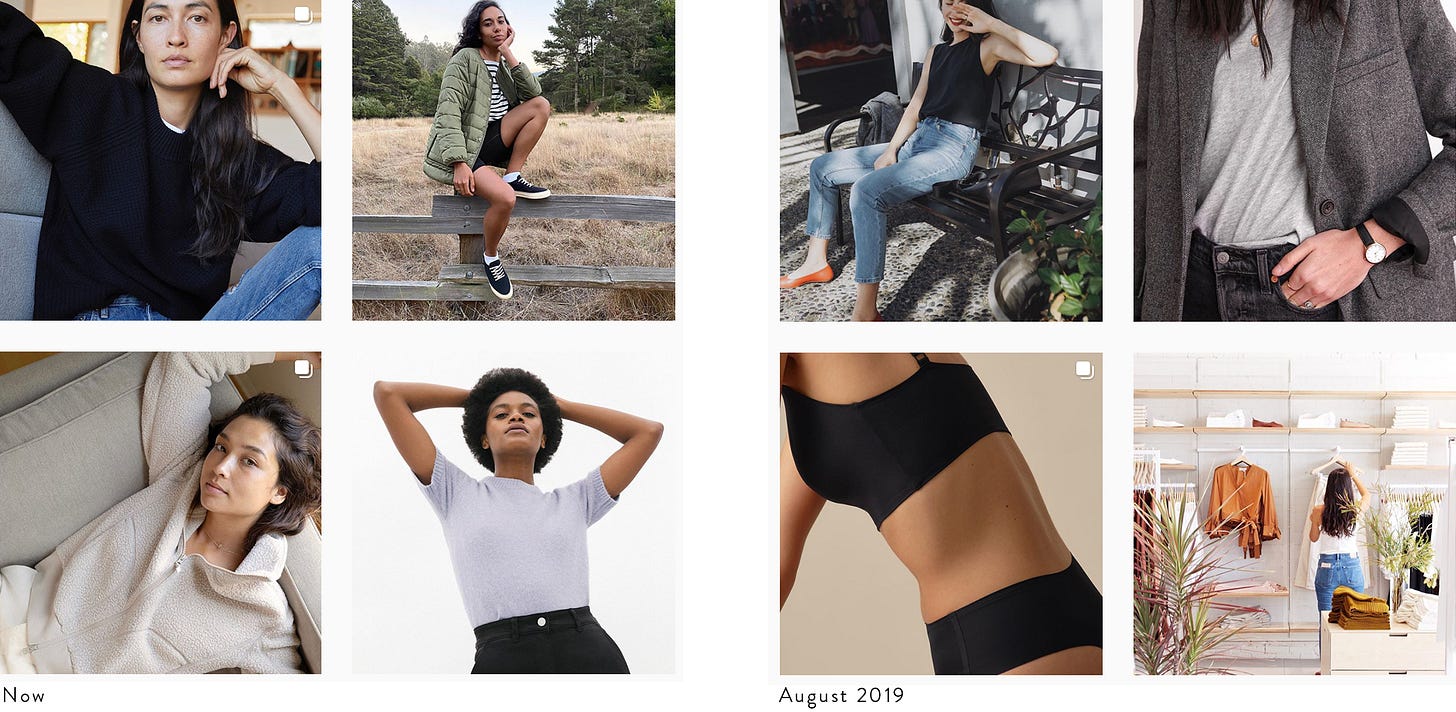 In the past exclusivity defined success in fashion. Now, it's quite the opposite. 
*You* get a product! And *you* get a product! And *you* get a product!
Let's start with the product. In the traditional fashion model, a brand launches with a wide range of products, and months later will release a whole new batch, before they have feedback on the existing ones. If you've ever wondered why Zara's fit is SO inconsistent, this is why.
Erin Kleinberg, founder of Sidia, (who you may also know as the co-founder of The Coveteur), did customer research for a year, although she didn't know it at the time. What started as a fun project gifting caftans to friends and influencers she was working with, quickly led to countless DM's from wannabe customers. Erin explained: 
"I've really enjoyed the experience over the last year of talking to people and emailing people and getting on calls with customers...we were able to gather really amazing data points and all this information about what people wanted."
Starting this way allowed her to iterate and test the product, ensuring she wasn't making any expensive mistakes, and only producing what she knew her customer wanted.
"After seeing our strong community and sales climb due to word of mouth and selling through DM, we realized there was a strong foundation to build a more lifestyle-focused entity. We experienced triple-digit growth along with demand for pre-order," which "allowed us to make assumptions on sales projections...we only make the drops that we know will sell."
Girlfriend Collective, a line of "ethically made activewear," took this approach to the next level with their launch — they first released just one style of leggings and offered them...for free. Both an incredible way to get feedback on their product and spread the word about their launch. It worked — they sold 10k pairs in one day.
This brings up another benefit to focusing on one product and doing it well — virality. Four years (and many more products) later, Girlfriend Collective is still known for their leggings. If customers know what you're best at, and what to come to you for, there's a much better chance they'll come back to purchase and refer it to friends. 
Andie, a line of swimwear "by women, for women." used their first backers as beta-testers for their product. Founder Melanie Travis told me:
"We did a lot of user testing before we launched. We did a crowdfunding campaign and tested the styles on the original backers before finalizing the styles and launching. Our first backers tested everything from fabric choices, colors, to the cuts and styles themselves."
By setting this foundation, Melanie was able to launch with 3 core styles she knew customers wanted and liked (especially difficult in the swimwear category). Three years in, Andie is earning over $20 million in revenue and regularly sells out of styles. 
Fashion for humans.
Prepare to be shocked by my next statement. 
The traditional fashion industry does not value diversity. 
I know, shocking. 
Despite many conversations around diversity in the past years, the industry has been painfully slow to catch on. See Danielle Prescod's Instagram stories for callouts of brands that posted black squares in June only to go right back to all-white models. And aside from shooting the occasional token plus-size model (always looking sexy, I might add), representation is confined to tall, thin, young, white women. 
I don't know what percentage of customers fall into that demographic but I'd venture to guess it's not high.
And the crazy part is, diversity is actually good for the bottom line! According to a 2019 study conducted by Deloitte, the brands they looked at with the most diverse representation averaged a 44% stock increase over the previous two years and "were 83% more likely to see a boost in their Brand Index scores" than brands showing less diversity (a Brand Index score is a measure of overall brand health calculated by taking the average of Impression, Quality, Value, Satisfaction, Recommend, and Reputation, within a given market.)
Swimwear is one of the worst offenders of this, particularly in relation to size diversity, which doesn't make any sense to Melanie. Andie, she explained, is "a size-inclusive brand so showing diversity of models across size, age, and race is core to who we are. And I think that's especially important for a swimwear brand where fit is so important — it's the most important attribute of a swimsuit if we're being honest. So it's important to see what it looks like on real women, not just skinny models."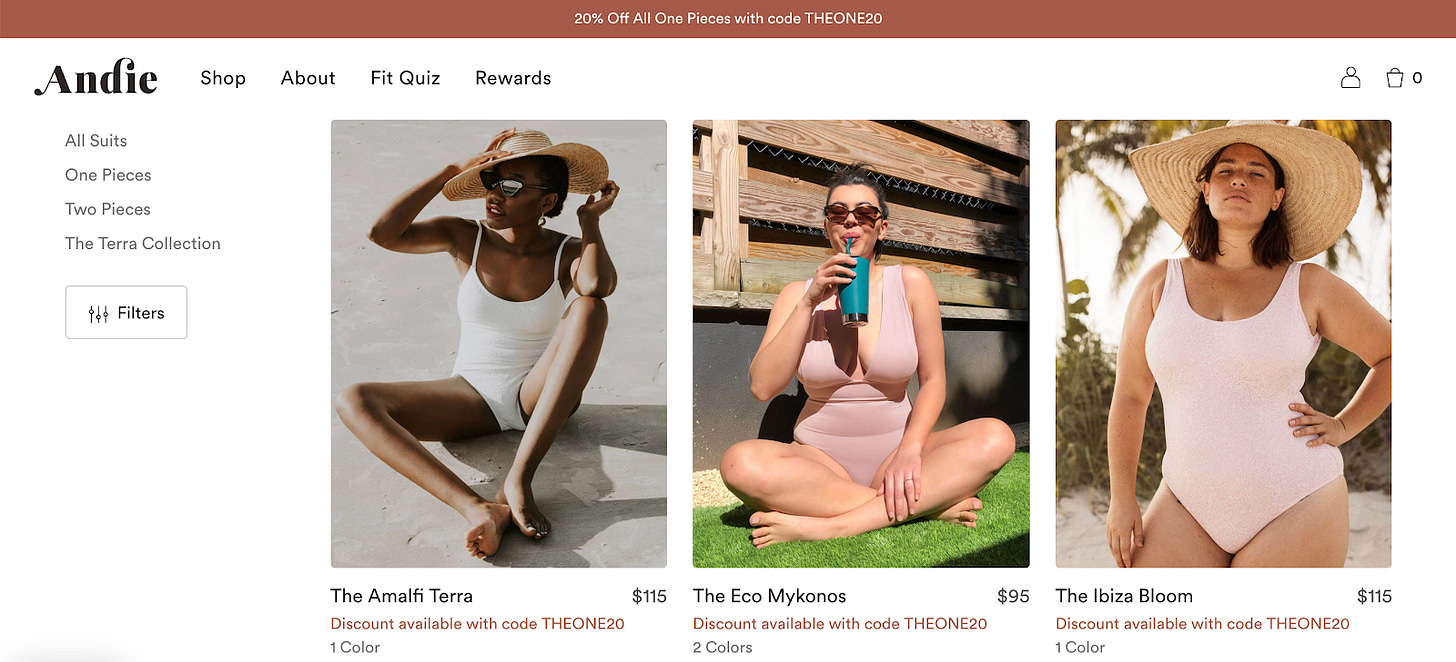 And leggings? Well, you may remember a little controversy surrounding Lululemon's founder that ultimately caused his resignation, when he said their legging don't work for all women's body types. Girlfriend Collective doesn't appear to share that attitude.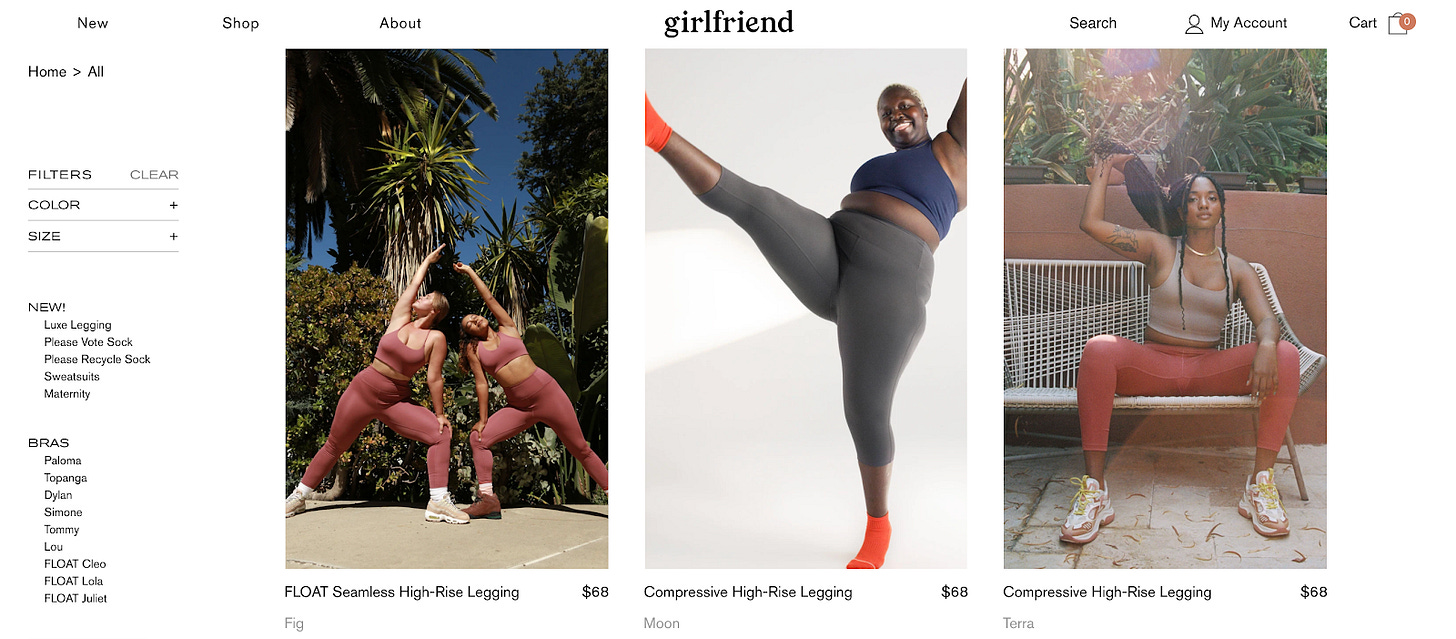 Sidia has made inclusivity core to their brand as well and its founder Erin told me: 
"In our most recent campaign, Sidia's lifelong best friend Toby, who is 80 years old, models our upcoming drop and there is also a cameo from my 5-year-old daughter Parker. Everyone working in the industry should be aware that it is no longer enough to simply cast diverse models in a campaign. Real representation must begin internally and must be purposefully built into each level of a brand, with decision making driven by a leadership team that reflects a wide range of backgrounds, identities, and viewpoints."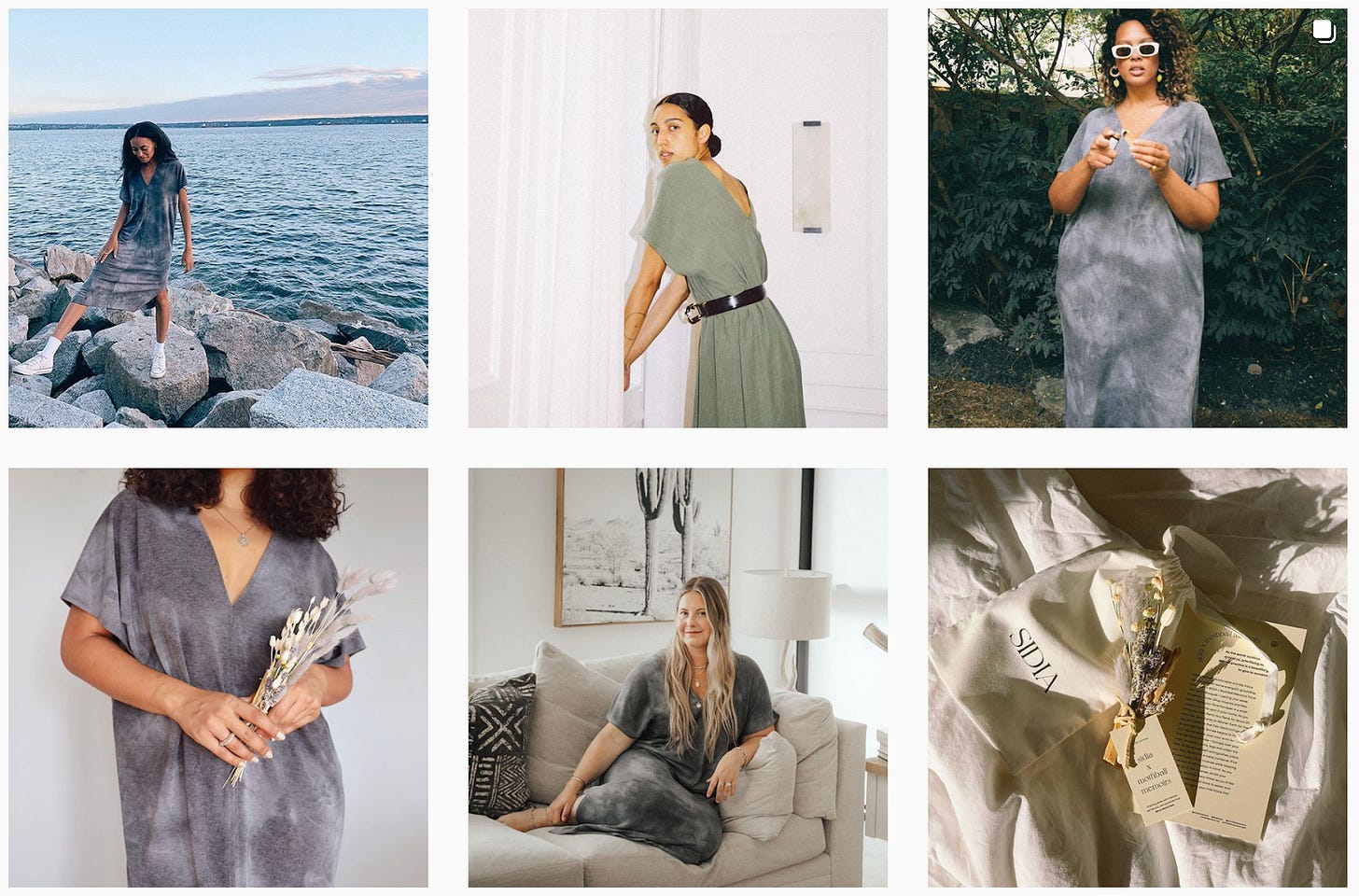 All this is not to say that fast-fashion is going anywhere (Zara is a $23 billion business), nor are the luxury heritage brands (Chanel did over $12 billion in revenue in 2019), it's everything in between that's become unsustainable. Even before COVID, the market for a trend-driven $500 dress had shrunk drastically (not coincidentally alongside the diminishing middle class). 
Will people still get dressed up post-COVID? Sure. But I expect their day to day clothing needs will never be the same. The trend towards casual dressing is progressing rapidly and as a result well-priced, well-made basics are poised to succeed. 
To gain market share now brands need to own a distinct product category and build a brand that's truly customer-centric — one that involves active dialogue with customers and is representational of them. That exclusivity and aspiration that the fashion industry is clinging so tightly to, is closely tied to its downfall.
Consumers now expect more *and less* from their brands — more involvement, more representation, but less ego, less runway models, and less coming out of our wallets. 
---
"We are in 2020 where the world does not need a fashion statement IMHO, they need to feel good, they need to connect, they need to preserve our environment, they need camaraderie, they need quality, and most importantly they need a movement." — Erin Kleinberg, Founder of Sidia
---
🔥 For The Love of Newness
Bespoken Spirits launched whiskey that's aged in 3-5 days, and allegedly tastes like the real thing.
PBR is expanding to THC and that is A-OK.
Restore is a new line of "Regenerative foodware made from AirCarbon." Translation: paper straws and cutlery our future offspring won't find in an archeological dig 500 years from now.
Via Maris technically launched last month, but it's new to me and it's the first time I've seen a Chanukia I'd leave out all year.
Eskimo Pie got a much needed (and less controversial) new name and rebrand.
---
🔍 For The Love of the Details
Where to start....
This week, the collaboration you've all been waiting for was released. 
Cole Haan X Slack.
Oh what, you weren't waiting for that? You weren't holding your breath for the transformation of your work chat platform into four very mediocre sneakers? 
What kills me is that this literally looks like free swag from a corporate retreat. Here, wear some free advertising for Slack, but also pay $120 for the honor.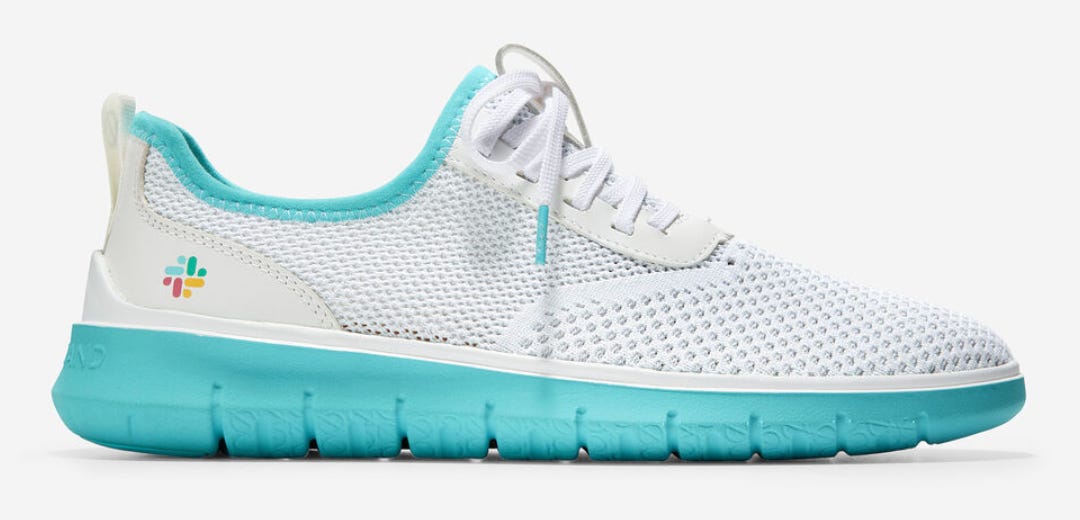 According to Cole Haan's website: 
"Our limited-edition collab isn't just two great brands coming together—it's a vibrant example of how Slack is everything you need to get your work done."
I'm sorry, what? How exactly does this shoe represent everything you need to get your work done? If anything, a shoe is the last thing you need to get your work done. 
At this point, you barely even need pants.
Thank you for being part of For The Love! 
---
A few more things...
Is there a topic you think I should cover? Or a funny ad I can dissect? I'd love to hear from you! You can email me at info@ajasinger.com, respond to this email, or drop it in the comments ⬇
Know someone who'd enjoy this newsletter? 
Was this newsletter forwarded to you?
---
Written by Aja Singer, a brand and creative strategy consultant interested in all things startup, mission-driven, and community. Born in Canada. Based in Brooklyn. You can also find me on Instagram and Twitter.