For The Love #5: What's the plural of customer?
Hint: It's not always community.

A newsletter about branding, startups, and mission-driven companies aiming to make the world a better place.
👋 Welcome to issue #5 of For The Love, and welcome to the 104 new subscribers! Today we'll be discussing:
How startups are building communities and why it's a worthwhile investment

A roundup of things that launched this week, including a must-have water bottle

How to sit on chairs
If this newsletter was forwarded to you and you don't want to miss an issue you can sign up here.
---
✌
For The Love of Doing Good
Ask anyone at a startup about their customers and they will start telling you about their "community."
Unlike a privilege of Karens, a group of customers is not a community. 
Even an incredibly devoted, vocal customer base—a group of Silicon Valley types in fleece vests, for example—are not "part of an Allbirds community." 
True communities have shared common values and a sense of connectedness.
Allbirds customers, avid fans for sure, are just passionate about the brand, not about each other.
As Sara Wilson, a digital community expert put it, "the difference between a passionate audience and a community is people connecting with each other in a meaningful way."
Most brands have approached community-building through the lens of exclusivity, limited-access, and frankly, dollars. From private shopping events to invite-only Slack channels, the more a customer spends or posts, the more they are valued by brands, and in turn, the more brands give value back to them. 
These brands are missing out on a huge opportunity, to make brand evangelists of future customers. A few brands, however, are tearing down that barrier to entry. They are building a community for everyone that wants to be involved, not just the most active shoppers. 
They are focused on inclusivity.
Or in Geenie's case, intersectionality. 
I spoke to Chana Ginelle Ewing about her just launched beauty marketplace, Geenie, which she created with a community-first mindset. It's a community built on the principle of intersectionality—"how all identities are expressed and don't get siloed" enabling "us to have fuller conversations around how people show up in the world."
"I wanted to lay the groundwork with the idea that when we look at beauty—beauty is not a model's beauty it's for everyone. Everyone gets to have access to beauty, beauty is all of us." 
These values of showing up as you are and making space for all types of bodies, are embedded in Geenie's branding through a bold, colorful palette and an arc-shaped logo representing a "circular worldview."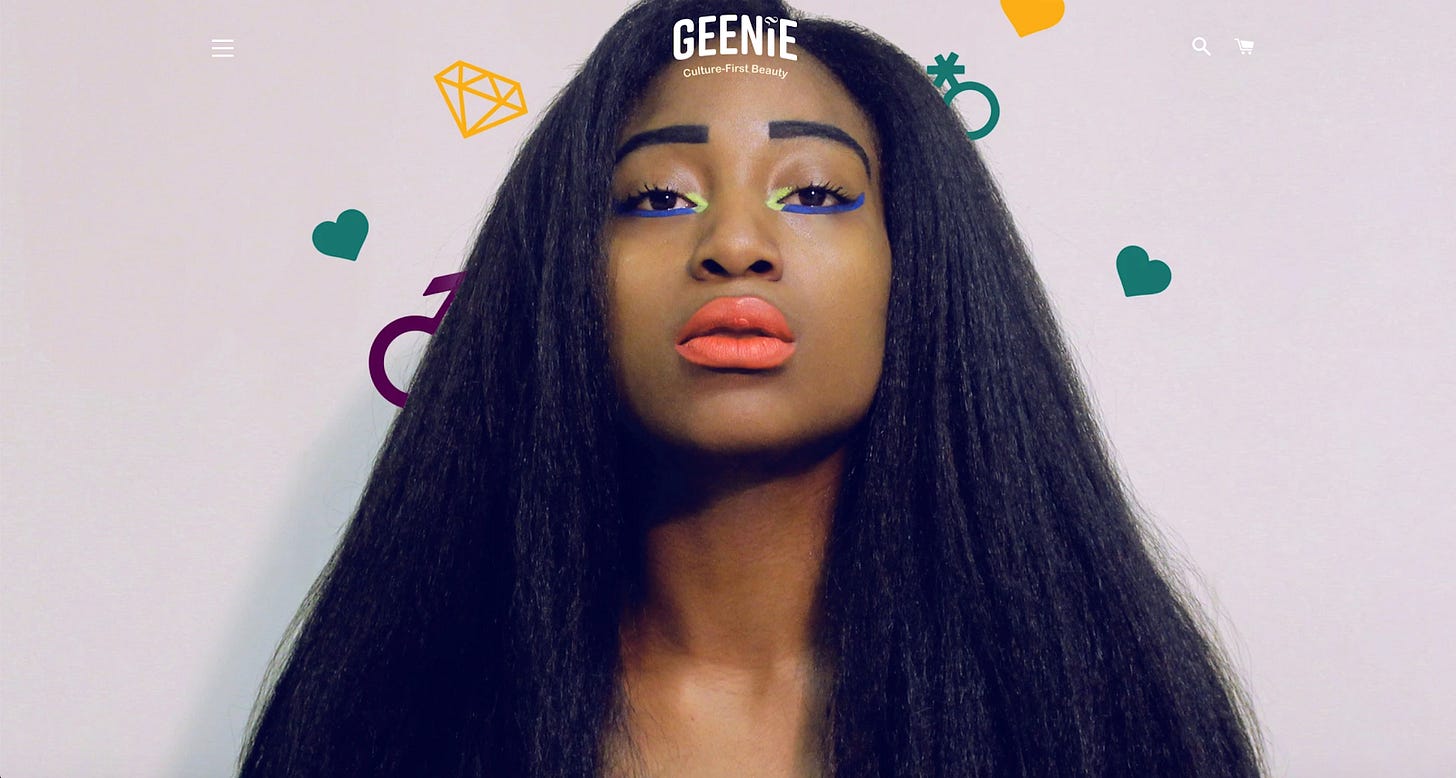 The Geenie community allows members to connect with other like-minded consumers—those that are committed to shopping their values, and offers opportunities to learn and engage, including AMA's, ethical shopping resources, and anti-racism education. This not only acts as an educational space for the community but also for Chana as she can identify what her existing (and potential) customers want and how to best fill that need. 
While it is a private group, the barrier to entry is there only to ensure a respectful space. Everyone is welcome, not just shoppers. 
Similarly, Modern Fertility has built a Slack community that's a safe space for all people "with ovaries living in the 21st century" to discuss fertility, and share information and advice on women's health.
Afton Vechery and Carly Leahy built Modern Fertility as a resource for every woman to get the information (along with the products, including hormone and fertility test) she needs to make an educated decision about her fertility. Providing content and value to women outside of their customer base is a natural extension of their brand. 
Their hand-drawn logo, soothing tones, and organic shapes reinforce this welcoming, inviting attitude.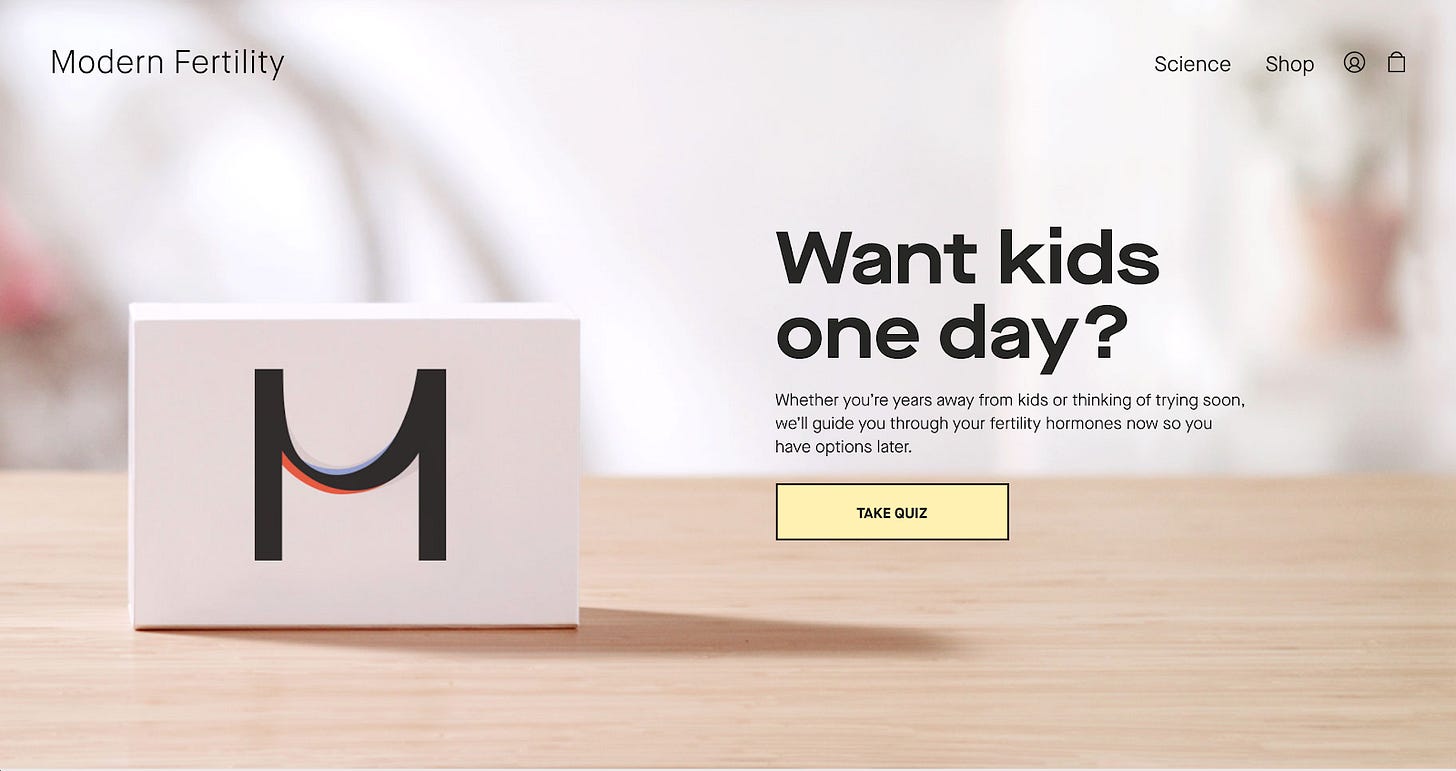 Versed, a clean, cruelty-free, vegan beauty brand, also has a soothing palette conveying accessibility, perfectly aligned with their community-focused approach. They went so far as to build community before their product.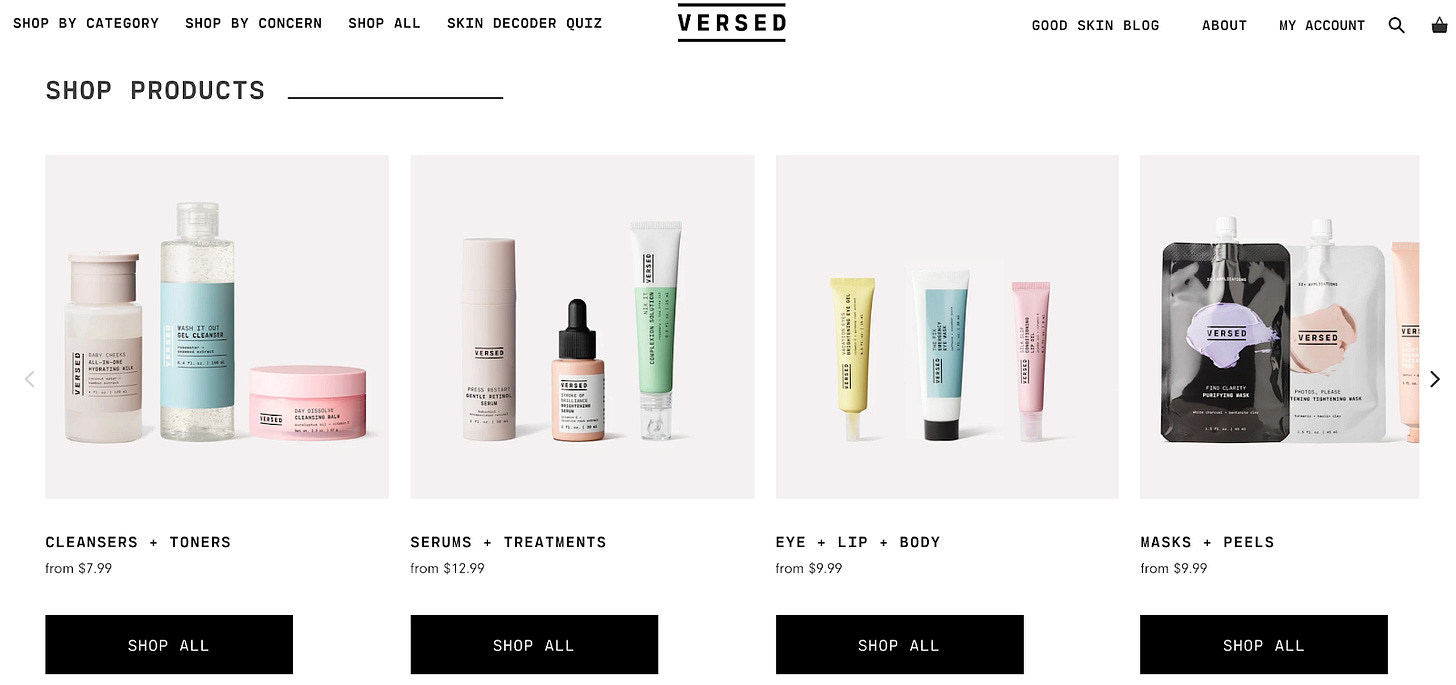 They first created a Facebook group (once again, private to ensure respectful discourse, but open to all) called The Good Skin Crowd, which allowed them to incorporate input from over 130,000 hyper-engaged skincare obsessives into the development of their brand and product. Versed also uses The Good Skin Crowd as an educational space—providing trusted information in the overwhelming and often opaque world of "clean" skincare.
And, of course, I couldn't write about community without including Peloton. When I asked people about the #1 brand-led community, Peloton was by far the top answer. It's a community so devoted that it's regularly referred to as cult-like and community is so ingrained in their brand that it's highlighted on their landing page.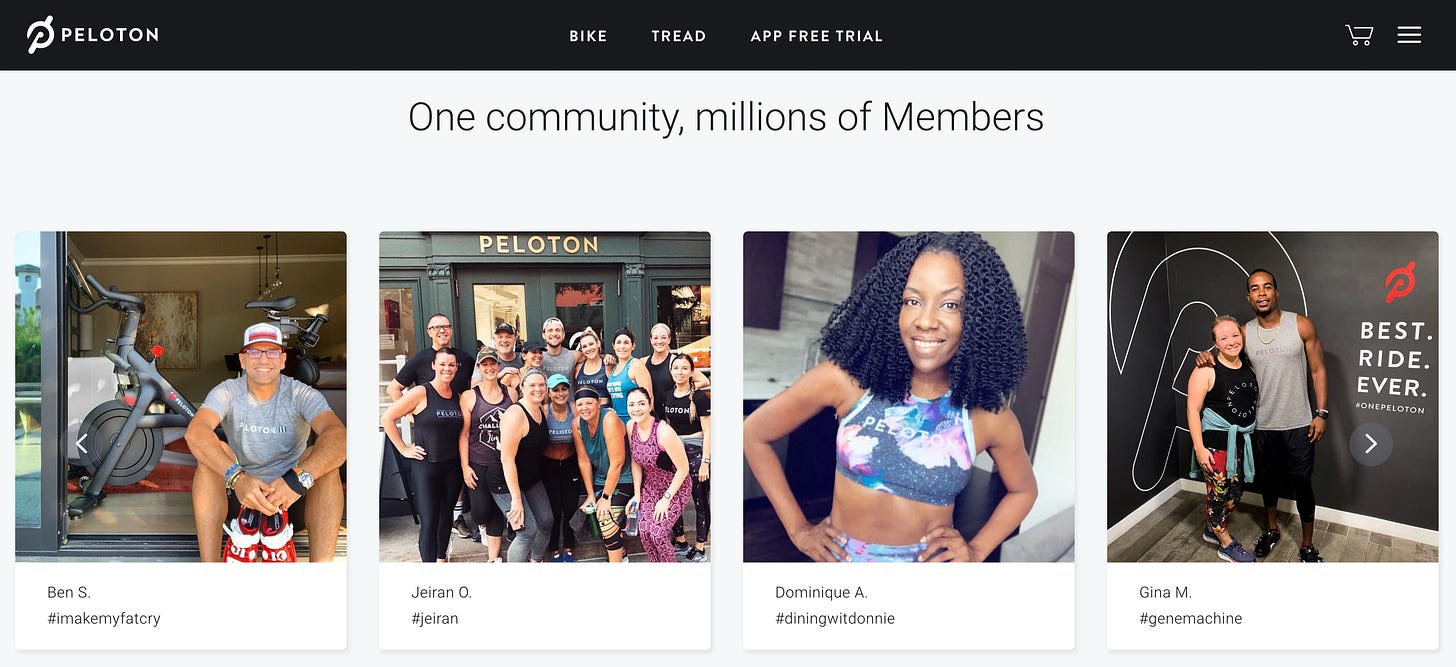 However, unlike the other brands we've discussed, Peloton's community is focused on current and future customers. They have robust community offerings for subscribers, including in-class video chat functionality with other participants.  They have a private Facebook group that's open to all but to gain entry you need to rate your current engagement with Peloton rated from bike owner to prospective customer. 
This is all very much aligned with their brand. Their mission is one of convenience. It is not to educate everyone about fitness. They have successfully built an incredibly active, engaged community, and as a result, their members are devoted to the brand and outsiders want to gain access.
As we've seen with brands like Peloton and Glossier (famous for crowdsourcing new products from their top customers), there is huge value in building a strong relationship with your core customer—giving them access and perks and building a community of passionate brand evangelists. That can drive the success of your brand. But if you're a mission-driven brand looking to make a widespread impact, you need to expand your reach past your customers and build a community that includes, not only your top spenders but anyone that wants to be involved.
And let's not forget the benefit this has to your bottom line. Creating an engaging space for education and interaction for brand enthusiasts and non-customers alike means that at some point when the time is right, you'll probably convert those non-customers. Or at the very least, they'll become contributors to your community and share your message.
Sara Wilson elaborates:
"Look at your entire customer base as anyone who's interested in the topic as opposed to just those buying your product, so your top of funnel is super wide. It's anyone who's focused on learning in that space. You're actually functioning as a hub of information, as opposed to a place where people buy a product."
So what can we learn from all this?
There are three key factors in building a successful community:
Private, not exclusive—create a space that's safe for your members to share openly, but don't limit it to your existing (or top) customers. 

Educate—position yourself as a domain expert and trusted source of information on a topic deeply embedded in your brand. 

Values, not products—your content must be focused on something larger than your product, a topic your community can be passionate about and discuss continuously. Creating a platform for interaction does not automatically build community. 
In most cases it's community in exchange for something—the price of a membership, crossing a spending threshold, or the cost of a stationary bike. But expanding your reach and adding value and educating a wider audience can have a major impact. Especially if you're a values-driven brand focused on spreading your mission and improving the world, not just your bottom line.
By building a strong community your brand goes beyond transactional and becomes transformational.
---
"I'm very interested in how entrepreneurship not only drives market impact but how it also has the opportunity to move culture forward."- Chana Ginelle Ewing
---
🔥 For The Love of Newness
Glossier added their cult-favorite Nalgene bottle to their permanent collection. 
Starface, maker of the cutest pimple patches, launched moisturizer to keep you dewy and acne-free.
Waju is a new sparkling water brand with a twist...it's made from fruit.
Coca Cola is also getting into the sparkling water game. And it's boozy.
And Geenie, obviously.
---
🔍 For The Love of the Details
Here's a little series entitled, "Am I using chairs wrong?"
According to J Crew, it's actually an elbow rest...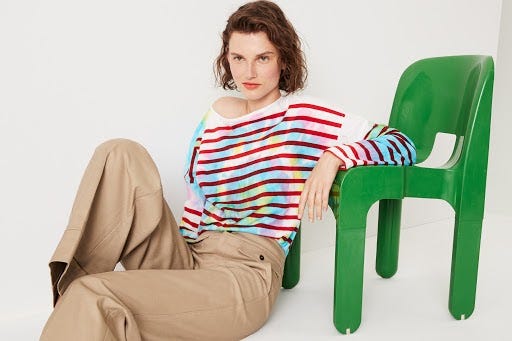 ...and sometimes a footrest.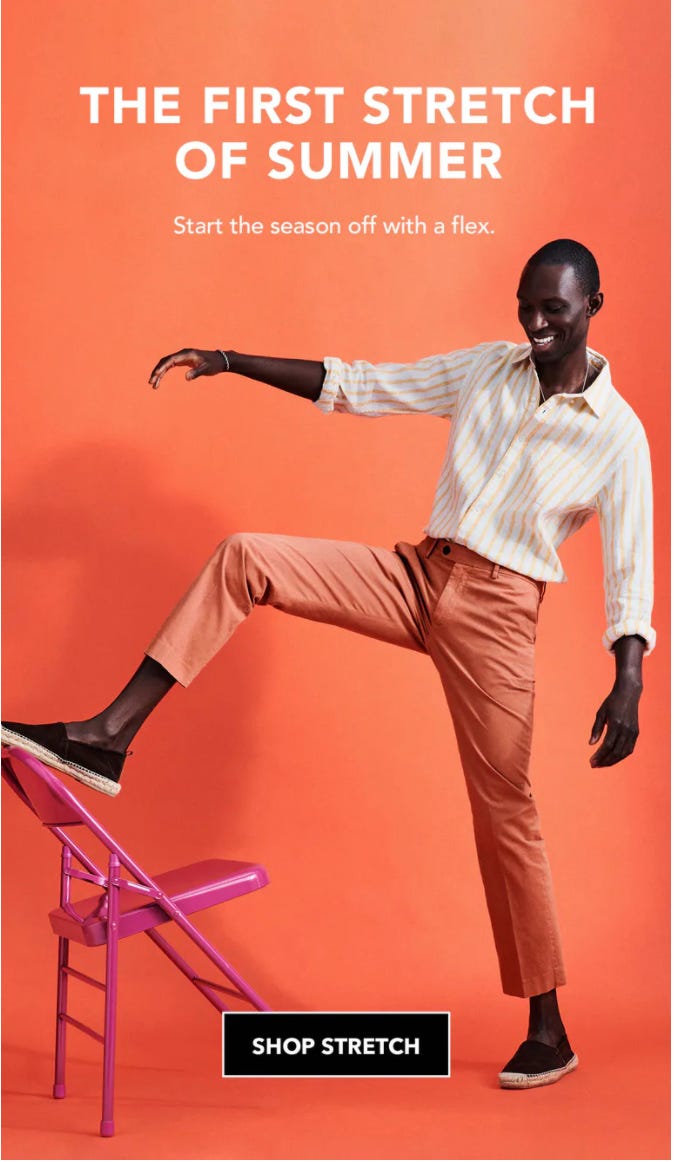 (To their credit, this does illustrate that the pants are stretchy.)
Asos suggests you sit on it. But not where you think.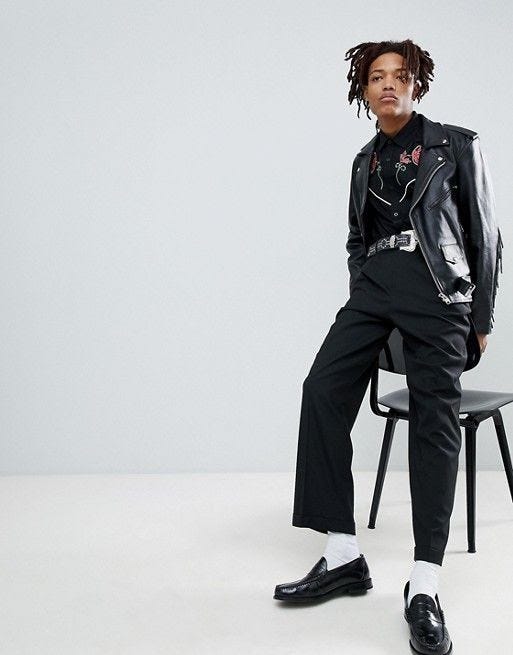 And Reebok recommends… this?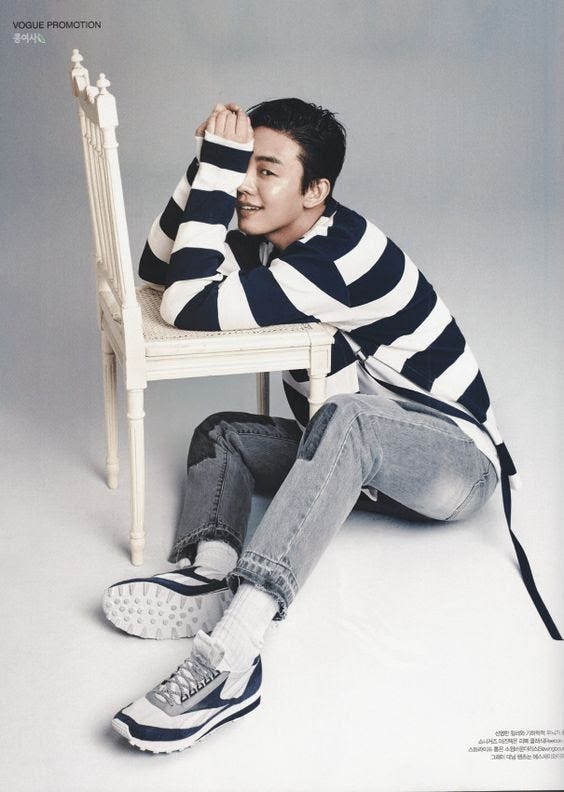 As it turns out there are a whole bunch of other ways you can sit on chairs too.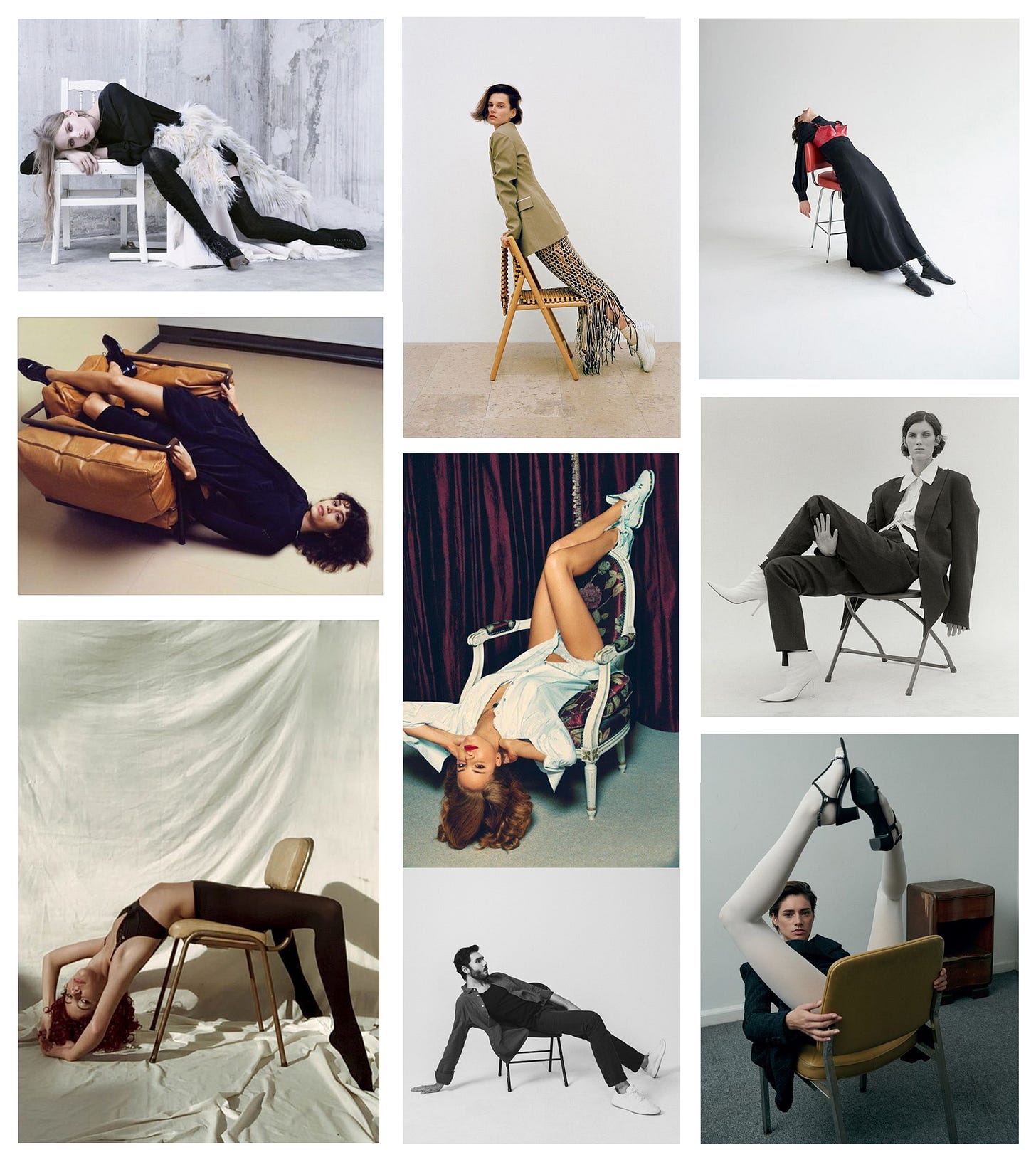 Thank you for being part of For The Love!
---
A few more things...
Is there a topic you'd like me to cover? Or a funny ad I can dissect? I'd love to hear from you! You can email me at info@ajasinger.com, respond to this email, or drop it in the comments ⬇
Know someone who'd enjoy this newsletter? 
Was this newsletter forwarded to you?
---
Written by Aja Singer, a brand and creative strategy consultant interested in all things startup, mission-driven, and community. Born in Canada. Based in Brooklyn. You can also find me on Instagram and Twitter.