For The Love #3: The Dirt on Cleaning Up.
And how NY's pandemic story ends with a real cliff-hanger.

A newsletter about branding, startups, and mission-driven companies aiming to make the world a better place.
👋 Welcome to issue #3 of For The Love, so happy to have you here! Today we'll be discussing:
If "clean" cleaning products live up to the promise.

A roundup of things that launched this week, including Millennial vinegar.

Gov. Cuomo's delightfully oddball Coronavirus poster. 
If this newsletter was forwarded to you and you don't want to miss an issue you can sign up here.
---
✌
For The Love of Doing Good
To satisfy eco-conscious consumers, many cleaning products, just as "clean" beauty products before them, now present themselves as environmentally friendly.  This has no officially regulated meaning, but it implies all-natural, sustainable, and all-around virtuous. In some cases, the product lives up to the marketing, and some it does not. 
This week I took a look at a few "clean" cleaning products to see how they measured up.
How They Are Clean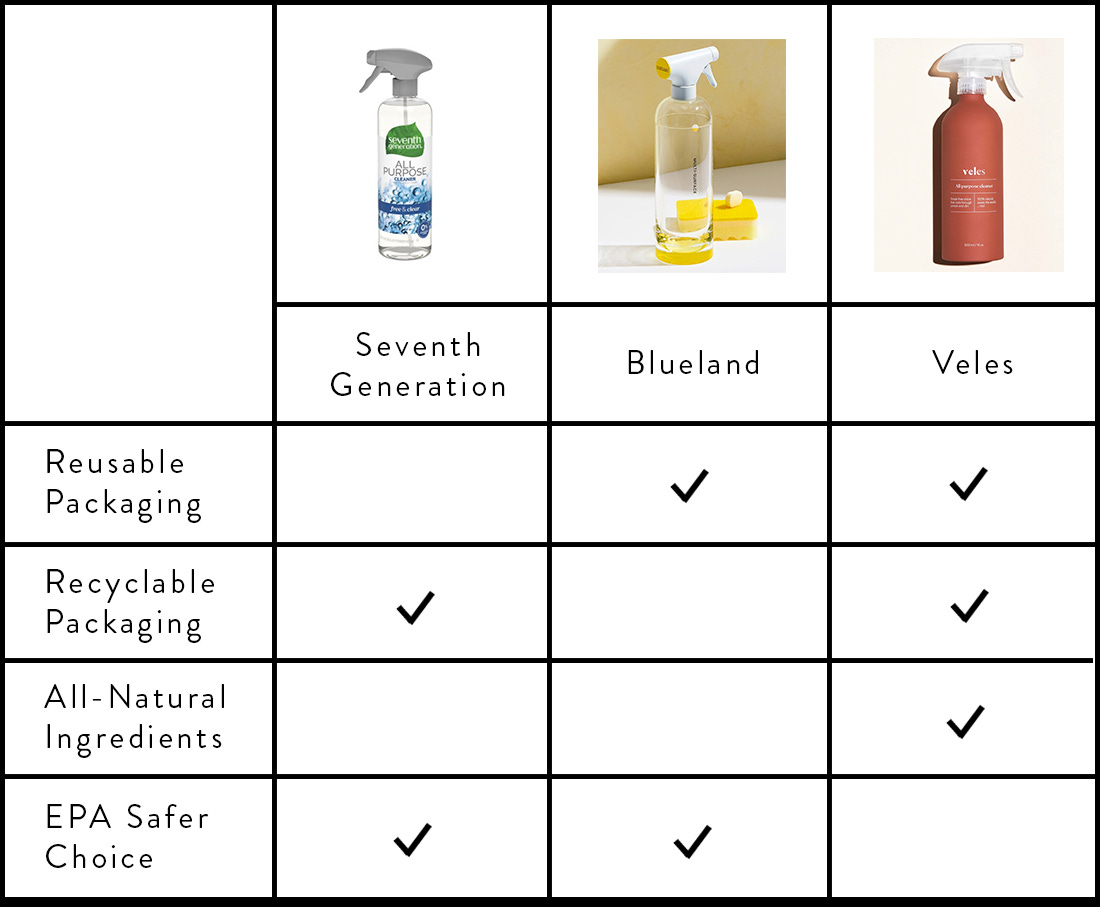 How They Look Clean
Seventh Generation: Their branding screams eco-friendly (the logo is a leaf) which makes sense because out of the three, it's the only non-DTC product. It's sitting on a shelf in a row of cleaning products, and it's designed to catch your eye and differentiate with its natural-leaning branding. The packaging features colors found in nature, and the water droplets, in conjunction with the clear bottle, imply that what's inside is also found in nature. 
Blueland: With its bright cheerful colors, subtle, rounded sans-serif font, and minimal design, this branding is the cleanest (pun intended) of the three. The clear packaging (literal transparency) alludes to brand transparency and clean ingredients. It sets itself apart through modern branding elements (aligned with other DTC brands), effectively positioning itself as an all-purpose cleaner for a new, more conscientious generation. 
Veles: Ironically, this one—which is the most eco-friendly and the only all-natural option—signals least like a clean product. The elevated serif font, muted salmon tone, and matte finish are more aligned with a high-end beauty product than an all-purpose cleaner. It's presented as a luxury brand. This does two things: 1. Elevates a product that's made from food waste (its ingredients are sourced from breaking down food waste so it doesn't require new clean water, making it very eco-friendly.), and 2. Differentiates it from other DTC cleaning products. (Note: My husband's firm is an investor in Veles, which is how I initially heard about it.)
When Seventh Generation launched over 30 years ago, they were likely one of the most eco-friendly, clean options on the market—but this is no longer the case. Even though they use recycled plastic, their packaging is single-use, so it's still filling landfills. Plastics can only be recycled about 2-3 times, and that's assuming everyone is recycling them properly—according to a 2019 survey, only 31% of people say they always recycle a recyclable item. It's incredibly easy to fall for their nature-focused branding (especially when browsing the aisle of Whole Foods)—to think that it's an accurate reflection of the product, but it's clear that Blueland and Veles, despite being less blatant in their branding, are much "cleaner" cleaners.
---
🔥 For The Love of Newness
Every millennial's favorite olive oil brand, Brightland, expanded to vinegar.
The Lounge is a new members-only platform from Girls' Night In with perks like lunch clubs and DIY crafts.
My Two Front is bringing a little joy (i.e. brightly-colored doughnut-shaped cases) to aligners.
Italic launched a subscription service of luxury goods at cost (think designer-level cashmere at fast-fashion prices). 
Liteboxer (dubbed the Peleton of boxing) released a digital punching bag complete with light and sound (for those of you that *really* miss your boxing studio).  
Rihanna's coming for your skincare routine - get on the list for the July 31st launch. 
Ceres is here to outfit your workouts with sustainable, natural fabrics.
---
🔍 For The Love of the Details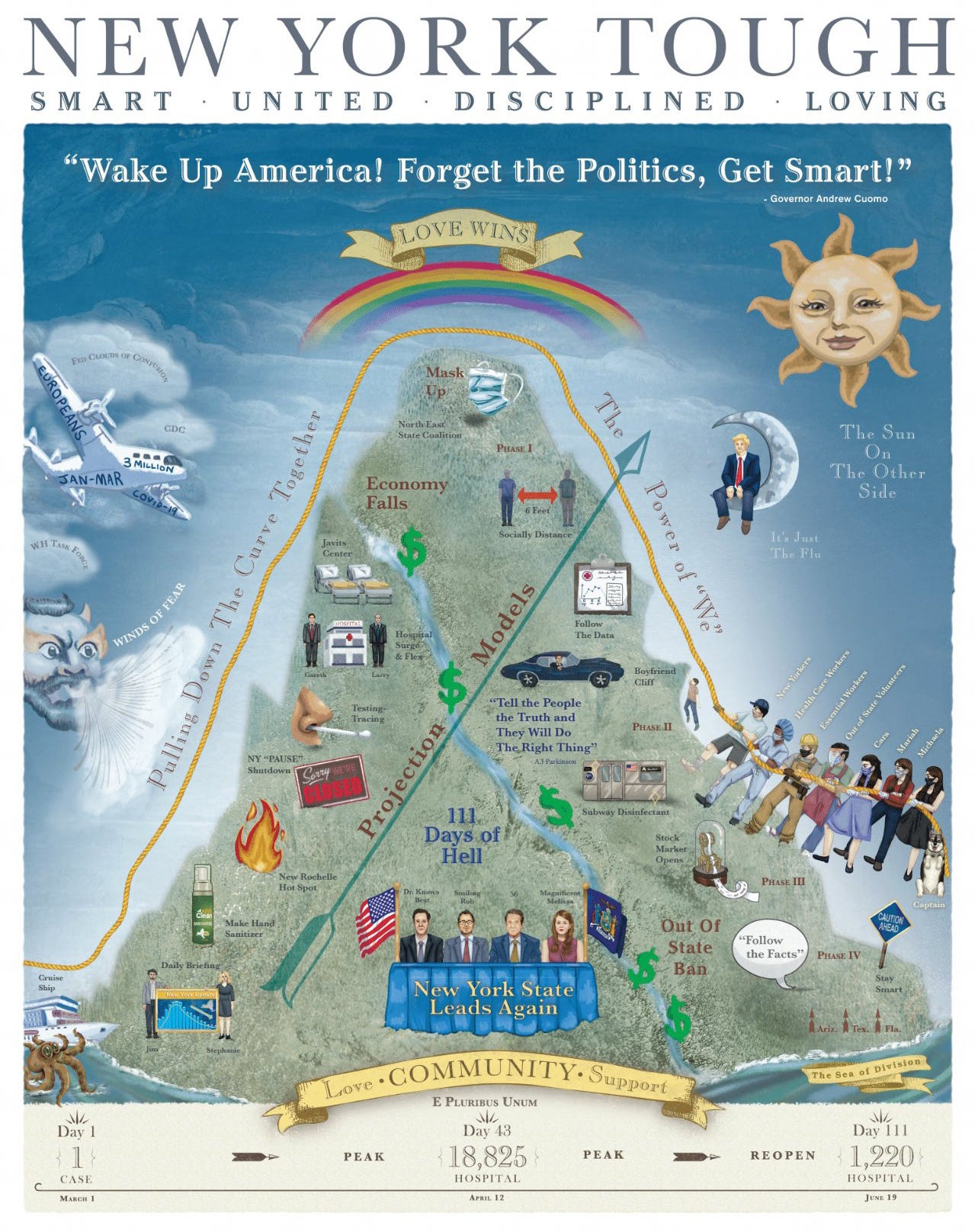 If you were not aware, this past week Governor Cuomo released a poster commemorating (?) the progress of NY's response to Covid-19 (aka "111 days of Hell"). There is A LOT to unpack here so I've provided some closeups to bestow on you the full glory of these oddities.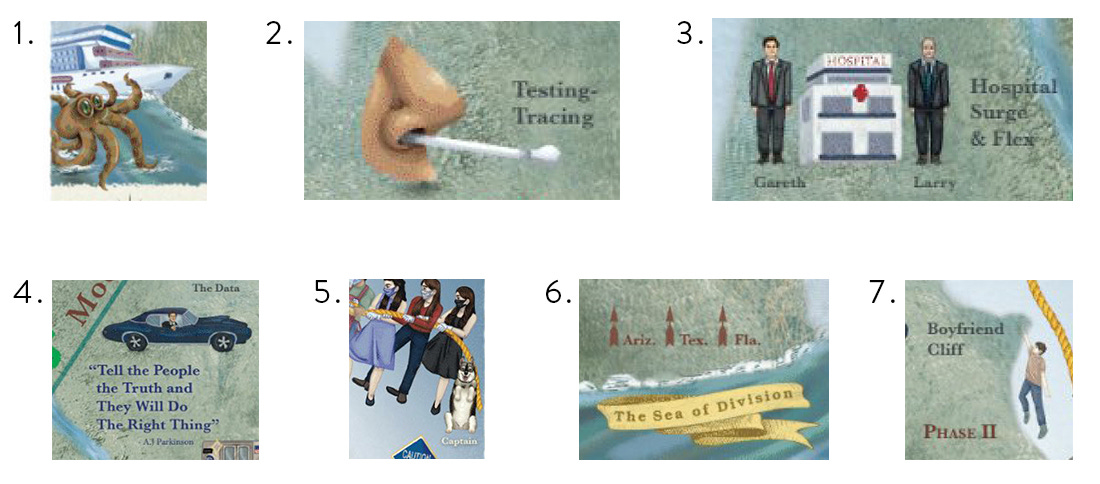 What is a giant octopus doing in NY waters? Is this some type of warning? Given this year so far, I would not be surprised—I've got my eye on you, octopus.
Shouldn't this swab go in the other way?
I can only assume Gareth and Larry are giants that guarded the hospital during the outbreak?
Look at AJ Parkinson, driving by, dropping words of wisdom. Who is AJ Parkinson you ask? He does not exist. He's a fictional character made up by Gov. Cuomo's father. Which is very random, but also endearing.
Captain (Gov. Cuomo's dog) is inexplicably not pulling the rope that is dangling beside him. I may be mistaken (I do not have a dog, much to my husband's chagrin), but isn't tugging on ropes one of their favorite activities?
Don't miss the subtle shade directed at Arizona, Texas, and Florida. 
And of course, the infamous "Boyfriend Cliff". What exactly is a Boyfriend Cliff? Is that poor boy dangling off the edge named Cliff? Is this a not-so-veiled threat to Cuomo's daughter's boyfriend? And what does this have to do with Coronavirus? I'm not sure we'll ever know. I do know I'm glad I'm not Cliff.
Update: We got a little insight from Cuomo himself.
---
Thank you for being part of For The Love! 
A few more things...
Is there a topic you'd like me to cover? Or a funny ad I can dissect? I'd love to hear from you! You can email me at info@ajasinger.com, respond to this email, or drop it in the comments ⬇
Know someone who'd enjoy this newsletter? 
Was this newsletter forwarded to you?
Written by Aja Singer, a brand and creative strategy consultant interested in all things startup, mission-driven, and community. Born in Canada. Based in Brooklyn. You can also find me on Instagram and Twitter.